Start an ESG Program by Stepping into It Through Health
09/21/2023 Posted on September 21, 2023 | in ESG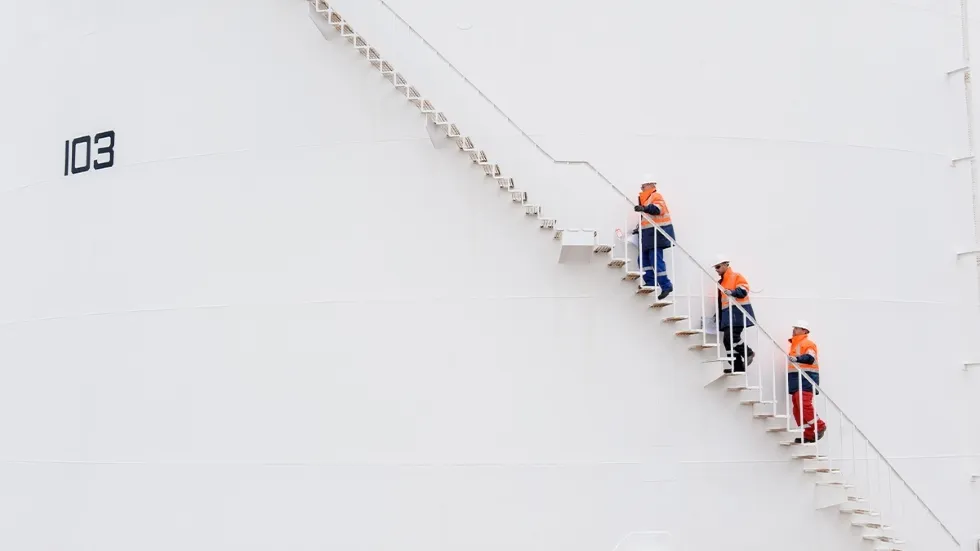 Being able to evolve with the continuously changing business landscape while adapting to the demands of your many stakeholders builds resilience in the marketplace. Building marketplace resilience by implementing an environmental, social, and governance (ESG) program has many benefits such as increased productivity due to higher employee engagement, or higher sales due to more loyal and satisfied customers and it's easier to achieve than you may think.
There are multiple frameworks to build an ESG program from, some of which have been featured in previous installments of this "Step into ESG" blog series. These frameworks include Safety, Ergonomics, and Control of Work, all of which use software to automate the process and collect needed data to help you make sustainable strategic business decisions. The bottom line is companies should not put off implementing an ESG program and should step into it through management programs already in place. The important thing here is to just get started.
Another great management framework to step into ESG from is a health management program, which encompasses industrial hygiene (IH) or workplace health and safety (WHS), physical demands analysis (PDA), return to work (RtW) evaluations, respiratory fit tests (RFT), medical surveillance, and personal protective equipment (PPE). Health and ESG have a shared focus on social sustainability, workplace health and safety, ethical business practices, and responsible governance.
Your health program is already positively influencing ESG performance by reducing the negative impacts in the work environment, promoting employee well-being, and gathering necessary data to help mitigate risk and provide transparency. Now, let's explore some simple ways to use your health management program to level up your ESG performance and build marketplace resilience.
Introducing ESG QuickTakes: A Sustainability E-Newsletter!
Master ESG with our NEW quarterly publication. Get expert insights on regulations, energy management, and sustainability delivered straight to your inbox.
Why is ESG Important?
There are many reasons why ESG is important and why, as an EHS professional, you have a unique opportunity to greatly contribute to maturing an ESG program. There is a lot to unpack when it comes to ESG because it impacts financial decisions, creates accountability, promotes sustainability, builds a competitive advantage, and provides an organization and its stakeholders with a sense of purpose. All these factors are beneficial and important to a company's overall health and future.
The growing awareness of ESG is generating momentum in multiple industries. ESG helps you gather data that provides valuable insights into your company's internal controls to help create value, look beyond the bottom line, and adopt sustainable strategies that are profitable, material, and inclusive for all stakeholders. No matter the size of your business, a sharper focus on ESG provides many advantages you can't afford to ignore.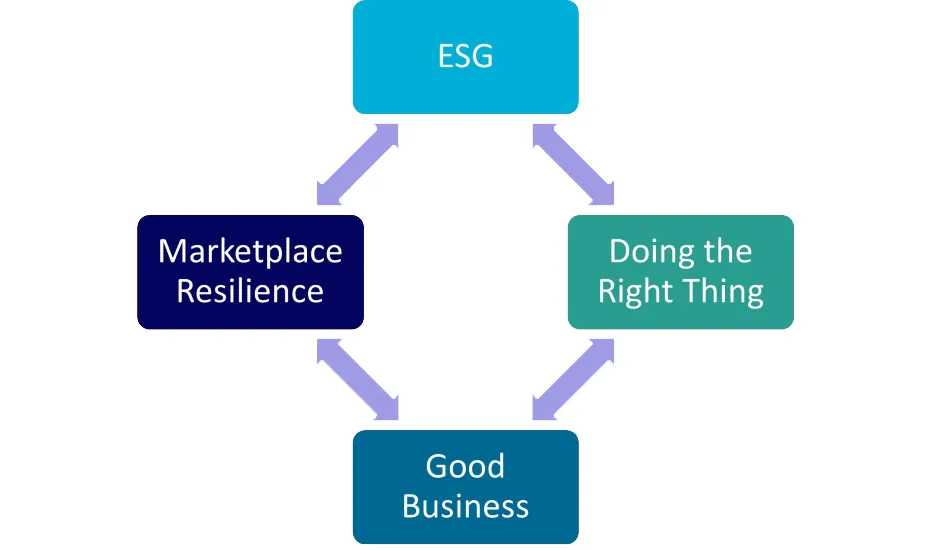 Research indicates the ESG concerns that matter most to stakeholders are worker-related issues, so it makes sense to incorporate ESG into your health management strategy. Afterall, a health program strives to protect employees from exposure to harmful substances, conditions, and activities, which in turn improves the work environment.
What Is Health and the Role It Plays in Risk Reduction?
It's no secret that a healthy bottom line comes from a healthy workforce and the best way to keep your people healthy is through a health management program. A health management program aims to reduce or remove work-hazard exposures by implementing a series of controls and measures to help keep the workplace free from environmental stressors thus protecting employees. It involves anticipating, recognizing, evaluating, controlling, and recommending solutions to risks that may cause employees injury or illness. There are plenty of workplace stressors to anticipate such as biological, chemical, physical, ergonomics, and psychological safety.
Health management is a scientific application that mitigates hazardous workplace conditions through a continuous improvement cycle of planning, doing, checking, and acting.
The role a health management program plays in risk reduction is vital to preventing occupational illnesses and injuries, improving productivity, and contributing to the overall well-being of employees and the surrounding communities.
How Does Health Connect to ESG?
Health management is a valuable framework you can use to build ESG maturity into your business model. A health management program gives valuable insights, through data collection, into better understanding which issues are most material in terms of ESG and work-related risks. These insights help in reducing risk exposure or finding a better way to manage the risk which typically results in the greatest benefits for your company and its investors, as well as the environment and society.
The data gathered to evaluate health risks in the workplace greatly contributes to ESG. Even the American Industrial Hygiene Association (AIHA) recognizes the connection between human capital and ESG. By reducing chemical exposures, improving employee well-being, and providing transparent reporting, your health program helps to provide initial metrics that can be used for ESG disclosures and reporting.
Chemical Exposures and Physical Stressors
There are literally thousands of harmful chemicals and physical stressors regulated by a complex collection of stressor-specific standards, and regulatory compliance and the safety of your team depend on your ability to ensure exposures are within applicable occupational exposure limits (OELs). Uncontrolled chemical exposures and physical stressors can have severe impacts to employee's health, so protecting them means establishing safe levels of exposure based on IH consensus standards and best practices.
Decreasing chemical exposures and physical stressors are central to good EHS management, not to mention, the safety of your entire team. There are ways to help with chemical exposures such as incorporating green chemistry to help you have fewer chemicals with OELs, and more easily choose safer and more sustainable chemicals. Plus, the fact that your employees know you have better chemical intelligence integrated into your procurement process will improve their psychological safety and their engagement with your EHS programs.
Using health software helps you manage the growing list of workplace stressors and OELs, so you can keep exposures within acceptable and safe limits. Health software also provides the data you need to understand where improvements can be made and show how you're reducing risk in the workplace while building social sustainability, contributing to the "S" in ESG.
Employee Well-Being
It should come as no surprise that your health program greatly contributes to employee well-being, which is an ESG issue that matters significantly to your stakeholders. The practice of protecting employees from various types of injuries and illnesses such as respiratory conditions, skin diseases, poisonings, and hearing loss, among others supports human capital.
Different programs within health management such as PDA, RtW, RFT, and medical surveillance help ensure employees have the right evaluations in place to comfortably do the job without causing injury or illness. These processes contribute to ESG through the social lens of improved diversity, equity, and inclusion (DEI) creating processes and practices representing and providing equal access to resources and opportunities, while fostering an inclusive and respectful work environment.
Take for instance the RFT, where you're making sure the respirator properly fits your employee. The fit test is designed to consider individual differences in facial physicalities and helps provide equal access to opportunities and protective resources regardless of gender, social and ethnic backgrounds, age, etc.
This is especially important when you consider that historically, most respirators, as well as other personal protective equipment (PPE), were designed assuming they'd be used by male workers of average size, which means that anyone outside of that statistical range, including most women, did not have PPE adequately designed for their physical characteristics.
Health and Governance
Another important benefit of your health program is that it's based on science and the collection of key data that gives you insight into areas of improvement so you can make educated management decisions. An effective health program provides you with accessibility to data on chemical exposures, OELs, PDA, RtW, RFT, and medical surveillance.
The data collected helps you to know where there are high concentrations of certain chemicals and if there are concentrations that exceed OELs, so you can take actions to reduce them and assign PPE where needed. Whereas PDA and RtW processes help you to avoid assigning job tasks that employees are physically unable to perform, giving them opportunity to succeed in the job.
Data collection is central to governance. It shows how well your program is managed, and how well ESG principles are integrated into management practices. Incorporating ESG materiality assessments into your program will also help you collect necessary data by engaging your stakeholders in identifying your highest priority issues, so you can have the insights you need to develop an effective strategy.
Building marketplace resilience and long-term sustainability relies on being proactive and getting ahead of risk in a continuously changing regulatory environment. That is exactly what a health program does and building off this framework to implement ESG principles will only help you and your organization build even more resilience in today's marketplace.
Looking for More Information to Help Guide Your EHS and ESG Journey?
VelocityEHS is here to make sure you have plenty of resources available to give you helpful information and expert insights to better manage your EHS and ESG programs:
EHS & ESG Thought Leadership Subscriptions:
Find out more about how Velocity Solutions help different companies become safer and more sustainable from our customers' experiences.
Need Help Simplifying Your EHS & ESG Programs?
VelocityEHS has the Tools You Want!
Improve social sustainability supporting the "S" in ESG with the Velocity award-winning Health Solution, built by certified industrial hygienists. You'll gain access to time saving capabilities and be able to gather necessary data supporting the "G" in ESG to make value-based decisions and help keep your teams healthy. Gain access to self-updating Global Chemical/OEL Database, IH Sample & Equipment Management, IH Lab Integration, Medical Surveillance, PDA, RtW, and RFT to better streamline your health program.
But don't stop there—support the "E" to ESG by incorporating the award-winning Velocity ESG Solution and gain deeper insight into your stakeholder's needs. It offers capabilities to collect and manage investor-grade data such as Materiality Assessment and Greenhouse Gas (GHG) & Energy Management.
Velocity offers multiple solutions that make it easier to manage, maintain, and ensure the long-term success of your EHS and ESG programs. The VelocityEHS Accelerate® Platform offers a single platform providing access to leading technology, expertise, and predictive management tools to help you proactively address workplace risks.
Discover more about how our solutions work together, request a demo today!