Start an ESG Program by Stepping into It Through Control of Work
08/17/2023 Posted on August 17, 2023 | in ESG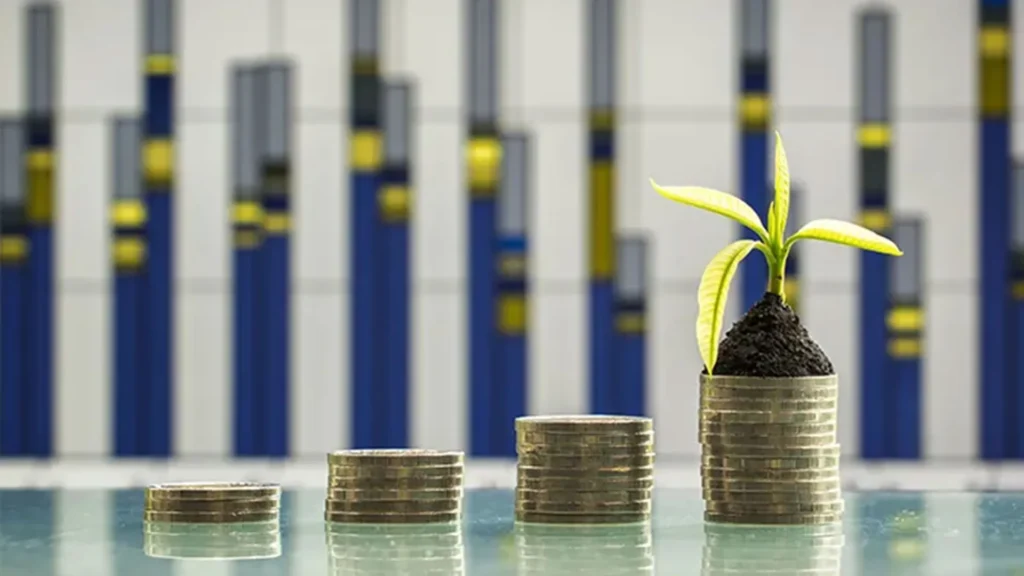 Environmental, Social, and Governance (ESG) is the gold standard in business excellence. Many companies that have invested in resources to move forward with an ESG program have gained a more secure footing in their industries and a competitive edge. However, there are just as many, or probably more companies that know an ESG program is important but feel they lack the resources, time, and bandwidth to bring it to fruition. There are many different approaches companies can take to get started in ESG and many companies have already started the process of building ESG maturity—they just don't realize it yet.
Welcome to Part Three of our Stepping into ESG blog series. In Part One we discussed how to use your EHS safety program as a platform to build the foundation for ESG. Part Two focused on progressing up the safety maturity curve and building ESG through an ergonomics program. Now we'll examine how a control of work management system provides essential tools for building ESG maturity.
Why is ESG Important?
ESG does more than just provide a framework to help companies evaluate their sustainability and ethical business practices. It helps drive long-term growth, addresses both environmental and social challenges, and gives companies a competitive advantage from both investor and stakeholder perspectives. Data on companies that have built ESG maturity consistently show that reducing waste, strengthening internal and external stakeholder relationships, mitigating risk, and meeting compliance regulations are simply good business practices.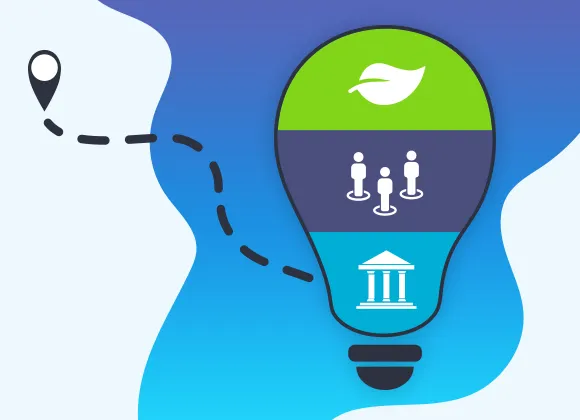 Integrating ESG strategies into your company adds value through improved:
Sustainability
Risk Management
Stakeholder Engagement
Investment Performance
As one of our customers said, "Sustainability and ESG are such hot things and are on everyone's radar. Some of our biggest customers are starting to require its suppliers to provide ESG reporting, so it's something that can't be ignored anymore."
What Is Control of Work?
To fully understand the intricacies between ESG and control of work management systems let's first gain a deeper understanding of what exactly control of work is. In general, it's a complex process of putting controls in place to reduce risks associated with hazardous job tasks. It's an extension of risk management that focuses on having standardized processes to address the risks associated with non-routine or overly hazardous work.
Control of work is an essential element of a comprehensive EHS management program because it ensures highly hazardous work only occurs when safety preconditions are met. However, it comes with many challenges, one of which is contractor and temporary worker management. Control of work can help manage all visitors, including temporary and contracted workers, that are entering your facility, verifying they are properly vetted, trained, and approved to be on-site for the job they were hired to do. This is an important aspect of a control of work program because it helps ensure safety and reduce risks for everyone in the workplace, which in turn builds a solid foundation for starting an ESG program.
In a sense, the backbone of a control of work system is permit-to-work and contractor management. Regardless of who is performing the task or job, it's essential for safety and compliance to make sure this person has all the training, documentation, and qualifications to safely perform the task or job they were hired to do. Examples of highly hazardous job tasks best managed through a permit-to-work process include "hot work" such as welding or brazing, confined space work such as cleaning a tank or pit with a hazardous environment or working at heights. In some of these cases, use of a formal permit process is also a regulatory requirement, such as for work covered by OSHA hot work and confined space regulations.
Keep in mind that a work permit is different from a regulatory permit. A work permit is essentially an authorization for a worker certifying to do a specific job under specific circumstances. On the other hand, a regulatory permit is a license to operate because you've met regulatory requirements, such as an air emissions or wastewater discharge permit.
Managing permit-to-work documentation is just one aspect of the control of work process. Control of work systems essentially aim to prevent accidents, injuries, and other safety incidents. The ability to monitor what jobs are being performed, when and where they are being performed, and who is performing them is a valuable advantage to meeting safety and compliance goals.
A permit-to-work process improves contractor management by ensuring that contractors or temporary workers have the qualifications and documentation to perform the task, but that's just the beginning. As an employer, you also need to ensure that you're meeting the contractor's safety needs as well as the safety needs of all your employees. While contractors are on-site, employers need to make sure contract workers have all the information they need and understand the policies and procedures of the organization.
How Does Control of Work Improve Contractor Safety?
Control of work is especially important because it paves the way to ensuring contractor safety. It supports the application of the contractor safety management lifecycle (Figure 1), providing a formal framework for planning, evaluation and selection, implementation, onboarding/induction, and safety performance review of contractors and temporary workers.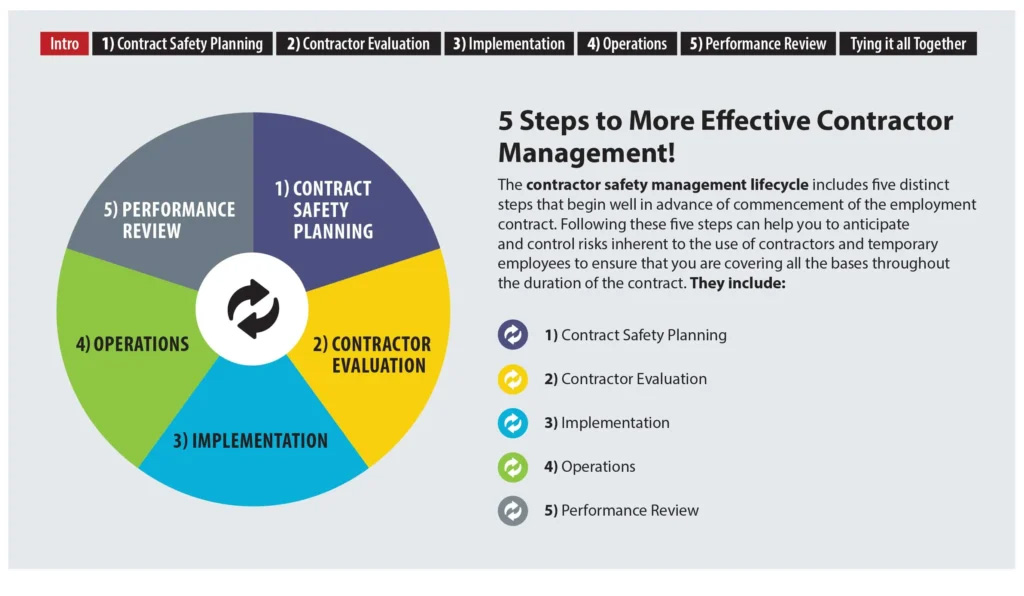 The contractor safety management lifecycle blends control of work processes with continuous improvement principles to help you integrate data, best practices, and lessons learned throughout the system. It helps with having a process for analyzing the environment, assessing all possible hazards, and putting controls in place to prevent these hazards from happening.
In today's work environment, especially in the information technology and manufacturing industries, close to 20% of the people on-site are contractors. Numerous studies show that contractors and temporary workers are at elevated risk for workplace injury and illness. An analysis performed by researchers at ProPublica.org found that the incidence of workplace injuries for temporary workers was between 36–72% higher than that for full-time regular employees. Research performed by the Washington State Department of Labor & Industries found that temporary workers in construction and manufacturing had twice the rate of workers' compensation claims compared to full-time regular employees doing the exact same types of work.
Contractor and temporary worker statistics:
14.5 million temporary workers are hired by America's staffing companies per year
40% of temporary workers report never receiving training from host employer or agency
613 temporary worker fatalities in 2017
A control of work system provides added layers of protection when contractors and temporary workers are on-site. Control of work helps you ensure that all work meets your own high safety performance standards, and you're doing all you can to protect all workers, including contractors and temporary workers, which is increasingly an OSHA expectation and enforcement priority.
In short, control of work improves contractor safety and is important because it:
Supports social sustainability
Reduces risk and improves safety
Improves visibility and engagement
Helps maintain regulatory compliance
How Does Control of Work Build ESG?
Control of work is an integral part of ESG because it provides essential tools and processes to reduce risk for both temporary workers and full-time employees, while cultivating a safe working environment and building social sustainability. In addition to social sustainability, control of work contributes to ESG through psychological safety, stakeholder engagement, and corporate governance.
Social Sustainability
Social sustainability prioritizes human welfare and meeting the needs of the present generation without compromising the ability of future generations to meet their own needs. Basically, it helps to ensure that businesses and human society have what they need now and in the future. It's just one aspect of the sustainable movement which is encompassed by ESG. A control of work system does more than just focus on the health and safety of employees. It broadens the scope by incorporating contractors and temporary workers contributing to the social aspect of ESG.
This, in turn, helps companies meet growing stakeholder expectations that they should broaden their focus to include assessment of a company's impacts, both negative and positive, on communities and the environment. For example, the mandatory European Financial Advisory Group (EFRAG) standards coming into force in 2024 for approximately 50,000 EU companies include requirements for companies to assess and manage impacts on affected communities and "workers in the value chain" outside of their regular workforce, which would include contracted workers.
Improved Psychological Safety
Control of work helps to improve psychological safety, contributing to the social component of ESG, because it provides a system where all workers including temporary workers and full-time employees know what is required of them by going through a formal process of vetting and approving qualifications. It reduces uncertainty and ensures that proper controls are in place.
It also provides temporary workers and contractors with vital knowledge of company policies and procedures, helping to meet compliance regulations and reduce their anxiety. You may realize the special importance of this if you reflect that contractors and temporary workers have spent the least amount of time at your worksite, and so will have the least initial familiarity with your operations and safety procedures. Control of work helps to reduce your anxiety, as well, because you'll have a single point of access for managing all the permitted work taking place in your company. In fact, the best control of work software solutions provide a visual snapshot of all permitted work and contractor activity at your site, including the status of each work project, so you can get the information you need most at a glance.
Materiality Assessment for Better Control of Work Insights
When it comes to stepping into an ESG program, conducting a materiality assessment is a great starting point. A materiality assessment is a type of survey that collects stakeholder insights on the most important ESG issues for your organization, helping you understand what is most relevant to your stakeholders and which improvement opportunities may have the biggest positive impact for your company. Incorporating control of work into your management system allows for contractor and temporary worker insights, which are important to have because they are among your most significant stakeholders.
Conducting a materiality assessment, including contractors and temporary workers, can help your company build and manage a solid ESG program by guiding a path to meet objectives and targets. It allows you to identify risks and opportunities that have a substantial impact on your company's economic, environmental, and social performance. When stakeholders are included in the process of identifying what is material to your company there's a higher chance of buy-in, meaning they'll care more about their role in the company because they are contributing to the process.
Control of Work and Governance
One of the biggest connectors of control of work and ESG is governance. Governance is a set of controls, practices, procedures, and resolutions put in place to hold your company accountable and sustain good management practices. A control of work program is all about having proper controls in place. It provides the resources needed to collect and verify permit-to-work documentation and to train all visitors on your company's policies and procedures. You have the documentation you need to prove you are taking the safety of temporary workers and full-time employees seriously and improving social sustainability.
A robust control of work program demonstrates good governance practices, transparency, and accountability. It prioritizes the well-being of all employees, aligning with ESG principles while contributing to a more sustainable and responsible workplace environment. Control of work provides a solid foundation to start incorporating an ESG management program supporting a more sustainable future for you, your company, and your stakeholders.
Looking for More Information to Help Guide Your EHS and ESG Journey?
You've come to the right place. Here at VelocityEHS, we have plenty of resources available to give you the insights you need as you build control of work procedures and continue your ESG journey:
Discover more from our customer's experiences and see how we've helped many different companies become safer and more sustainable.
Don't Forget Velocity Is Here to Help!
The VelocityEHS Control of Work Solution makes it easy to confirm permit-to-work documentation and seamlessly manage the complete contractor journey in a centralized system. It provides essential capabilities such as Electronic Permit-to-Work, Contractor Management, Induction & Orientation, and Dashboards & Reports to help you meet the "S" and "G" in ESG.
But don't stop there—use the award-winning Velocity ESG Solution and gain better insight into stakeholder's needs. It offers the capability to collect and manage investor-grade data along with powerful capabilities including: Materiality Assessment, Greenhouse Gas (GHG), and Energy Management.
Velocity offers multiple solutions that make it easier to manage, maintain, and ensure the long-term success of your EHS and ESG programs. The VelocityEHS Accelerate® Platform offers a single platform providing access to leading technology, expertise, and predictive safety management tools to help you more proactively address workplace risks.
Discover more about how our solutions work together, and request a demo today!