Thought Leadership and Insights from VelocityEHS Experts
VelocityEHS is proud to offer our digital magazine, Ignite, to provide you with timely EHS and ESG expertise and resources. Our latest issue focuses on Ergonomics, a topic important to workplaces around the world. Musculoskeletal disorders (MSDs), which ergonomics helps to combat, are the top nonfatal occupational injury, accounting for one out of four workplace injuries, and costing more than $20 billion each year. Inside, you'll find articles such as:
• How Ergonomics Impacts Corporate ESG Performance
• 5 Keys to Ergonomics Success
• Identifying Metrics that Drive a Company's Ergonomics Process
• And many more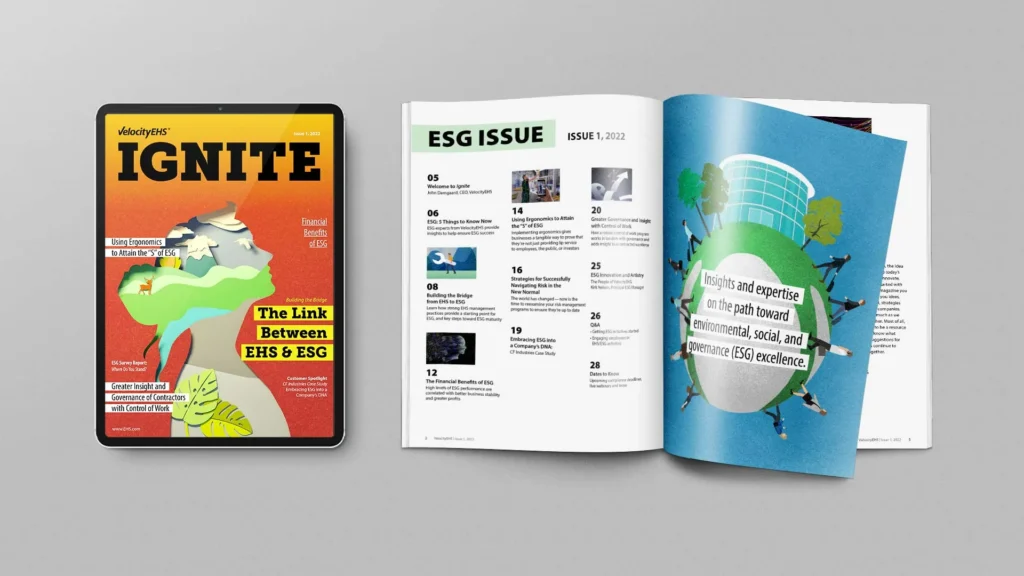 Issue #1 – Our debut issue focuses on ESG (environmental, social, and governance), a topic that's been top-of-mind for EHS and sustainability professionals in a world that is increasingly focused on issues such as climate risk and diversity.
View Issue #1