Start an ESG Program by Stepping into It Through Safety
04/13/2023 Posted on April 13, 2023 | in ESG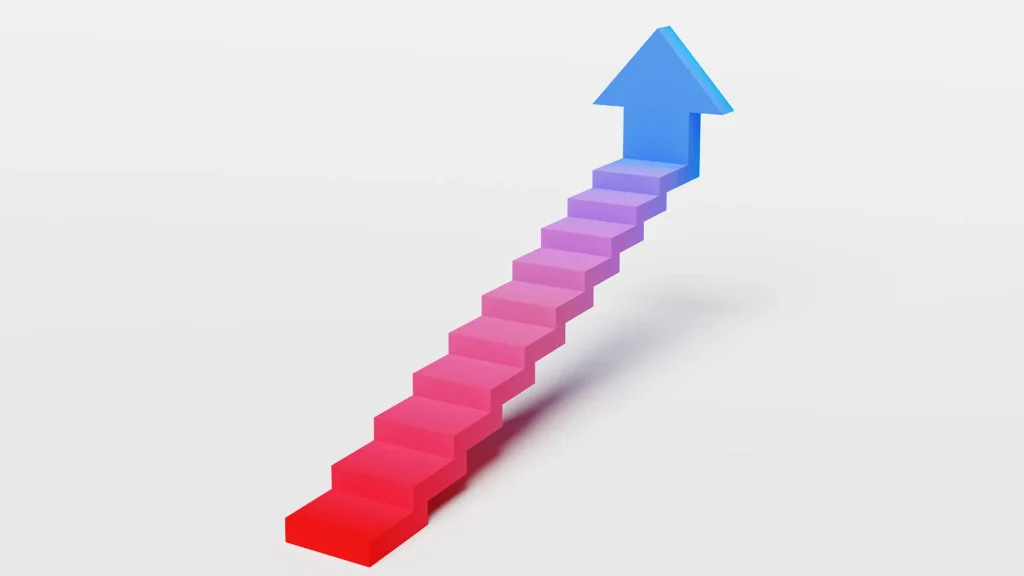 Phil Molé, ESG & EHS expert with VelocityEHS, recently wrote a blog, "Why Should ESG Matter to Me? Part One: EHS and Safety Managers." In this blog he goes into detail about the important connections between safety management and environmental, social, and governance (ESG) and why it should matter to EHS and Safety Managers. And it should matter, even if you, as an EHS or Safety Manager, feel you don't have time or the resources to make this happen. Try not to look at ESG as another thing added to your plate. Try to look at it as an opportunity to advance your career and make your business a top competitor in your industry.
EHS and safety management is the ideal platform on which to build, manage, and mature an ESG program. You don't need to feel overwhelmed with taking on a whole new program, you just need to take simple steps and make minor adjustments to your current safety program to step into ESG. Keep reading to find out how safety management can help you build a mature ESG program.
Introducing ESG QuickTakes: A Sustainability E-Newsletter!
Master ESG with our NEW quarterly publication. Get expert insights on regulations, energy management, and sustainability delivered straight to your inbox.
Why ESG Is Important
The term ESG is closely tied to the financial investment world. This is because investment firms want long-term returns on their investments but if companies don't start incorporating sustainable practices there won't be much return on investment. ESG is a framework for conscious consumerism and it's gaining momentum. In addition to investment firms looking more closely at ESG practices as a differentiator, ESG stakeholders want transparency into what businesses are doing to show they care. This may sound funny but doing good is good for businesses, it's a competitive differentiator that attracts investors, builds customer loyalty, improves financial performance, and makes business operations sustainable.
To put it simply: people, the planet, and profits are now truly linked, and ESG is the way to show you're running your business responsibly. No matter the size of your business, a sharper focus on ESG provides many advantages you can't afford to ignore. Not to mention the US Securities and Exchange Commission (SEC) is gearing up to enact significant disclosure requirements for publicly traded companies and the European Union has passed more ESG regulations over the years that are quickly going into effect. With ESG regulations coming down the pipeline it's time to start thinking proactively and start integrating ESG into your business practices.
A strong safety management program is all about proactive thinking because a reactive safety management program isn't considered a successful one. But what does safety have to do with ESG? Well, an effective EHS management program is truly the foundation to ESG as shown in the ESG Pyramid Diagram.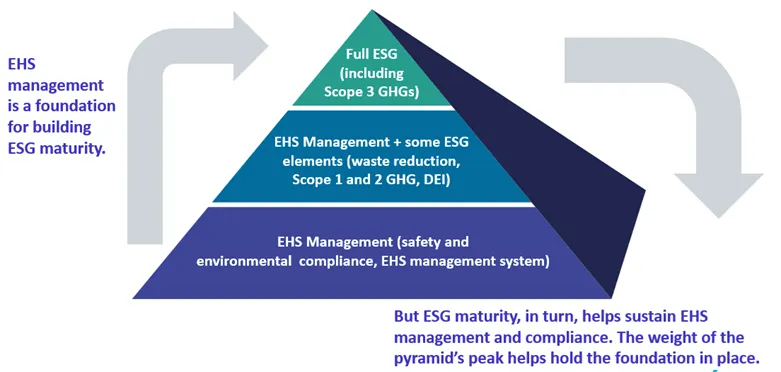 Why Safety Matters
As mentioned above, doing good is good business, and what's more important than making sure every person goes home to their family and friends every day in the same condition as they arrived at work? EHS and safety management is all about protecting people and the environment, cultivating a culture where the people in your business feel that they matter, and can make a positive contribution to protecting their own safety and the safety of the environment. A good health and safety management system is characterized by strong leadership that engages its managers, employees, supply chain, and customers to meet needs and expectations.
As illustrated by the Bradley Curve, in the image below, a high-performing safety culture has a positive effect on productivity, quality of work, the work environment, and profitability. When safety is a priority and viewed as an all-hands-on deck approach, company culture and morale are higher, which naturally raises the ESG maturity curve through improved engagement.

The term social sustainability is increasingly used to refer to efforts to create safe and healthy places, both inside and outside the workplace. That's another reason why health and safety are essential parts of the sustainable development movement, an important driver of ESG, it seeks to achieve economic development with as minimal as possible depletion of natural resources while avoiding negative impacts on vulnerable communities. The internal part of social sustainability involves providing a positive work environment in which employees feel they have important roles to play in safety management, and believe the company has their best interests at heart verses just reducing negative incidences, like occupational injuries and illnesses. Protecting people's welfare helps the business grow as it reduces absences, turnover, lost time, poor health, injuries, insurance costs, while promoting higher morale and productivity. And let's be real, nobody wants to work for a company where they don't feel safe.
How Safety Connects to ESG
EHS and safety management is no easy task. There is a lot to manage, and it often feels like there isn't enough time to manage it all. But it shouldn't be a big surprise that EHS and Safety Managers are in a unique position to step into an ESG program from your current safety management program. You're already reducing harm to the environment (the "E" in ESG), promoting health and safety (the "S" in ESG), and gathering metrics and data to document progress (the "G" in ESG).
According to the 2022 EHS Global Corporate Survey conducted by Verdantix, an independent research firm, 44% of the 302 EHS Senior Executives surveyed said the EHS function would take full ownership of ESG strategy over the next two years. This statistic makes sense because having a mature ESG program helps to sustain EHS management and compliance, so why not utilize your EHS team for ESG strategy.
The right safety management software solution helps make your job easier and simplifies collecting the necessary data to have a strong proactive management system. Plus, safety software allows for better transparency and engagement, helping you to create a culture where safety is a team effort and everyone's responsibility. This not only moves you up the safety maturity curve, but also opens the door to step up the ESG maturity curve at the same time. Let's look more closely at some opportunities to bring EHS and ESG together.
Chemical Management and Green Chemistry
There are many challenges EHS and Safety Managers face when it comes to chemical management and hazardous communication (HazCom) compliance, including:
Accessing SDSs while working remotely
Training workers
Managing new chemicals
Understanding regulatory requirements
Understanding hazards
In addition to these challenges, OSHA has issued a Notice of Proposed Rulemaking (NPRM) to update the HazCom Standard to align with Revision 7 of the United Nations' Globally Harmonized System of Classification and Labelling of Chemicals (GHS), whereas Health Canada already published its final rule to align with GHS Revision 7. Chemical management is an ever-changing process that requires tenacity to ensure you're meeting regulatory compliance obligations while keeping people and the environment safe.
There are some chemicals that pose a bigger risk to human health and the environment than others, and may be on specific regulatory lists, which create extra compliance burdens. Other chemical management considerations include workers outside your workforce along the value chain, either upstream or downstream of your operations, which may impact your business.
As an EHS and Safety Manager you have an opportunity to improve your chemical management performance by taking a simple step into an ESG program by implementing modern green chemistry practices. Green chemistry is the principle of designing chemical products and processes in a way that reduces or eliminates the use or production of hazardous substances. It aims to deliver cost-competitive chemical products and processes that achieve the same function of more hazardous alternatives while reducing pollution and other chemical hazards at the source. It applies across the life cycle of a chemical product, including its design, manufacture, use, and ultimate disposal.
Benefits of green chemistry include:
Reduction of waste at its source
Preservation of raw materials
Reduction of negative impacts on human health and the environment
Green chemistry offers a proactive approach to ensuring a safer workplace while having minimal to no negative environmental effects. As an EHS and Safety Manager adopting green chemistry is a powerful ESG strategy for improving safety management and ESG maturity. ESG software can easily help you to find and identify green chemical alternatives while safety management software helps with regulatory compliance management.
Incident Management, JSAs, Audits, and Inspections & Observations
As mentioned above a strong safety culture is the foundation to improving social sustainability. There are also regulatory requirements that need to be met to stay compliant from multiple organizations across the globe such as Safe work Australia, Canadian Center for Occupational Health and Safety, OSHA, European Agency for Safety and Health at work, etc. Keeping records, documenting incidents, performing JSAs, audits, and inspections & observations are all important components to meeting regulatory requirements while driving an interdependent safety culture.
EHS and Safety Managers should be aware of the connection between workplace health and safety, and business success. Building a safety culture with shared responsibilities and visibility across tasks empowers everyone in the workplace to make safety a shared value. Having the ability to investigate all types of incidents, near misses, illnesses, and injuries allows for better preventative action plans and adds accountability. It's through continuous improvement in safety that drives your business towards an interdependent culture which in turn meets social expectations with ESG disclosures.
Safety Management Data Collection and ESG
Showing your progress through your safety journey helps with transparency both internally and externally. You need data to be able to evaluate both EHS and ESG programs to make needed improvements, identify risks and opportunities, monitor progress, and report results. Data collection helps you to make more educated decisions and again shows accountability. The "G" in ESG is met, in part, through data collection. Again the right, EHS and ESG software makes it so much easier to provide reliable reports to show where you are in your ESG journey.
In the words of Phil Molé, "You need to find ways of simplifying your ability to access and use data to maintain regulatory compliance to have any chance of building ESG maturity."
Simply put you'll have a hard time meeting growing demands for improved ESG without a solid and proactive EHS management system. Again, don't look at ESG as an added thorn in your side but as an opportunity to gain that competitive edge for your business and in your career. With EHS and ESG software you'll be able to easily apply effective proactive strategies.
EHS and ESG Resources to Help Guide Your Journey
If you're looking for additional information, check out these resources from our growing content library:
Here at VelocityEHS we want to make sure you have the resources and tools you need to be successful in your EHS and ESG journey—but don't just take it from us let our customers tell you about that. Check out some of our customer success stories here.
Ready to Use Safety to Step Into ESG? VelocityEHS has the Tools You Need!
VelocityEHS offers multiple solutions that make it easier to manage, maintain, and ensure long-term success of your EHS and ESG programs. The VelocityEHS Accelerate® Platform offers a single platform with all our integrated solutions where you get access to leading technology, expertise, and a continuous improvement cycle of prediction.
You can utilize the Safety Solution with our award-winning GHS Compliance/HazCom capability, incident management, JSAs, audits, and inspections & observations to tackle critical safety tasks and create visibility into data and trends you'll need to deliver outstanding outcomes.
Then implement the ESG Solution with our Green Chemistry capability to elevate your chemical management, improving workplace chemical safety and maintain compliance while using less harmful chemicals. This award-winning software will also give you insight into managing greenhouse gas emissions, energy consumption, and tools to strategically align your ESG strategy with your stakeholders.
Discover more about how our solutions work together to tackle your toughest EHS and ESG challenges, request a demo today!