VelocityEHS Updates Mobile App to Make Inspections Easier for Workers
11/01/2017 Posted on November 1, 2017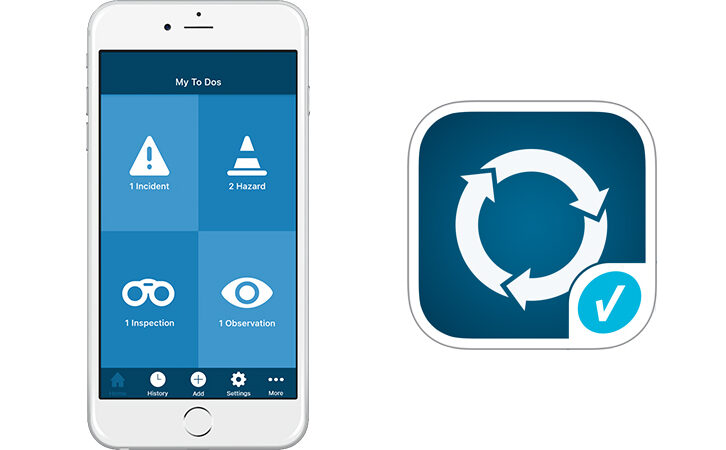 Chicago (November 1, 2017) — VelocityEHS, the global leader in cloud environment, health, safety (EHS) and sustainability software, today announced an update to its VelocityEHS Mobile App that empowers employees to conduct inspections and observations from their mobile devices, even when offline. The simple-to-use app allows workers to instantly report incidents, near misses and hazards – with or without internet connectivity – via a smartphone or tablet device. It's a fast and easy way for companies to get employees engaged with EHS best practices that can save lives.
With this updated release, users of the VelocityEHS Mobile App can:
Eliminate the fuss and expense of paper checklists
Save time and reduce administrative burden
Conduct an inspection anywhere and sync over Wi-Fi or cellular data as soon as a connection is available
Perform behavior-based safety observations in the field and on the floor from the palm of their hands, eliminating the need for paper observation cards
Communicate more efficiently by using the device's camera and voice-to-text features
Reduce risk and create accountability by immediately assigning action items to correct deficiencies
Automatically share the results of inspections with their team
"Keeping up with the demands of an active and mobile workforce is no longer just a choice, but a basic necessity," said Glenn Trout, president and CEO of VelocityEHS. "Today, mobile-enabled inspections and incident reporting are a critical component of an effective EHS program. We invite employers who have not yet considered how mobile can improve their EHS programs and drive productivity to look into their options or risk being left behind. This is especially true as Wall Street increasingly rewards companies that are at the forefront of workplace safety and sustainability."
More customers rely on the VelocityEHS award-winning family of mobile apps than any other EHS solution. In a recent industry assessment, a top independent research firm concluded that companies looking for a smart-looking cloud-based solution and effective mobile functionality should shortlist VelocityEHS.
"In the 2017 Verdantix Green Quadrant report – a review of the top twenty EHS software vendors – no vendor scored higher than VelocityEHS in mobile functionality," said Trevor Bronson, industry analyst at Verdantix. "Its strengths in this are validated by its 68% active-user-to-download rate – almost double the industry average. Any operation that intends to incorporate mobile incident management, inspections and observations into its EHS software rollout should certainly consider VelocityEHS."
The VelocityEHS mobile app works seamlessly with the company's comprehensive, cloud-based EHS management software platform and is available to VelocityEHS customers for iPad and iPhone (iOS 8 and later) and Android smartphones and tablets (4.4 and later) from the App Store and Google Play™ at no additional cost.
To learn more about the VelocityEHS mobile experience, visit www.EHS.com/mobile.
About VelocityEHS
VelocityEHS is the leading global provider of cloud-based environment, health and safety (EHS) software. Its comprehensive software platform and innovative mobile applications, including its award-winning MSDSonline chemical inventory management solutions, aim to make enterprise-level EHS functionality accessible and affordable to businesses of all sizes, helping them solve complex compliance and regulatory challenges in simple ways. Today, more than 13,000 customers worldwide, from virtually every industry, trust VelocityEHS and its solutions to improve EHS performance. Recognized by the industry's top independent analysts, including leading scores in the Verdantix 2017 Green Quadrant Analysis and 2017 NAEM EHS & Sustainability Software Ratings Report, VelocityEHS helps customers reach their EHS goals faster with quick implementations, affordable solutions and unparalleled customer support. VelocityEHS is headquartered in Chicago, Illinois with locations in Canada, the UK and Australia. For more information, visit www.EHS.com. VelocityEHS is an Actua (Nasdaq: ACTA) company.
iPad and iPhone are trademarks of Apple Inc., registered in the U.S. and other countries. Android and Google Play are trademarks of Google Inc.
###
Media Contacts
VelocityEHS
Betsy Utley-Marin
312.881.2307
[email protected]
Actua Corporation
Karen Greene
610.727.6900
[email protected]