VelocityEHS® Named a Leader in latest EHS Software Green Quadrant, Earning High Scores for Ergonomics, Industrial Hygiene, Chemical Management, and Environmental Management
01/04/2023 Posted on January 4, 2023 | in EHS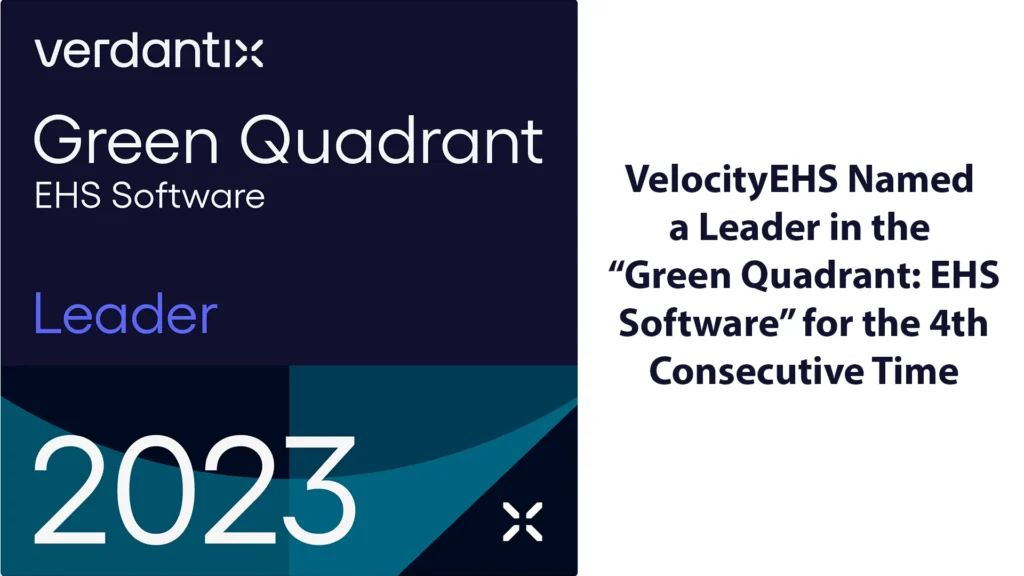 Chicago (January 4, 2023) — VelocityEHS, the global leader in enterprise EHS & ESG software solutions, today announced that it has been named a Leader in the "Green Quadrant: EHS Software 2023" report by the independent research firm, Verdantix. The report advises EHS software buyers that VelocityEHS should be shortlisted by "Enterprise and mid-market customers looking for a scalable, innovative, integrated platform."
This year's Green Quadrant (GQ) report marks the fourth consecutive time VelocityEHS has been named a Leader for EHS Software. The new research spotlights VelocityEHS strengths in AI-enabled ergonomics, green chemistry, industrial hygiene, hazardous waste, chemical management and the management of water and wastewater. Verdantix also named VelocityEHS a Leader in its latest Green Quadrants for Carbon Management and Process Safety Management.
"VelocityEHS designed its Accelerate platform to be a true cloud-native software as a service (SaaS) solution for fast and simpler deployments for its customers. Specifically, the firm built the platform to implement a microservices architecture, creating a solution that delivers faster iterations of capabilities, supports single sets of master data, and allows for scalability on demand," said Chris Sayers, Industry Analyst at Verdantix. "The firm continues to lead the way in defining how AI and ML can enhance an existing EHS platform and develop relevant EHS use cases."
Visit the Verdantix website to view the full report. Key analysis takeaways include:
Perfect Score for Ergonomics
VelocityEHS achieved a perfect 3.0 score for ergonomics due in part to the strength of its AI-enabled and proprietary motion capture technology for risk-based assessments. Starting with a simple video of an employee performing a task, VelocityEHS can produce quantified risk scoring across body segments and detect the most likely causes and effective controls associated with the identified risks. It's a system approach that provides customers with an all-in-one ergonomics solution thanks to the embedded expertise of VelocityEHS' industry leading panel of board certified ergonomists. According to OSHA and the National Safety Council, musculoskeletal disorders (MSDs) are the leading cause of workplace injuries and account for 30% of all days away from work, making an investment in ergonomics imperative for businesses in 2023.
Top Chemicals Management Score and Call Out on Green Chemistry
Once again, VelocityEHS had the top score in the Chemicals Management category where it was lauded for not "resting on its laurels," and continuing to innovate. Specifically, VelocityEHS' new Green Chemistry capability was highlighted for its ability to scan a chemical inventory and help customers identify chemicals of concern using a proprietary algorithm based on the expertise of in-house chemists and over 100 regulatory lists. By identifying dangerous ingredients before they cause harm, companies can reduce the negative impacts of their products on the environment, aligning their product stewardship journey with core ESG principles.
Highest Score Repeat in Industrial Hygiene
Industrial Hygiene is a key capability of the VelocityEHS Health Solution, and once again its global OEL database and out-of-the-box IH lab integrations propelled it to the joint-top score in the 2023 GQ. In 2022, VelocityEHS added new physical demands analysis and return to work capabilities to the Health Solution, making it a must have for employers looking to protect employees from workplace stressors and have a direct impact on reducing workers comp and other related costs in 2023 and beyond.
Environmental Strengths Recognized
VelocityEHS scored highly in the Water and Wastewater Management, Hazardous Waste Management, and Air Emissions categories. On the Accelerate platform, these capabilities are part of the Environmental Compliance Solution. The report called out the way the company allows tracking and compliance against most major waste-related regulations across the EU, the UK and North America and the value of water management in the face of current climate risks and a mounting ESG focus.
"ESG is turning up the heat on the C-suite and corporate boards in 2023," said John Damgaard, CEO of VelocityEHS. "This is especially true for CIOs who are expected to identify and implement solutions that are battle tested, innovative, promote operational excellence and provide actionable data in real time. VelocityEHS is not just a Leader in the Verdantix Green Quadrant, our solutions and team of EHS and ESG experts are trusted by CIOs at the world's most admired companies to control risk and deliver outstanding outcomes in the toughest industrial environments on the planet."
Damgaard added, "With growing economic headwinds and wavering stability across B2B vendors, now is the time for EHS software customers to seek higher ground. VelocityEHS is backed by two world-class global financial sponsors: CVC Growth Funds (an investment arm of CVC) and Partners Group. Each private investment firm has greater than USD 130 billion in assets under management. VelocityEHS is both the most innovative choice and the most secure."
The Verdantix report is the only independent benchmark of EHS software available on the market and provides a detailed analysis of product offerings from 23 of the most prominent EHS software vendors worldwide. Using its proprietary Verdantix Green Quadrant methodology, the report's findings are derived from a combination of benchmark data, live product demonstrations, vendor responses to a 353-point questionnaire, 2.5-hour live demonstrations by suppliers, interviews with more than 15 EHS software users, and a review of data from a global survey of 302 EHS decision-makers. Visit www.Verdantix.com for more information.
For more information about VelocityEHS and its complete offering of award-winning software solutions, visit www.EHS.com.
About VelocityEHS
Relied on by more than 10 million users worldwide to drive operational excellence and achieve outstanding outcomes, VelocityEHS is the global leader in true SaaS enterprise EHS & ESG technology. The VelocityEHS Accelerate® Platform is the definitive gold-standard, delivering best-in-class solutions for managing:
ESG
Safety
Industrial Ergonomics
Control Of Work
Health
Operational Risk
Environmental Compliance
The VelocityEHS team includes unparalleled industry expertise, with more certified experts in health, safety, industrial hygiene, ergonomics, sustainability, the environment, AI, and machine learning than any EHS software provider. Recognized by the EHS industry's top independent analysts as a Leader in the Verdantix 2023 Green Quadrant Analysis—VelocityEHS is committed to industry thought leadership and to accelerating the pace of innovation through its software solutions and vision. Its privacy and security protocols, which include SOC2 Type II attestation, are among the most stringent in the industry.
VelocityEHS is headquartered in Chicago, Illinois, with locations in Ann Arbor, Michigan; Tampa, Florida; Oakville, Ontario; London, England; Perth, Western Australia; and Cork, Ireland. For more information, visit www.EHS.com. 
### Media Contact
Brad Harbaugh
312.881.2855
[email protected]