VelocityEHS Named a Leader in Inaugural Green Quadrant for ESG Reporting and Data Management Software by Independent Analyst Firm
07/17/2023 Posted on July 17, 2023 | in Accelerate Platform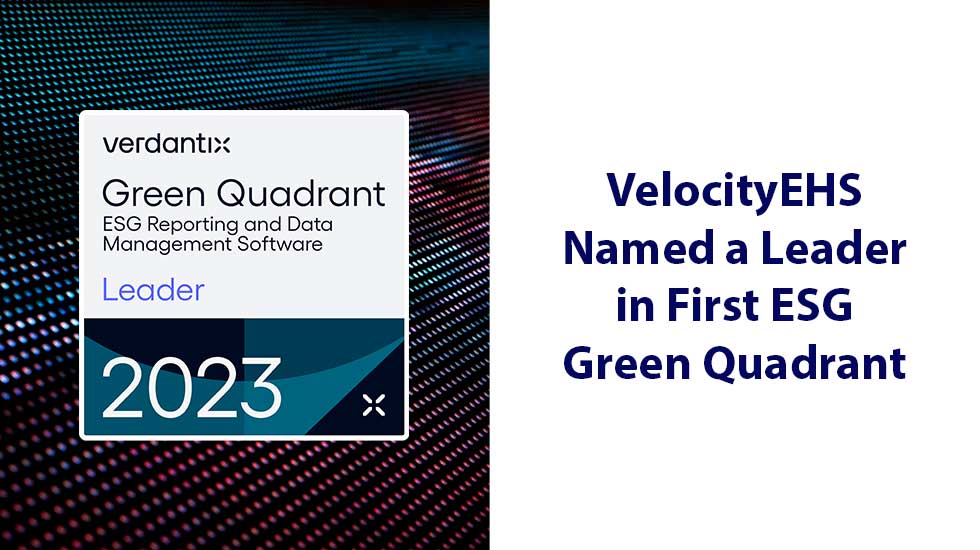 Enterprise and mid-market firms seeking deep data management capabilities and industrial buyers looking to drive performance across ESG and EHS are encouraged to include Velocity on their shortlist.
Chicago (July 17) – VelocityEHS®, the global leader in enterprise EHS & ESG software solutions, today announced it has been named a Leader by the independent analyst firm Verdantix in its first Green Quadrant (GQ) for ESG Reporting and Data Management Software. The report recognizes Velocity for its data acquisition and data quality capabilities and its ability to drive performance across ESG, Sustainability and EHS programs.
According to Verdantix, demand for ESG software has grown substantially over the last three years due to increased regulations and pressure from firms' internal and external stakeholders. As such,ESG and sustainability metrics reporting has moved from a "nice to have" to "must have" for many organizations.
"ESG reporting is serious business, and data is King. Investors and supply chain partners demand radical data transparency, and regulatory violations can trigger major fines and penalties," said John Damgaard, CEO of VelocityEHS. "Companies gain a huge advantage when they deploy an ESG solution with investor-grade data capabilities, like the state-of-the-art Accelerate® platform, that can automatically collect, verify, validate and protect your ESG data."
The ESG GQ report provides a detailed assessment of the 20 most prominent solution providers and their product offering, and to qualify as a leader, vendors needed to clear a high bar including demonstrated industry leading performance, and capabilities across a range of ESG metrics. The ESG Reporting GQ assessed a vendor's ability to:
Manage the Social and Governance aspects of ESG in conjunction with Environmental
Deploy tooling to help ESG programs to manage stakeholders, including members of the C-Suite
Develop reporting consistent with voluntary, mandated and regulated disclosure standards
Velocity scored highly for data acquisition and architecture, data management, configurability, data quality control and enhancement, materiality assessments, and ESG and sustainability performance.
According to Verdantix in its 2023 ESG GQ Report, "VelocityEHS's Accelerate platform is a cloud-native SaaS solution that provides customers with fast deployments and includes a microservices architecture to improve scalability and performance while reducing downtime…Organizations seeking strong data management capability should include VelocityEHS on their shortlist."
Damgaard added, "Delivering results for ESG, EHS and sustainability gets easier with real-time, strategic enterprise-wide information at your fingertips. Velocity delivers with predictive analytics, the ability to forecast calculations and run "what-if" analysis, and easy customer API/data integration."
In 2022, VelocityEHS was also named as a Leader in Verdantix's inaugural Carbon Management GQ which highlighted the company's leadership in GHG-emission data collection and calculation. Achieving a Leader position in both the ESG Reporting GQ and the Carbon Management GQ positions VelocityEHS' ESG Solution as the best-in-class platform for both organizations beginning their ESG journeys and those organizations with mature ESG programs seeking enhanced capabilities.
The Velocity ESG Solution includes industry-leading capabilities for GHG & Energy Management, Materiality and Double Materiality Assessments, and Performance Metrics. It is part of the Velocity Accelerate Platform, which delivers best-in-class performance in the areas of safety, sustainability and resiliency. The platform also has award-winning Environmental Compliance and Green Chemistry capabilities. For more information about VelocityEHS and its complete award-winning software solutions, visit www.EHS.com.
About VelocityEHS
Relied on by more than 10 million users worldwide to drive operational excellence and achieve outstanding outcomes, VelocityEHS is the global leader in true SaaS enterprise EHS & ESG technology. The VelocityEHS Accelerate® Platform is the definitive gold-standard, delivering best-in-class software solutions for managing:  
ESG 
Safety 
Industrial Ergonomics 
Control of Work 
Health 
Operational Risk 
Environmental Compliance
The VelocityEHS team includes unparalleled industry expertise, with more certified experts in health, safety, industrial hygiene, ergonomics, sustainability, the environment, AI, and machine learning than any EHS software provider. Recognized by the EHS industry's top independent analysts as a Leader in the Verdantix 2023 Green Quadrant Analysis—VelocityEHS is committed to industry thought leadership and to accelerating the pace of innovation through its software solutions and vision. Its privacy and security protocols, which include SOC2 Type II attestation, are among the most stringent in the industry. 
VelocityEHS is headquartered in Chicago, Illinois, with locations in Ann Arbor, Michigan; Tampa, Florida; Oakville, Ontario; London, England; Perth, Western Australia; and Cork, Ireland. For more information, visit www.EHS.com.  
### 
Media Contact
Jennifer Sinkwitts 
734.277.9366
[email protected]