New VelocityEHS and Fit For Work Partnership Drives ESG Maturity by Delivering Implementations of Best-in-Class Ergonomics & Health Solutions at Scale
03/23/2023 Posted on March 23, 2023 | in Ergonomics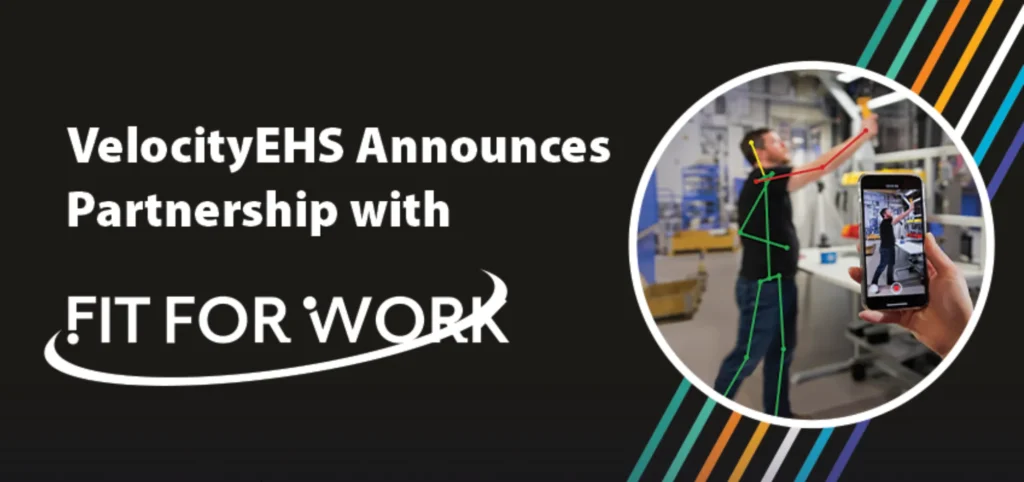 Chicago (March 23, 2023) – VelocityEHS®, the global leader in enterprise EHS & ESG software solutions has announced a new partnership with Occupational and Industrial Health powerhouse Fit For Work, a member of the Confluent Health family. The collaboration will enable all companies, no matter their size, industry, or level of program maturity, to operationalize their ergonomics process and proactively reduce workplace musculoskeletal disorders (MSDs) and associated costs.
Workplace MSDs are the single largest category of workplace injuries, affecting of 25% of workers globally and costing employers billions of dollars a year. The new partnership will leverage Fit For Work's model of prevention and early intervention by providing a full suite of services related to VelocityEHS award-winning Physical Demands Analysis, Return to Work, and Industrial Ergonomics capabilities.
Together, Velocity and Fit For Work offer an unparalleled opportunity for businesses to quickly scale implementation, training, on-site assessments, and adoption of VelocityEHS' Ergonomics and Health solutions.
"Now every company can have a high-performing ergonomics program in place today. Extraordinary advances in technology paired with decades of research and expertise make it easy to do. And if that's not enough, these programs pay for themselves, quickly," said Matt Airhart, President of VelocityEHS. "VelocityEHS and Fit For Work have the right combination of experts, tools and services to enable companies to swiftly and skillfully implement world-class, holistic health and ergonomics programs."
"If you're looking to increase productivity, lower costs, decrease injuries, and have meaningful engagement with your people, there's no better way than by making sure you are fitting the job to the employee — not the other way around," said Fit For Work CEO John Groves. "Fit For Work and VelocityEHS share a passion for transforming workplace safety cultures and preventing musculoskeletal disorders. Together, we can help you fast track initiatives that improve health, safety, and profitability."
On the SaaS solution side, VelocityEHS brings over 40 years of expertise as well as proprietary ActiveEHS® software via its Accelerate Platform, which includes Ergonomics and Health Solutions that leverage sensorless motion-capture technology, artificial intelligence, and machine learning to drive a continuous improvement cycle of prediction, intervention, and outcomes. With VelocityEHS everyone, regardless of their ergonomics expertise, can conduct MSD risk assessments and identify specific risk causes and relevant controls with the precision and accuracy of an experienced ergonomist.
On the services and software implementation side, Fit For Work brings over 20 years expertise, across nearly 2,000 locations, to in-person proactive and results-driven safety programs. Their team of 350 professionals, include physicians, occupational therapists, physical therapists, athletic trainers, certified ergonomists, and safety professionals that excel in helping companies create scalable ergonomics and safety programs through onsite investigations and interventions to learn first-hand about customers' unique needs and opportunities for ergonomics and return-to-work improvements.
Certified ergonomics experts from VelocityEHS and Fit For Work will be announcing their partnership at the VelocityEHS booth (#109) on the exposition floor at the Applied Ergonomics Conference on March 28 from 11 a.m. to 1 p.m.
About Fit For Work
Fit For Work is a privately held Occupational and Industrial Health practice developed around a model of prevention, ergonomics and early intervention. Founded in 1998, Fit For Work has continuously sought to provide large and small employers alike with a non-traditional service model. This model combines a progressive approach to injury prevention and treatment based on an underlying and proven principle that putting the right worker in the right place in as safe a manner as possible results in decreased costs, decreased injuries, increased profitability and increased productivity. For more information, please visit wellworkforce.com.
About Confluent Health
Confluent Health is a family of physical and occupational therapy companies who are transforming healthcare by strengthening private practices, developing highly effective clinicians, innovating new services and technology to improve the quality of care for patients, and lowering costs via more effective treatment, workplace wellness, and injury prevention. For more information, visit goconfluent.com or find us on Facebook at @confluentfamily.
About VelocityEHS
Relied on by more than 10 million users worldwide to drive operational excellence and achieve outstanding outcomes, VelocityEHS is the global leader in true SaaS enterprise EHS & ESG technology. The VelocityEHS Accelerate® Platform is the definitive gold-standard, delivering best-in-class solutions for managing:  
ESG 
Safety 
Industrial Ergonomics 
Control Of Work 
Health 
Operational Risk
Environmental Compliance 
The VelocityEHS team includes unparalleled industry expertise, with more certified experts in health, safety, industrial hygiene, ergonomics, sustainability, the environment, AI, and machine learning than any EHS software provider. Recognized by the EHS industry's top independent analysts as a Leader in the Verdantix 2023 Green Quadrant Analysis—VelocityEHS is committed to industry thought leadership and to accelerating the pace of innovation through its software solutions and vision. Its privacy and security protocols, which include SOC2 Type II attestation, are among the most stringent in the industry. 
VelocityEHS is headquartered in Chicago, Illinois, with locations in Ann Arbor, Michigan; Tampa, Florida; Oakville, Ontario; London, England; Perth, Western Australia; and Cork, Ireland. For more information, visit www.EHS.com.  
### 

Media Contact
VelocityEHS
Jennifer Sinkwitts 
734.277.9366
[email protected]
Fit For Work
Mike Wobschall
612.709.4031
[email protected]