Rockton Fire Reinforces Importance of Emergency Response and Chemical Management Planning
06/15/2021 Posted on June 15, 2021 | in Safety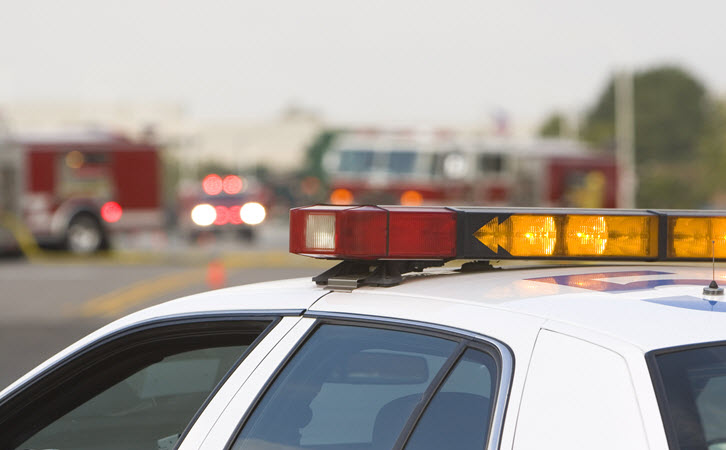 A structure fire that erupted yesterday at a chemical product manufacturing facility in Rockton, Illinois prompted a mandatory evacuation of surrounding communities, and resulted in the destruction of the facility and confirmed injury to at least one first responder at the time of this writing.
According to local reports, multiple area firefighters received calls reporting smoke, visible flames and the sound of explosions coming from a facility operated by Chemtool, a manufacturer of grease and lubricant products, early on the morning of June 14. When firefighters arrived on the scene, they found that the fire was already burning through the roof and had consumed most of the plant. The Lubrizol Corporation, which owns the Chemtool facility, attributed the fast spread of the fire to wind conditions.
In a press statement, Alicia Gauer, Senior Director of Global Communications for the Lubrizol Corporation stated that they had confirmed that all of their workers had evacuated, and were "safe and accounted for." The statement also indicated that Lubrizol did not yet know the cause of the fire, but would be working with local authorities and their internal risk management team to determine what happened and identify any corrective actions."
Approximately 175 firefighters from 45 area fire departments responded to the fire. Rockton Fire Chief Kirk Wilson stated that one firefighter was sent to an area hospital because of respiratory difficulties resulting from exposure to smoke. That individual received medical treatment and has since been released.
According to Wilson, even though the facility itself is already completely destroyed, the fire may continue to burn for a number of days. "We are thinking that this is going to be a several day event to have all this product burned off," Wilson said. Part of the reasoning behind letting it burn off, according to Wilson, is concern about water runoff contaminated with chemicals potentially impacting the nearby Rock River and other waterways. Because of the nature of products manufactured by Chemtool, there is potential that quantities of petroleum products used to make greases and lubricants were on hand, and represent exposure and release hazards to the environment and community.
Concern about environmental impacts is also the reason that representatives of the Illinois Environmental Protection Agency (IEPA) and Illinois Emergency Management Agency (IEMA) mobilized to the site, and the Rockford Fire Department sent its hazardous materials team to conduct an air quality analysis. Wilson stated that "At this point in time there is no danger to air quality at ground level." That said, county officials will be continuing to perform in-depth assessment of impacts to air, water and land, as well as to public health.
Residents within one mile of the plant have been told to evacuate, while residents two miles south of the Chemtool plant site have been asked to remain indoors, close their doors and windows and turn off their air conditioners to reduce potential for exposure to harmful fumes. Road closures are also in place to prevent local traffic from approaching the incident site too closely, so residents should be sure to follow local news outlets for updates on the closures before venturing out.
Emergency Planning and Chemical Management Reminders
Incidents like the Rockton chemical fire highlight the importance of having access to emergency response information in the event of a major industrial incident. Without information about the identity of the chemicals on-site, their physical and health hazards, and appropriate firefighting and emergency response measures, first responders lack the information needed to safely control and extinguish a fire or address dangerous releases. Uncertainty about chemical hazards that may be encountered when responding to an incident places emergency first responders at risk, reducing their ability to identify proper personal protective equipment (PPE) and response tactics.
Lack of chemical hazard information also places communities at risk as members of the community, health care providers, municipal officials and other community stakeholders need this information to recognize and understand exposure symptoms, identify vulnerable populations, and take sufficient precautionary and treatment measures.
Emergency planning should be a collaborative process that goes beyond the sharing of information, as important as that may be. It's about having relationships with all stakeholders, involving them early in the planning process and making sure there are no gaps in communication that could prove costly in the event of a disaster.
One of the most basic foundations of emergency planning is knowing what chemical hazards exist in your facility. That means keeping your chemical inventory and SDS library up-to-date, and being able to quickly access and share hazard information at all times. Consider the advantages a modern cloud-based chemical and SDS management software solution would give you in strengthening your emergency plans and streamlining emergency information sharing. The best solutions even give you the ability to map your chemical storage locations onto a footprint of your facility and automatically share that information with emergency responders, making it that much easier for them to develop a safe and effective response strategy in the event of a serious incident.
Also, make sure all of your related safety tasks are as streamlined as possible, and easy for workers to be involved in. Purpose-built safety management software can give you the ability to share responsibility for key safety tasks, including mobile SDS access and chemical inventory reporting, and give you the data visibility needed for effective emergency planning.
Access to emergency response services, including a 24-hour exposure support hotline, can also be crucially important in emergencies. They ensure that employees and plant leadership can have accurate hazard information in the moment it's most needed, when even slight delays in getting that information can be the difference between life and death.
Even the most well-managed facilities still bear the risk for a serious chemical-related emergency, but with the right plans and tools in place, you can minimize the impact of an incident on your business and reduce the risks to your workers and your community.
Let VelocityEHS Help!
VelocityEHS supports the efforts of safety professionals responsible for emergency planning, and the first responders who put their lives on the line every day. We're always designing and developing EHS software technologies to help keep businesses, workers and communities safe.
Part of the all new VelocityEHS Accelerate® Platform, our Chemical Management software can help ensure you and your workers have an up-to-date chemical inventory and SDS library, and that you can access that information from anywhere using a mobile device – an invaluable capability during an emergency. Our Safety Management Solution gives you those same SDS access and chemical management capabilities, as well as tools to simplify and share responsibilities for essential safety tasks like inspections, incident investigations, job safety analyses (JSAS), corrective actions, safety meetings and reporting so you can take a more proactive approach to safety management and prevent emergencies before they happen.
Our Emergency Response Services give you and your workers 24-hour access to our federally and globally recognized Emergency Response Communication Call Center to get rapid chemical exposure support. If you're a chemical manufacturer, you'll also get a toll-free emergency number to include in Section 1 of your product SDSs so all your downstream users receive fast access to chemical hazard information when they need it most. To learn more about how we can help and to request a quote, visit our Emergency Response Services page.
We will continue to follow the Chemtool facility incident. Follow Us on LinkedIn for updates as they develop. Until then, stay safe.