What if You Never Stopped Working? Remembering Healthcare and First Response Workers During "Return to Work"
05/27/2020 Posted on May 27, 2020 | in Safety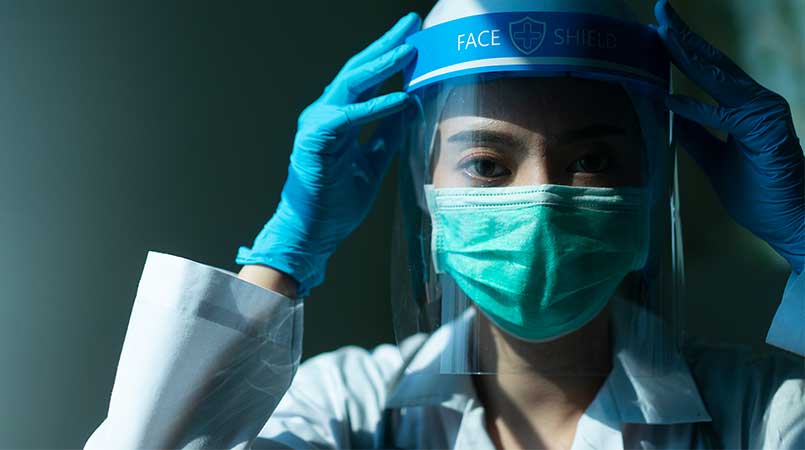 Across the US, states are beginning to partially reopen their economies, and "return to work" is a trending topic as many workers prepare to re-enter the physical workplace. But these narratives sometimes, however unintentionally, overlook the fact that many workers never stopped working, and never left their usual workplaces. Workers in state-designated "essential services" belong in that category, including utility services, public works, and critical manufacturing.
That category also includes healthcare and first response workers, who continue to make the greatest sacrifices and place themselves at risk during the COVID-19 pandemic. Many of us have the honor of knowing someone who works in those sectors, whether professionally, personally, or both. I myself am married to someone who's been a nurse through nearly her entire adult life. These workers have not been working remotely from their homes for the past two months. They've been on the front lines, making the sacrifices to protect the rest of us.
This article is about them, and for them. Let's review some of the challenges facing these workers as the rest of the workforce prepares to return to work, and some of the key guidance and considerations to maintain their safety.
Impact of COVID-19 on Healthcare Workers
The current pandemic has brought unique challenges for healthcare. The industry held up quite well during the worst part of the Great Recession in 2008-2009, but COVID-19 has taken its toll on healthcare along with most other industries. At the time of this writing, preliminary data from the Bureau of Labor Statistics (BLS) shows that the healthcare industry lost 1.4 million jobs in April alone.
Why is this time different? As the pandemic started really escalating in the US back in March, the healthcare industry realized it needed to prepare for a rush of COVID-19 medical treatments that could potentially overwhelm their capacity. Guidance issued by the Centers for Medicare and Medicaid Services (CMS) on March 18, 2020 recommended that healthcare institutions limit non-essential healthcare services to ensure sufficient capacity to care for COVID-19 cases. Healthcare providers found themselves tasked with reducing elective and non-urgent services, and often staff, to best prepare for an increased demand on urgent-care services for COVID-19 patients.
The results have been devastating. Countless hospitals, clinics and other providers have reported furloughing workers while they hold off on elective procedures. For example, one healthcare company reported that they had furloughed 500 full-time equivalent (FTE) positions during April. Other organizations report furloughing more than 40% of their workforce.
Not surprisingly, the ambulatory sector, consisting of mostly outpatient services, was the hardest hit, accounting for approximately 82% of April's healthcare job losses. Losses for services in this sector occurred not only because of refocusing efforts by healthcare organizations to meet demands for emergency services related to COVID-19, but also because of more general disruptions to life in the wake of COVID-19. For example, some states prohibited dental visits except for emergencies, and in areas where non-emergency visits could still occur, many people chose not to seek those services due to fears of exposure to the SARS CoV-2 virus that causes COVID-19.
All told, healthcare facilities have faced increased demand for a subset of their services, causing them to lose revenue from other services and in many cases reduce their staff. The many workers who have continued working have worked harder than ever in a climate of uncertainty and heightened risk.
New Challenges for Healthcare as Other Industries Return to Work
As states begin to reopen parts of their economies, healthcare organizations must once again pivot their focus as they begin to resume elective and non-urgent medical procedures. Those organizations that had furloughed employees associated with these services may now be preparing for some of them to re-enter the workplace, even as those workers involved in urgent-care services related to COVID-19 continue to shoulder grueling workloads.
The healthcare workplace may have changed in important ways since the pandemic started. New cleaning chemicals, including disinfectants on EPA's List N, may now be present, and disinfecting regimens will need to be aggressive to decontaminate surfaces for the protection of employees and patients. Employers need to ensure they keep chemical inventories and SDS libraries up to date, and provide training to all affected workers, including those who may be returning to the workplace after an extended absence.
There may also be many new drugs in the workplace used for treatment of symptoms associated with COVID-19, some of which may be hazardous drugs (HDs) on NIOSH's list. Employers have responsibilities under both OSHA's HazCom Standard and USP <800> to protect their employees from exposures to these drugs, as we've previously written about. Again, this can be challenging to do while the workplace itself is in flux.
Adding to all of this is the element of uncertainty. Consider this: The return to work of other industry sectors may very likely affect healthcare workers in a number of possible ways. If the incidence rate of new COVID-19 cases significantly increases, healthcare facilities may have to shift gears once again to re-prioritize urgent care, even after already resuming more elective procedures. Other areas of healthcare, like pharmacies, may also see increased traffic as more people begin resuming normal activities, or increased rates of prescriptions for drugs used to treat COVID-19 get issued if there is a spike in the number of cases. Increased handling of HDs for COVID-19 treatment also puts pharmacy employees at additional risk.
Law Enforcement and Fire Departments
One often overlooked aspect of the current pandemic is its effect on first responders such as law enforcement and fire departments.
Law enforcement officers, for example, have found themselves tasked with not only doing their usual jobs, but also helping to enforce their state's lockdown orders by intervening when large groups of people gather, or when businesses re-open in defiance of lockdown orders, as described in this news story.
Fire departments, including emergency medical service (EMS) workers such as paramedics, have specific challenges, including close proximity to people with a variety of illnesses, some of which may be either diagnosed or unknown cases of COVID-19. Use of personal protective equipment (PPE) such as fire-resistant clothing, gloves, and self-contained breathing apparatus mouth pieces creates additional potential for exposure. If a surge in COVID-19 cases occurs following the re-opening of state economies, the need for EMS services may increase risks to fire department personnel even further.
For all classes of first responders, an additional complication is that the nature of the work, including shared space in vehicles, makes social distancing difficult and creates more potential for exposure. Additionally, masks and disinfectants have been in short supply, leading to pressure to re-use masks not intended for long-term use or even use disinfectants past their "use by" dates.
CDC has issued general guidance for all first-responders, available here. CDC has also issued sector-specific guidance for law enforcement personnel, as well as fire fighters and EMS workers. Due to short supply of N95 respirators, CDC has also issued recommended guidance for extended use and limited reuse of these respirators. You can find other relevant resources, including FAQs and disinfecting guidance specific to first responders, at CDC's COVID-19 resources page for law enforcement and first responders.
What Can Employers Do?
If you are an employer in the healthcare and first responder sectors, now is the time to make sure you have adequate preparations in place to protect your workers. Let's review some steps you can take, focusing on guidance for the healthcare industry, where potential risks of exposure are greatest.
First, have a plan. Work with physicians, nurses and other health care professionals within your organization to identify which types of elective non-urgent medical procedures need to return soonest. CMS published recommendations last month that you can use to inform those discussions.
Next, establish groups to assess ambulatory, ancillary, surgical and other medical service areas. Put together business plans to address what the professionals associated with each of these areas will need from your organization in terms of personnel and financial resources, PPE, protocols, and training.
When developing these plans, make sure you're addressing plans address HazCom requirements for any disinfecting chemicals you're using, including ways to train your workers on the hazards and proper use of these chemicals, including ways to avoid inadvertently mixing incompatible chemicals. If you need additional information about HazCom, check out our on-demand webinar.
Also, pay attention to requirements for HDs under both HazCom and USP <800>. Remember, HDs are covered under the HazCom Standard unless in final solid form for administration to patients, and USP <800> requires employers at healthcare facilities to take a number of specific actions to protect their workers from exposure to HDs, including assessment of risk (AOR), containment requirements, engineering controls, and training. If you need a refresher on USP <800>, feel free to watch our webinar on May 28.
Some workers, including firefighters and EMS personnel, may have to wear respirators as part of their job duties. Make sure that all of your respirator fit testing (RFT) is up-to-date, especially if you've had to readjust worker roles and responsibilities as the trajectory of the pandemic has changed. To help our customers in the first response community meet their requirements and better protect their workers, VelocityEHS is offering free use of our RFT product for six months.
No matter what sector you're in, you can also find additional guidance at OSHA's COVID-19 resources page. OSHA has recently added several new industry-specific guidelines relevant to the healthcare sector, including:
American Industrial Hygiene Association (AIHA) has also sponsored the page Back to Work Safely TM to provide resources to help both businesses and consumers safely manage the transition to the next phase of life during COVID-19, including valuable discussion of industrial hygiene (IH) considerations. If you're using our VelocityEHS IH platform, you'll be able to easily manage all aspects of IH, including sampling, medical surveillance and RFT.
The Human Factor
Aside from all of the above, what else can employers of healthcare workers and first responders do? I wondered that myself, and knowing that the most human aspects of a problem are the most important to get right, I decided I needed to know directly from employees in these sectors what they hoped to see from their employers. For example, a nurse would be great to talk to, because they are in so many ways right at the front line of the COVID-19 crisis.
So, I decided the ask the nurse I'm married to. Here's what she told me.
She said that many workers in her profession are understandably afraid not only of getting COVID-19, and the impact that can have on them and their families, but are also afraid of how it may impact their job. How will their employer handle giving them the time they need to recover? If they have a complicated case that causes them to need significant recovery time, what then? Will their pay be affected? Their job status?
It only takes a little bit of empathy to understand this position. Think of how concerned you may be about potential exposure to SARS CoV-2, and now consider how concerned you'd be if your everyday job activities put you at much greater risk. Worries caused by lack of understanding about the measures your employer is taking to protect you from the disease, and how or even whether they will do right by you if you get sick, add to already significant levels of anxiety.
We've talked here about the ways that employers in the first response healthcare and first response sectors can plan to protect the safety of their workers. Those plans are important, not only to maintain safety and business continuity, but also because quite frankly, your workers need to know now, more than ever before, that their employers value them and are invested in their future.
Don't forget the human factor. Stay connected to your team, and make sure you're giving them the information and support they need, when they need it. Cover all of the information you'd want if you were in their place, and be willing to listen, too.
The COVID-19 has been a stressful and an isolating time for many of us, and workers in healthcare and first response have had to tackle the greatest challenges of all, because they place their own health at risk in order to protect ours. All of us owe them a debt we can't possibly repay. The least we can do is remember them as other industry sectors "return to work," and do right by them to the best of our ability.
Let VelocityEHS Help!
To help ensure the safe use of chemical cleaning products during the COVID-19 outbreak, VelocityEHS is offering free access to our MSDSonline database containing up-to-date SDSs for the products on EPA's approved list of disinfectants against SARS-CoV-2.
Click Here For More Household Cleaning Safety Tips & Guidance
Also, be sure to check out our VelocityEHS COVID-19 Resource Site featuring a growing library of helpful articles and free tools to help protect against COVID-19 and manage safety in both the home and workplace during this challenging time. These resources include free 6-month access to our RFT software for customers in the healthcare and emergency response sectors.
All of us here at VelocityEHS would like to say one simple thing to all healthcare and emergency response workers: Thank you.
We're grateful for your efforts and are always here to support you. If you have any questions, please contact us at any time.