World's Most Widely Used SDS / Chemical Management Software Just Got Better
10/16/2018 Posted on October 16, 2018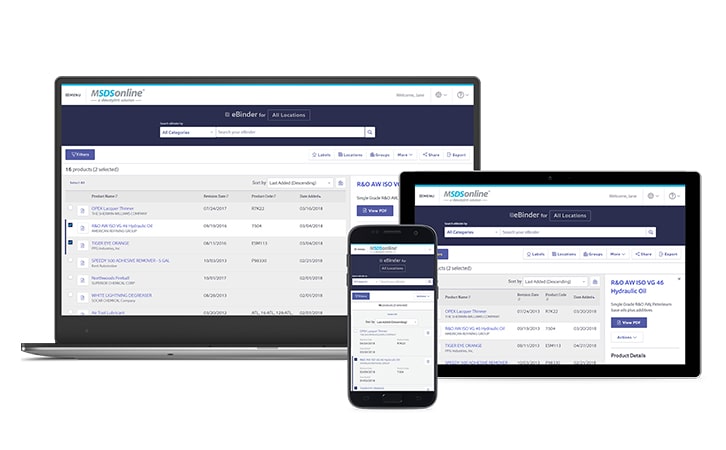 Chicago (October 16, 2018) — VelocityEHS, the global leader in cloud-based environment, health, safety (EHS) and sustainability solutions, announced today the launch of its newly designed MSDSonline SDS/Chemical Management software platform. Backed by more than 20 years of continuous product innovation and rebuilt from the ground up to make it even easier for safety professionals and frontline workers to use, this latest release includes over 350 new and improved features to help companies who work with hazardous chemicals simplify compliance and improve worker safety.
The new software design was driven by feedback from the MSDSonline user community — the industry's largest community of EHS software users, which includes companies from over half of the Fortune 1000. The result is a more visually intuitive user experience, improved accessibility, and new tools so today's increasingly diverse workforce can play a more proactive role in workplace safety.
"As workplace dynamics change, it's critical that companies adopt more sophisticated solutions to support greater employee engagement in safety and understanding of workplace hazards," said Glenn Trout, president and CEO of VelocityEHS. "We're proud to offer this latest generation of our best-in-class MSDSonline Chemical Management solutions that are easy to use and fast to implement. This new release sets a new industry standard for what safety professionals require from a chemical management product."
More Intuitive User Interface (UI)
The reimagined UI design makes it faster and easier for users to find what they are looking for in just a few clicks, and requires little to no training to use.
Improved SDS search experience for quicker access to critical safety information.
Enhanced search functionality providing better predictive and categorized results.
Increased configurability provides users with more controls to personalize the functionality to best meet the needs of their organization.
Increased Globalization
The platform better meets the needs of multinational companies and/or companies with widely diverse workforces, while also simplifying compliance with the latest regulatory updates from GHS, OSHA and WHMIS.
Advanced language capabilities ensure users have immediate right-to-know access to vital hazardous chemical safety information — including company specific SDSs and secondary workplace container labels — in the languages they understand.
Improved reporting capabilities help streamline location-specific reporting of key chemical inventory information.
Enhanced location structure tools for easier replication of global, complex organizational hierarchies.
Improved Workflow
Customers get even greater control over their hazardous chemical inventories and a clearer, more comprehensive understanding of their organization's overall hazardous chemical footprint.
Expanded container-level inventory management tools that facilitate greater visibility of hazard information and alignment with physical inventories.
More robust regulatory cross-referencing tools that help streamline reporting and facilitate sustainability initiatives.
Improved mobile functionality and access to the SDS / Chemical Management Mobile App, enable safety professionals and frontline workers to access and manage SDSs and chemical information even while offline.
"We've seen a very clear shift in the industry as more companies adopt technological solutions to help them keep workers safe and workplaces compliant among a rapidly evolving regulatory landscape," said Mike Flynn, vice president of product at VelocityEHS. "We're radically changing the chemical management space, giving companies quicker, easier and more flexible options for improving workplace safety, engaging their employees, and simplifying their hazard communication compliance. It's all a part of our ongoing commitment to provide the best EHS solutions possible, with our newly formed framework paving the way for even more chemical management and EHS enhancements to come."
The MSDSonline HQ and HQ RegXR Accounts feature built-in GHS workplace labeling capabilities, including integrations with Avery, Brady and Graphic Products' DuraLabel. Its SDS/Chemical Management Mobile App simplifies in-the-field chemical inventory management tasks and provides employees with both on- and off-line right-to-know access to SDSs.
Visit www.MSDSonline.com to learn more about MSDSonline chemical management solutions by VelocityEHS. For more information about VelocityEHS and its full suite of award-winning EHS products and services, visit www.EHS.com.
About VelocityEHS
Trusted by more than 13,000 customers worldwide, VelocityEHS helps you reach your EHS goals faster with quick implementations, affordable solutions and unparalleled customer support. We deliver a comprehensive cloud-based environment, health and safety (EHS) software platform. Our easy-to-use software applications are designed on industry best-practice principles to help you solve complex business challenges in simple ways. Recognized by the EHS industry's top independent analysts, including leading scores in the Verdantix 2017 Green Quadrant Analysis and 2017 NAEM EHS & Sustainability Software Ratings Report, VelocityEHS is the global leader in cloud EHS software solutions.
VelocityEHS is headquartered in Chicago, Illinois with locations in Ann Arbor, Michigan, Oakville, Canada; London, England and Sydney, Australia. For more information, visit www.EHS.com.