VelocityEHS Selected Top Solution for EHS Management and MSDS Management at ASSE Safety 2017
08/10/2017 Posted on August 10, 2017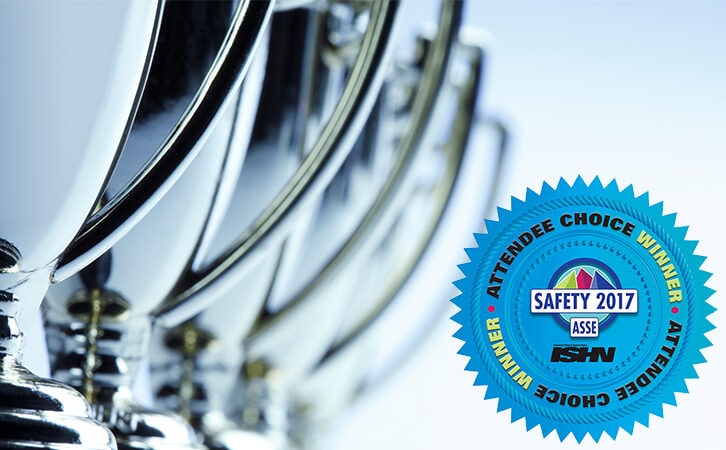 Chicago (August 10, 2017) — VelocityEHS, the global leader in cloud environment, health, safety (EHS) and sustainability software, was recognized for its excellence by occupational health & safety professionals attending the American Society of Safety Engineers' (ASSE) Safety 2017 conference. The VelocityEHS environmental management product won for best EHS Management Software and the company's MSDSonline SDS/Chemical Management app was named best MSDS Management product in the show's prestigious Attendee Choice Awards.
"For the fourth year in a row, VelocityEHS has been recognized by ASSE Safety attendees for our innovative products and services," said Glenn Trout, president and CEO of VelocityEHS. "Our deep understanding of the challenges EHS professionals face has helped us create solutions that deliver the most value to businesses so they can reach their EHS goals faster. Our products are mobile and easy to use, which is why frontline employees, the people who actually use EHS software, rank us number one in the industry."
Environmental Management Software from VelocityEHS — which includes Air Emissions, Water Quality and Waste Compliance modules — makes it easier and more affordable for companies of all sizes to automate complex environmental compliance reporting. The scalable solution collects and analyzes thousands of environmental data points from sources such as continuous emissions monitoring, and streamlines the creation of complete and properly-formatted reports, including Title V performance test reports, NPDES DMRs, and biennial RCRA Hazardous Waste Reports. The VelocityEHS software is faster, more precise and more effective than spreadsheets when it comes to tracking large volumes of data, and less expensive than outside consultants.
ASSE Safety attendees also recognized the MSDSonline SDS/Chemical Management mobile app for simplifying employee access to critical hazardous chemical information. Managing hazardous chemicals in the field has always been a challenge, especially for employees working in remote areas with limited or no internet connectivity, or in facilities where wireless signals are blocked. The MSDSonline SDS/Chemical Management mobile app — developed for iPad®, iPhone® and Android™ devices — syncs with MSDSonline Accounts to give workers both online and offline access to the lifesaving information found on safety data sheets, as well as other critical product and inventory data. With the app, all employees have instant, right-to-know access to the critical hazardous chemical information they need to work safely.
VelocityEHS is the largest and fastest growing EHS software provider in the industry. Its multiple award-winning, cloud-based EHS Management Software Platform and innovative mobile products work together to help EHS professionals better understand and mitigate the operational risks that exist in their workplace. Its software platform is comprised of a comprehensive suite of EHS modules, including Incident Management, Chemical Management, Audit & Inspection, Ergonomics, Air Emissions, Management of Change (MOC), Compliance Management, Risk Analysis, Performance Metrics, Corrective Action, Waste Compliance, Water Quality, On-Demand Training and Training Management.
To learn more about VelocityEHS and its MSDSonline products and services, visit www.EHS.com and www.MSDSonline.com respectively.
A full list of ASSE Safety 2017 Attendee Choice Award winners is available at www.ISHN.com.
About VelocityEHS
VelocityEHS is the leading global provider of cloud-based environment, health and safety (EHS) software. Its comprehensive software platform and innovative mobile solutions aim to make enterprise-level EHS functionality accessible and affordable to businesses of all sizes, helping them solve complex compliance and regulatory challenges in simple ways. Today, more than 13,000 customers worldwide, from virtually every industry, trust VelocityEHS and its solutions to improve EHS performance. Recognized by the industry's top independent analysts, including leading scores in the Verdantix 2017 Green Quadrant Analysis and 2017 NAEM EHS & Sustainability Software Ratings Report, VelocityEHS helps customers reach their EHS goals faster with quick implementations, affordable solutions and unparalleled customer support. VelocityEHS is headquartered in Chicago, Illinois with locations in Canada, the UK and Australia. For more information, visit www.EHS.com. VelocityEHS is an Actua (Nasdaq: ACTA) company.
###
Media Contacts
VelocityEHS
Betsy Utley-Marin
312.881.2307
[email protected]
Actua Corporation
Karen Greene
610.727.6900
[email protected]