VelocityEHS Partners with Avery to Expand Hazardous Chemical Labeling Options in the Workplace
02/14/2017 Posted on February 14, 2017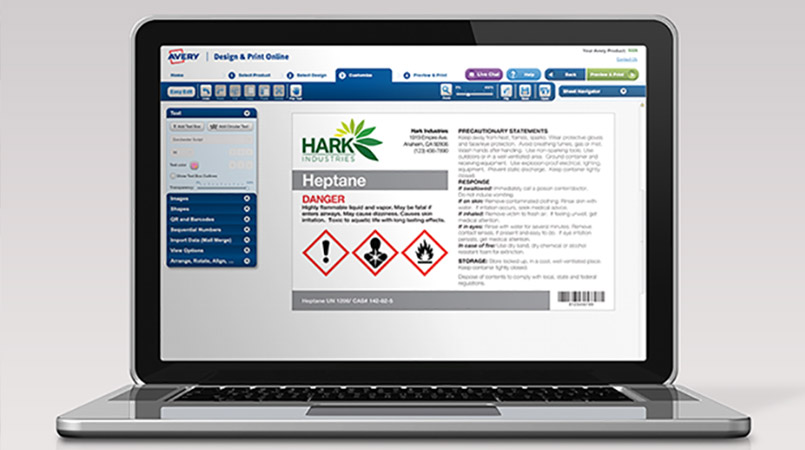 Chicago (February 14, 2017) — VelocityEHS, the leading cloud-based environment, health, safety (EHS) and sustainability software provider, has partnered with Avery Products Corporation, the leading manufacturer of printable labels and cards, to expand the printing options available to employers that must comply with rigorous workplace chemical labeling requirements. Workplace labels and secondary container labels are the first line of defense in keeping employees safe from chemical hazards. Now, users of the VelocityEHS MSDSonline brand of chemical management solutions have more flexibility to create and print customizable workplace labels that meet their specific needs and are compliant with U.S. GHS-aligned Hazard Communication Standard (HazCom) requirements, using information taken directly from safety data sheets (SDSs) in their eBinders.
"Producing chemical workplace labels is a top concern among employers with limited printing resources," said Mike Flynn, Vice President of Product Development at VelocityEHS. "This ground-breaking integration with Avery saves MSDSonline customers both time and money by providing them with access to a broad range of label format options to meet their unique labeling needs, and the ability to print using standard laser and pigment-based inkjet desktop printers. In short, we've streamlined the printing process to make life-saving chemical communication faster, simpler and easier – and made it more accessible to many small to mid-size businesses across the country."
Avery Design & Print GHS Wizard labeling software has expanded customization options – including the ability to resize and move hazard pictograms, text and other safety guidance – that allow users to create labels using information taken directly from the SDSs stored in their MSDSonline accounts. The Design & Print GHS software is free to use with Avery UltraDuty GHS Labels and other Avery products. To meet harsh workplace conditions, Avery UltraDuty GHS Labels come in a variety of sizes, are waterproof, and are resistant to chemicals, abrasion, UV light, tearing and extreme temperatures.
"We see the integration between VelocityEHS and our Avery GHS Wizard labeling software as a first-of-its-kind breakthrough in the industry, making GHS label creation a truly seamless process," says Jenifer Do, Marketing Director for Industrial Labels at Avery. "Now MSDSonline users can leverage the easy-to-use editing tools from Avery and print their labels on durable Avery UltraDuty GHS labels using a desktop printer or our WePrint service with the confidence that the labels will be consistent with their SDSs."
Available through the cloud, the award-winning MSDSonline chemical management and reporting solutions streamline container tracking and compliance reporting requirements, and provides safety managers with easy access to the industry's leading database of SDS content. The MSDSonline eBinder app – one of the most widely used EHS mobile apps in the world and available on the App Store and Google Play™ – further simplifies HazCom communication by giving employees anytime, anywhere access to chemical safety data sheets in the palm of their hands, through any mobile device, whether working on or offline.
Additional information about MSDSonline can be found at www.MSDSonline.com. To learn more about the entire VelocityEHS suite of EHS and sustainability management software products, visit www.EHS.com.
More information about Avery's GHS solutions can be found at www.avery.com/GHS.
About Avery Products Corporation
Avery Products Corporation is one of the world's leading manufacturers of printable labels, name badges, business cards, dividers and more, and markets products under the well-known Avery® brand. The company offers innovative solutions to make life easier, including free templates to design, customize and print projects. Avery Products Corporation, a division of CCL Industries, is based in Brea, California. For more information about Avery products, visit avery.com.
About CCL Industries
CCL Industries Inc., a world leader in specialty label and packaging solutions for global corporations, small businesses and consumers, employs more than 19,000 people and operates 150 production facilities in 35 countries on 6 continents with corporate offices in Toronto, Canada and Framingham, Massachusetts. For more information, visit www.cclind.com.
Avery and all other Avery brands, product names and codes are trademarks of Avery Products Corporation. All other company and product names may be trademarks or service marks of their respective owners.
About VelocityEHS
VelocityEHS is a leading provider of cloud-based environment, health and safety (EHS) software. Its comprehensive software platform and innovative mobile solutions aim to make enterprise-level EHS functionality accessible and affordable to businesses of all sizes, helping them solve complex compliance and regulatory challenges in simple ways. Today, more than 12,000 customers worldwide, from virtually every industry, trust VelocityEHS and its solutions to improve EHS performance. The company's quick implementations, affordable solutions and unparalleled customer support, make it possible for customers to reach their EHS goals faster. VelocityEHS is headquartered in Chicago, Illinois with locations in Canada, the UK and Australia. For more information, visit www.EHS.com. VelocityEHS is an Actua (Nasdaq: ACTA) company.
###
Media Contacts
VelocityEHS
Betsy Utley-Marin
312.881.2307
[email protected]
Actua Corporation
Karen Greene
610.727.6900
[email protected]