VelocityEHS Offering HazCom Support for Emergency Responders, Businesses and Others Affected by 2018 Hurricane Season
09/14/2018 Posted on September 14, 2018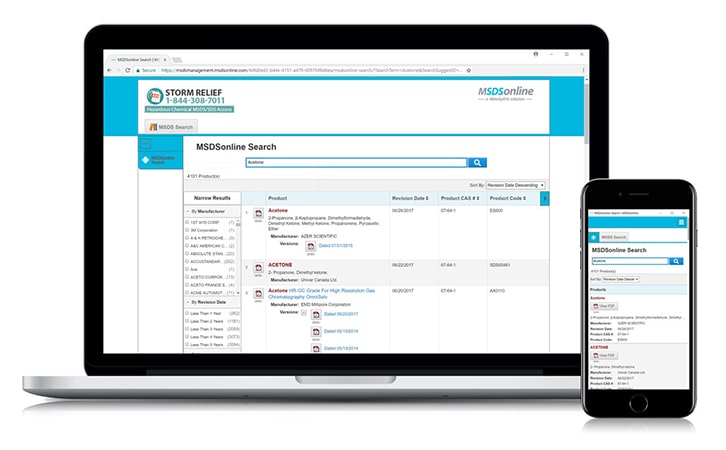 Chicago (September 14, 2018) — VelocityEHS, the global leader in cloud-based environment, health, safety (EHS) and sustainability solutions, announced today it will provide disaster relief organizations, emergency responders and local businesses affected by Hurricane Florence access to its MSDSonline safety data sheet (SDS) library at no cost.
For a limited time, all customers and non-customers in the region can visit www.EHS.com/disaster and search through the millions of safety sheets in the MSDSonline database to locate critical safety information for hazardous chemicals released during the storm.
Safety data sheets provide hazardous chemical users with accurate information about the health and environmental risks associated with those substances. While OSHA requires facilities to have this chemical inventory and hazard information accessible to workers, a common practice is to amass SDS documents in paper binders only, making them potentially inaccessible in the event of evacuations and flooding. Without this information, it's impossible to understand a released chemical's full impact on the surrounding community and how to safely administer the clean-up process.
"As devastating storms move in, and infrastructure is threatened, communities in the affected areas need help protecting people from hazardous chemicals and their related health effects," said Glenn Trout, president and CEO of VelocityEHS. "Our disaster relief program was launched in 2017 to provide faster, easier access to SDSs, completely free of cost, to businesses and organizations focused on safety, clean-up and relief efforts."
Those affected by Hurricane Florence – or other storms approaching the U.S. – are encouraged to visit www.EHS.com/disaster to access the MSDSonline SDS online library. Businesses and organizations do not need to be current customers to receive access. A dedicated toll-free telephone number (1-844-308-7011) has also been set up to help those who need a safety data sheet, but don't currently have internet access.
Visit www.EHS.com for more information.
About VelocityEHS
Trusted by more than 13,000 customers worldwide, from virtually every industry, VelocityEHS is the leading global provider of cloud-based environment, health and safety (EHS) software. Its comprehensive software platform and innovative mobile applications, including its award-winning MSDSonline chemical inventory management solutions and its Humantech ergonomics software, aim to make enterprise-level EHS functionality accessible and affordable to businesses of all sizes, helping them solve complex compliance and regulatory challenges in simple ways. Recognized by the industry's top independent analysts, including leading scores in the Verdantix 2017 Green Quadrant Analysis and 2017 NAEM EHS & Sustainability Software Ratings Report, VelocityEHS helps customers reach their EHS goals faster with quick implementations, affordable solutions and unparalleled customer support. VelocityEHS is headquartered in Chicago, Illinois with locations in Ann Arbor, Michigan; Oakville, Canada; London, England and Sydney, Australia. For more information, visit www.EHS.com.
###
Media Contact
Betsy Utley-Marin
312.881.2307
[email protected]