VelocityEHS Named One of Canada's Top Employers
05/23/2018 Posted on May 23, 2018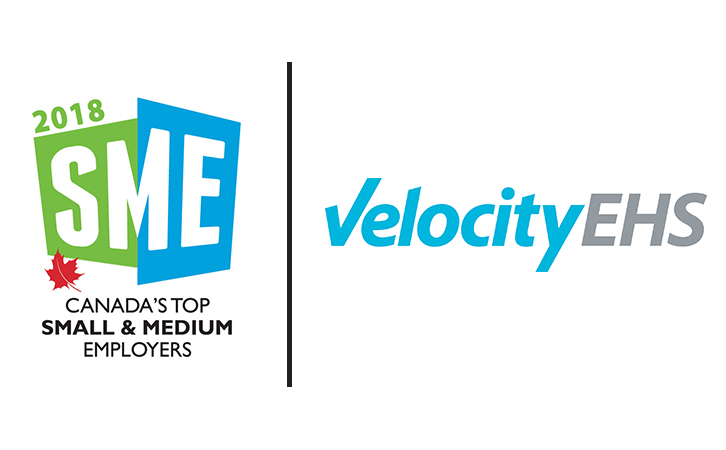 Chicago (May 23, 2018) — VelocityEHS, the global leader in cloud-based environment, health, safety (EHS) and sustainability solutions, was recently recognized as one of Canada's Top Small & Medium Employers (SME) by the editors of Canada's Top 100 Employers at Mediacorp Canada Inc. The annual editorial competition, published by The Globe and Mail, highlights the best SME workplaces and forward-thinking human resources policies in Canada.
VelocityEHS Canada puts a strong emphasis on work-life balance and employee well-being. Alternative work options, including flexible hours, compressed work weeks, and a telecommuting option ensure employees balance work and their personal lives. Sit/stand ergonomic work stations, ongoing education and career development, and peer-to-peer recognition programs further contribute to employee contentment, and the office's unique and cheerful atmosphere.
"We are so excited to receive this honor. It speaks volumes about the kind of people who work here, the passion they put into their work, and the teamwork they display every day," said Matt Airhart, president of VelocityEHS Canada. "As we continue to grow, employee satisfaction remains an utmost concern. It's important that our team members know that their voices are always heard and that we're supporting opportunities for them to make a difference in the community. Regular Lunch & Learns, our High Five recognition breakfasts and paid volunteer days are just a handful of ways we interact with employees and encourage them to be the best versions of themselves."
VelocityEHS is the largest and fastest growing EHS software provider in the industry. Its multiple award-winning, cloud-based EHS Management Software Platform and innovative mobile products work together to help EHS professionals safeguard employees and better understand their complex compliance obligations, including WHMIS 2015. With over 13,000 active customers worldwide, more businesses trust VelocityEHS than any other industry software provider. Visit www.EHS.com to learn more.
Visit the VelocityEHS careers page for information about the company's open job positions.
About VelocityEHS
VelocityEHS is the leading global provider of cloud-based environment, health and safety (EHS) software. Its comprehensive software platform and innovative mobile applications, including its award-winning MSDSonline chemical inventory management solutions, aim to make enterprise-level EHS functionality accessible and affordable to businesses of all sizes, helping them solve complex compliance and regulatory challenges in simple ways. Today, more than 13,000 customers worldwide, from virtually every industry, trust VelocityEHS and its solutions to improve EHS performance. Recognized by the industry's top independent analysts, including leading scores in the Verdantix 2017 Green Quadrant Analysis and 2017 NAEM EHS & Sustainability Software Ratings Report, VelocityEHS helps customers reach their EHS goals faster with quick implementations, affordable solutions and unparalleled customer support. VelocityEHS is headquartered in Chicago, Illinois with locations in Canada, the UK and Australia. For more information, visit www.EHS.com.
###
Media Contact
Betsy Utley-Marin
312.881.2307
[email protected]