VelocityEHS Makes In-The-Field Chemical Management Faster and Easier with MSDSonline Mobile App Enhancement
05/16/2017 Posted on May 16, 2017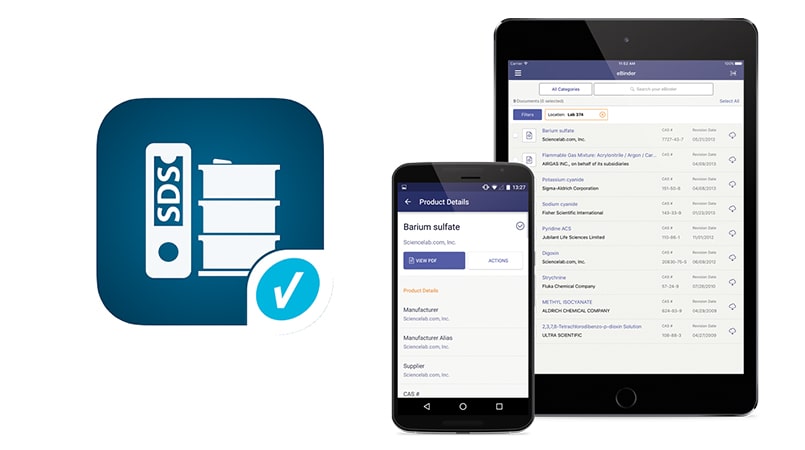 Chicago (May 16, 2017) — VelocityEHS, the leading cloud environment, health, safety (EHS) and sustainability software provider, today announced a new enhancement to its MSDSonline mobile app that significantly improves its users' mobile chemical management experience. By combining its popular eBinder app and Chemical Inventory Scanning app functionality into a singular SDS/Chemical Management mobile app, employees now have easier on- and off-line access to safety data sheets (SDSs) as well as the ability to quickly scan chemical container barcodes and manage inventory information, all from the palm of their hand while in-the-field.
Chemical management and compliance for those working in-the-field or remotely has always been a challenge, one that MSDSonline solutions have been helping customers solve for over 20 years. Developed for iPad®, iPhone® and Android™ devices, the enhanced SDS/Chemical Management mobile app gives users the ability to access critical chemical safety information, SDSs, and important inventory details – like what chemical materials are onsite, where they are stored, and in what quantities – from wherever they are, even in remote locations where internet connectivity is often unavailable. And, because the app syncs directly to users' online MSDSonline Accounts, changes made from any location are automatically reflected both in the online Account and the app, ensuring employees always have consistent, up-to-date hazardous chemical inventory information at their fingertips, no matter how they're accessing the information.
"The adoption of GHS by OSHA, Health Canada and other agencies around the world has changed the chemical management landscape and placed more pressure on employers to stay compliant. For many companies, this means taking a smarter, mobile-ready approach to protecting employees, managing their inventory and meeting their employee right-to-know compliance requirements," said Mike Flynn, vice president of product development at VelocityEHS. "Our new mobile app experience combines two great functionalities into a single app, making it easier for employers to distribute key safety compliance initiatives throughout their organization and keep workers safe."
Features of the new SDS/Chemical Management mobile app include:
Access safety data sheets, product details and container information online and offline
Scan barcodes, QR codes and UPC codes, and access previous scans both online and offline
Share links to your chemical safety information with employees, visitors and first responders – even if they don't have the app
View products and containers in use at facilities and the locations to which they are assigned
Manage chemical inventory details, such as container statuses and locations
Benefit from Account-app synchronization which ensures up-to-date SDSs, product summaries and container details from the MSDSonline Account also appear in the mobile app
Use the unique Company Link or QR Code made available from inside the MSDSonline Account to simplify companywide, employee right-to-know access to SDSs and inventory information, eliminating the hassle of manually keying in, or copying and pasting, login credentials
The SDS/Chemical Management mobile app is available for iPad, iPhone (iOS8 and later) and Android smartphones and tablets (4.4 and later). MSDSonline customers with HQ or HQ RegXR Accounts can download the app from the App Store or Google Play™ for no additional cost.
More information about MSDSonline chemical management solutions by VelocityEHS is available at www.MSDSonline.com. Find out more about the full suite of other award-winning VelocityEHS solutions at www.EHS.com.
About VelocityEHS
VelocityEHS is a leading provider of cloud-based environment, health and safety (EHS) software. Its comprehensive software platform and innovative mobile solutions aim to make enterprise-level EHS functionality accessible and affordable to businesses of all sizes, helping them solve complex compliance and regulatory challenges in simple ways. Today, more than 13,000 customers worldwide, from virtually every industry, trust VelocityEHS and its solutions to improve EHS performance. The company's quick implementations, affordable solutions and unparalleled customer support, make it possible for customers to reach their EHS goals faster. VelocityEHS is headquartered in Chicago, Illinois with locations in Canada, the UK and Australia. For more information, visit www.EHS.com. VelocityEHS is an Actua (Nasdaq: ACTA) company.
iPad and iPhone are trademarks of Apple Inc., registered in the U.S. and other countries. Android and Google Play are trademarks of Google Inc.
###
Media Contacts
VelocityEHS
Betsy Utley-Marin
312.881.2307
[email protected]
Actua Corporation
Karen Greene
610.727.6900
[email protected]