VelocityEHS | Humantech Targets Costly Work-Related Musculoskeletal Disorders at National Ergonomics Conference
08/20/2018 Posted on August 20, 2018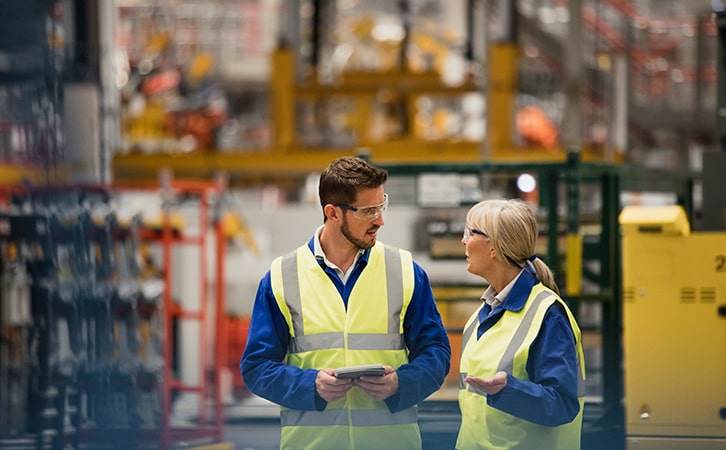 Chicago (August 20, 2018) —VelocityEHS, the global leader in cloud environment, health, safety (EHS) and sustainability solutions, will demonstrate Ergonomics done right® at the upcoming 2018 National Ergonomics Conference & ErgoExpo at the Paris Las Vegas Hotel August 21-24.
Board-certified professional ergonomists from VelocityEHS and its recently acquired Humantech division will deliver a series of presentations showcasing how today's smart companies manage a wide range of industrial, material-handling and office ergonomics issues, including:
ISO 45001: Setting the Global Standard for Developing and Sustaining an Ergonomics Improvement Process
Jeff Sanford, MPH, CPE, director of consulting at Humantech
Tuesday, August 21, 2018 from 1:15 – 3:45 p.m.
Drive the Improvement Process: Three Industrial and Material Handling Case Studies
Kent Hatcher, MSc., CPE, director of consulting at Humantech
Wednesday, August 22, 2018 from 8:30 – 9:30 a.m.
Understand and Resolve Your Complex Office Evaluation Requests
Gene Kay MS, CPE, director of ergonomics at VelocityEHS
Wednesday, August 22, 2018 from 1 – 2 p.m.
Sustaining a World-Class Ergonomics Process at WABCO
Kent Hatcher, CPE, director of consulting at Humantech and Ricard Massola, PT, WABCO
Wednesday, August 22, 2018 from 1 – 2 p.m.
In addition to this great lineup of presentations, attendees are encouraged to visit the VelocityEHS and Humantech booths (#321 and #323 respectively) to learn more about how the company's quick-to-implement and easy-to-use ergonomics software solutions can help mitigate the risks associated with musculoskeletal disorders (MSDs), including carpal tunnel syndrome, tendonitis, and other sprains and strains, which are among the most common and costly work-related injuries.
Formal demonstrations of its new, sensorless motion capture tool for assessing MSD risk will be conducted at the following times at booth 323.
Tuesday, August 21st at 6:00 p.m.
Wednesday, August 22nd at 11:00 a.m. and 3:30 p.m.
Thursday, August 23rd at 10:00 a.m. and 1:15 p.m.
"MSDs are so costly because businesses fail to identify concerns before they become larger issues," said Gene Kay MS, CPE, director of ergonomics at VelocityEHS and one of the speakers at the conference. "One of the biggest benefits of the VelocityEHS software is that it helps empower customers to get ahead of ergonomic risks. Workers are able to use our affordable, online products at their own workstations – and on their own time and pace – to self-assess and self-correct ergonomic issues. As a result, our customers report decreased worker compensation costs, increased productivity and better overall employee job satisfaction."
VelocityEHS Ergonomics software combines a simple, user-friendly interface with bite-sized modules that allow employees to fit training into their hectic schedules. On the admin side, EHS and HR managers can easily deploy and monitor an entire enterprise-wide program from a central location, with extensive tools to prioritize, track, measure and document all aspects of the ergonomics process. The recent acquisition of Humantech expands VelocityEHS capabilities into industrial and material-handling industries, where there is a high demand for effective and affordable ergonomics solutions.
With more that 10 million active users worldwide, more businesses trust VelocityEHS and its suite of EHS management software solutions to safeguard employees, manage risk and meet their complex compliance obligations than any other industry software provider.
About VelocityEHS
Headquartered in Chicago, Illinois, VelocityEHS is the leading global provider of cloud environment, health and safety (EHS) software. Its comprehensive software platform and innovative mobile applications, including its award-winning MSDSonline brand chemical inventory management solutions and its industry-leading Humantech brand ergonomics software, aim to make enterprise-level EHS functionality accessible and affordable to businesses of all sizes, helping them solve complex compliance and regulatory challenges in simple ways. Today, more than 13,000 customers worldwide, from virtually every industry, trust VelocityEHS to improve EHS performance. Recognized by the industry's top independent analysts, including leading scores in the Verdantix 2017 Green Quadrant Analysis and 2017 NAEM EHS & Sustainability Software Ratings Report, VelocityEHS helps customers reach their EHS goals faster through affordable, quick to implement and easy to use software solutions and unparalleled customer support. For more information, visit www.EHS.com.
VelocityEHS | Humantech
For nearly 40 years, global companies have relied on the Humantech brand software and services for workplace improvements. By combining experienced, board-certified ergonomists with our proprietary assessment tools and comprehensive software, we deliver integrated solutions that impact safety, quality, and productivity. At VelocityEHS | Humantech, we're helping companies do ergonomics right.
###