VelocityEHS Celebrates Recent Growth with Chicago Headquarters Relocation
12/16/2015 Posted on December 16, 2015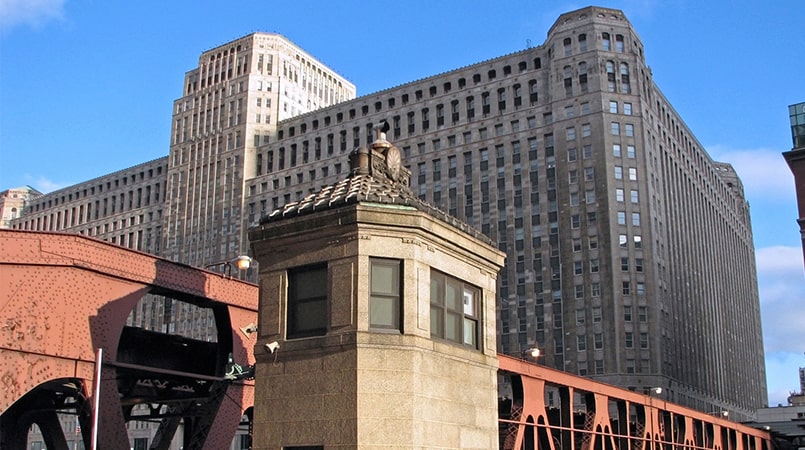 Move helps leading environment, health and safety software company keep more than 300 technology jobs in Chicago
Chicago (December 16, 2015) — VelocityEHS, a leading cloud environment, health, safety (EHS) and sustainability software provider, announced today it has leased a new office space in the Merchandise Mart for its global headquarters. The larger space accommodates the company's recent growth and provides room for its continued expansion. The move is expected to be completed in early 2016.
Fueled by recent regulatory changes and increased corporate focus on safety and sustainability, VelocityEHS has experienced steady growth since it first opened its doors in 1996. Originally founded as MSDSonline, the company pioneered the electronic management of chemical safety documents and then evolved into the largest provider of cloud chemical management solutions. It expanded its safety and sustainability offerings in 2014 through the acquisition of KMI, a leading provider of enterprise level EHS and sustainability software solutions. In September, both companies began doing business as VelocityEHS, a new identity that reflects its unique focus on providing a comprehensive EHS, sustainability and risk management software platform that is easy to use and quick to implement.
"This office move represents the impact our EHS software platform has on the more than eight million workers who currently rely on our solutions to do their jobs safely," said Glenn Trout, president and CEO of VelocityEHS. "We've experienced tremendous growth and emerged as an industry leader as more companies look for a trusted partner to help them solve complex EHS and sustainability challenges. VelocityEHS offers that partnership with a simple and intuitive platform that helps companies reach their goals faster."
VelocityEHS is subleasing more than 90,000 square feet of the Motorola Mobility top floor offices in the Merchandise Mart. The innovative, new space with numerous perks reflects the company's collaborative culture and commitment to providing a great work/ life balance. More than 90 percent of VelocityEHS employees rely on public transportation to get to work, and the Merchandise Mart's location was an important consideration in the move.
"Keeping the company's headquarters in downtown Chicago was a top priority for us," adds Trout. "The city has emerged as a key player in the technology community and we are proud to be a partner in that evolution. We look forward to continuing to add to Chicago's technology sector with the addition of new jobs that keep the brightest and best here in the Midwest."
Since 2014, the company has added 100 jobs in its Chicago office, bringing the total to more than 300 employees.
"The commitment by VelocityEHS to keep and grow its global headquarters in the City of Chicago speaks volumes about our world-class talent and the growing strength of our technology sector," said Mayor Rahm Emanuel. "VelocityEHS sees a strong business climate in Chicago and tremendous growth opportunities for their future.  I look forward to watching them continue to grow here and provide even more job opportunities for residents in neighborhoods throughout our city."
VelocityEHS was represented in the transaction by Brad Serot, Executive Vice President at CBRE. Headquartered in Chicago, VelocityEHS also has offices in Canada, the United Kingdom and Australia. The company also recently doubled its Canadian office space to accommodate employee growth.
For more information about VelocityEHS, visit www.EHS.com.
About VelocityEHS
VelocityEHS is a leading cloud EHS software company, which helps its customers reach their environment, health, safety and sustainability goals faster. The company delivers essential cloud EHS capabilities through a simple and intuitive platform that is more affordable, faster to implement, and aims to provide the best user experience for its customers. Its MSDSonline brand chemical management solution is among the best known names in the industry. Backed by unparalleled customer support, VelocityEHS solutions are trusted by millions of users from virtually every industry to help them improve EHS performance. And with more than 11,000 customers worldwide, VelocityEHS is among the largest and fastest growing EHS companies. The company is headquartered in Chicago, Illinois with locations in Canada, the UK and Australia.
Additional information on its MSDSonline chemical management solution can be found at www.MSDSonline.com or on its blog at www.MSDSonline.com/blog. For more information about the VelocityEHS Platform, visit www.EHS.com. VelocityEHS is an Actua (Nasdaq: ACTA) company.
###
Media Contacts
VelocityEHS/MSDSonline
Betsy Utley-Marin
312.881.2307
[email protected]
Actua Corporation
Karen Greene
610.727.6900
[email protected]