VelocityEHS and Graphic Products Now Make it Easier to Produce Industrial Hazardous Chemical Labels
04/05/2017 Posted on April 5, 2017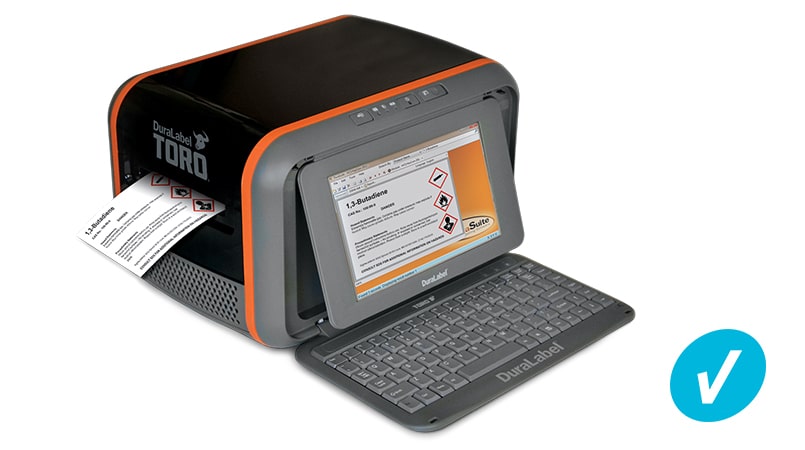 Chicago (April 5, 2017) — VelocityEHS, the leading cloud environment, health, safety (EHS) and sustainability software provider, today announced an integration agreement with Graphic Products, manufacturer of DuraLabel industrial label and sign printers, to give customers of its MSDSonline solutions more options to generate OSHA-compliant, GHS-aligned workplace labels. Together, the two companies are providing greater flexibility to those looking for workplace labels that can withstand the harsh conditions often associated with industrial working environments.
With this new integration, VelocityEHS customers using its cloud-based, mobile-enabled MSDSonline chemical management solutions can streamline workplace label processes by using information taken directly from safety data sheets (SDSs) in their online accounts to quickly create, customize and print on DuraLabel's heavy-duty label stock. Users also have the flexibility to reorder chemical precautionary statements and add up to four GHS pictograms.
"Hazard Communication continues to be ranked as OSHA's second most cited standard, with improper labeling being a big driver behind many citations," said Mike Flynn, vice president of product at VelocityEHS. "To remain citation free and maintain a safe working environment, companies need workplace labels that accurately explain to workers all of the hazards associated with the chemicals they come in contact with; don't smudge, rip or tear easily; and comply with today's GHS-aligned HazCom Standard. The addition of DuraLabel to our lineup of container labeling options helps address the needs of even more safety managers, across more industries where work processes demand tough, long-lasting labels."
VelocityEHS MSDSonline HQ and HQ RegXR customers have access to the integrated label features, which support use of the Graphics Products' DuraLabel PRO 300 and DuraLabel Toro printers and label stock.
"OSHA's revised HazCom Standard can be confusing when it comes to workplace labeling," said Steve Stephenson, chief strategy officer at Graphic Products. "We get dozens of requests from safety managers looking for help producing compliant workplace labels. With our system integrations in place, the process is easy. Customers simply select a pre-set GHS template from inside their VelocityEHS cloud-based MSDSonline account and are able to print directly our DuraLabel Toro and DuraLabel PRO 300 printers."
To learn more about VelocityEHS and its MSDSonline products and services, visit www.EHS.com and www.MSDSonline.com respectively.
More information about Graphic Products and its DuraLabel products can be found at www.GraphicProducts.com.
About Graphic Products
Graphic Products is an innovative leader, providing solutions for safety and visual communication. Founded in Beaverton, Oregon in 1970, Graphic Products places safety and protection of human lives as its number one priority. The company's full line of safety products and services are designed for the modern workforce. Graphic Products leads the industry with safety training materials, educational resources, and up-to-date news and compliance information on topics like arc flash, chemical labeling, and pipe marking. Visit GraphicProducts.com or call 800.788.5572 to improve your facility's safety and productivity.
About VelocityEHS
VelocityEHS is a leading provider of cloud-based environment, health and safety (EHS) software. Its comprehensive software platform and innovative mobile solutions aim to make enterprise-level EHS functionality accessible and affordable to businesses of all sizes, helping them solve complex compliance and regulatory challenges in simple ways. Today, more than 12,500 customers worldwide, from virtually every industry, trust VelocityEHS and its solutions to improve EHS performance. The company's quick implementations, affordable solutions and unparalleled customer support, make it possible for customers to reach their EHS goals faster. VelocityEHS is headquartered in Chicago, Illinois with locations in Canada, the UK and Australia. For more information, visit www.EHS.com. VelocityEHS is an Actua (Nasdaq: ACTA) company.
###
Media Contacts
VelocityEHS
Betsy Utley-Marin
312.881.2307
[email protected]
Actua Corporation
Karen Greene
610.727.6900
[email protected]