New NAEM EHS Compliance Metrics Report Available from VelocityEHS
06/06/2018 Posted on June 6, 2018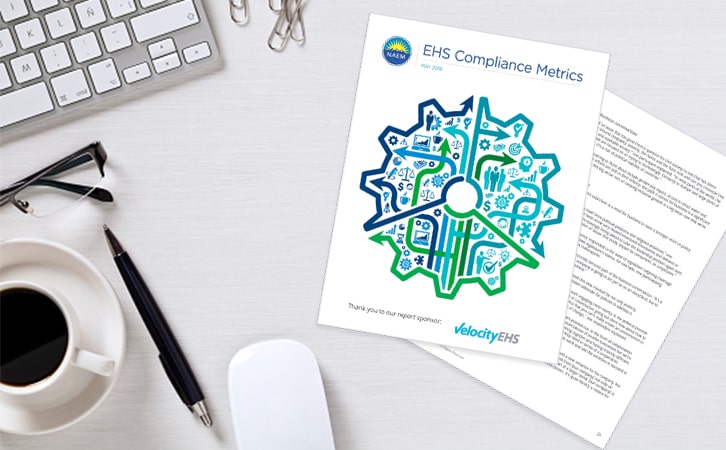 Chicago (June 6, 2018) — VelocityEHS, the global leader in cloud-based environment, health, safety (EHS) and sustainability solutions, announced today its sponsorship of a new benchmark brief from the National Association for Environmental Management (NAEM). The report, exclusively available through NAEM and VelocityEHS at no cost, offers insight into the metrics leading companies use to drive EHS compliance.
Visit the VelocityEHS website to download a complimentary copy of the NAEM report.
NAEM surveyed 37 companies to find out how they use their metrics to proactively manage risk, drive performance and strengthen an internal culture of compliance. Among this feedback, the EHS Compliance Metrics Report shows that:
Many companies actively strive to exceed regulatory compliance
Safety metrics are at the top of the list of key performance indicators
Environmental compliance metrics tend to be measured in absolute terms
Senior leadership is intently focused on the health and well-being of employees
"Increasingly, companies are digging into their EHS data to uncover insights that help them make better-informed decisions about employee safety and regulatory compliance," said Glenn Trout, president and CEO of VelocityEHS. "This report is an opportunity for employers and safety professionals to compare their activities against their peers and to identify gaps and areas for improvement. It's just one more way VelocityEHS helps you simplify the collection, management and reporting of the metrics you need most."
With over 13,000 active customers worldwide, more businesses trust VelocityEHS to safeguard employees, manage risk and meet their complex compliance obligations than any other industry software provider. Its award-winning, cloud-based EHS Management Software Platform and innovative mobile products simplify the collection and reporting of key metrics to provide safety professionals with a real-time, global view of the operational risks that exist in their workplace. With top scores in the 2017 NAEM EHS & Sustainability Software Ratings Report, VelocityEHS helps streamline common EHS management tasks so companies can focus on controlling other operational risks, driving productivity and contributing to broader business goals.
For more information about VelocityEHS and its full suite of award-winning EHS products and services, visit www.EHS.com.
About VelocityEHS
VelocityEHS is the leading global provider of cloud-based environment, health and safety (EHS) software. Its comprehensive software platform and innovative mobile applications, including its award-winning MSDSonline chemical inventory management solutions, aim to make enterprise-level EHS functionality accessible and affordable to businesses of all sizes, helping them solve complex compliance and regulatory challenges in simple ways. Today, more than 13,000 customers worldwide, from virtually every industry, trust VelocityEHS and its solutions to improve EHS performance. Recognized by the industry's top independent analysts, including leading scores in the Verdantix 2017 Green Quadrant Analysis and 2017 NAEM EHS & Sustainability Software Ratings Report, VelocityEHS helps customers reach their EHS goals faster with quick implementations, affordable solutions and unparalleled customer support. VelocityEHS is headquartered in Chicago, Illinois with locations in Canada, the UK and Australia. For more information, visit www.EHS.com.
###
Media Contact
Betsy Utley-Marin
312.881.2307
[email protected]