New E-Book Explains How to Maximize Ergonomics By Speaking the Language of Business
02/27/2019 Posted on February 27, 2019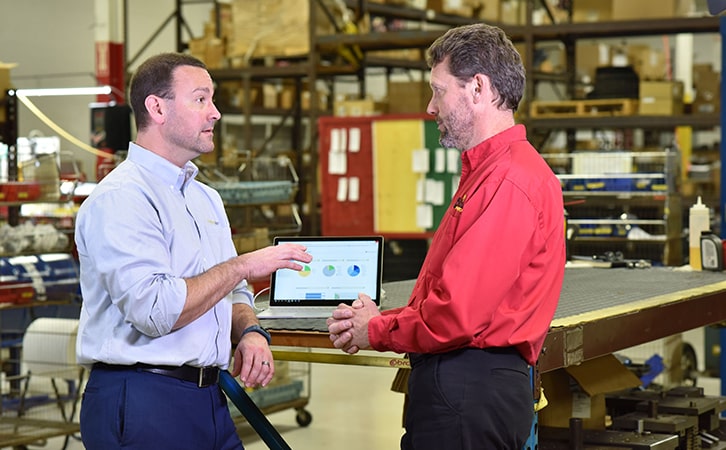 Ann Arbor (February 27, 2019) – VelocityEHS, the global leader in cloud-based environment, health, safety (EHS) and sustainability solutions, is helping EHS professionals make the case for workplace ergonomics through a new complimentary e-book entitled, Why Ergonomics? Communicating the Value to Business Stakeholders. Director of Research for VelocityEHS' Humantech ergonomics solutions Blake McGowan (B.Sc., M.Sc., CPE) shares how to initiate the ergonomics improvement process and gain stakeholder support by speaking the language of business—data and research—to demonstrate the return of investment of good safety management.
The goal of environmental, health, and safety professionals is to improve the lives of the working population. To do this, the workplace needs to be designed (or redesigned) to match people's capabilities—the practice of ergonomics.
For companies that don't practice ergonomics, or don't practice it well, the social and financial implications can be staggering. The most recognizable social factor is the prevalence of workplace musculoskeletal disorders (MSDs) – soft tissue injuries inflicted on the workers. MSDs are the second greatest cause of workplace disability globally, having increased 45% since 1999 according to the 2010 Global Burden of Disease Study. In 2004, the estimated direct cost for treating an MSD in the U.S. was estimated at $510 billion, equivalent to 4.6 percent of the gross domestic product (GDP). Indirect costs were estimated to add $339 billion more, for a total cost of $849 billion, or 7.7 percent of the GDP.
"Unfortunately, the full value of ergonomics—the impacts on business performance, product quality, manufacturing performance, and employee—is often misunderstood," said McGowan. "In my 20-plus years as an ergonomics consultant, I've seen many professionals fail to get ergonomics initiatives started and improvements implemented. Their proposals end up at the bottom of their to-do list. As a result, I've been driven to share the tools and metrics I've gathered from researchers in the field to get management to listen."
A few of the metrics McGowan details in the e-book include:
Proper ergonomics design and interventions reduce the number of MSDs by
51-63%, the incidence rate by 45-69%, and workers' compensation costs by 60-74%.
Ergonomics interventions are associated with a cost-to-benefit ratio of 1:2.8 to 1:5.5 and an average payback period of 2.25 months.
Jobs/tasks with higher MSD risks have 3 times the quality errors and 6.5 times the quality failures, and it costs 7.9 times as much to correct these errors compared to those associated lower MSD risk jobs/tasks.
To learn how you can make a stronger case for ergonomics in your work environment, visit the Humantech website to download the e-book and view a recording of our companion webinar on this topic.
About VelocityEHS | Humantech
For 40 years, global companies have relied on VelocityEHS' Humantech software and services for workplace ergonomics improvements. By combining experienced, board-certified ergonomists with our proprietary assessment tools and comprehensive software, we deliver integrated solutions that impact safety, quality, and productivity. To learn more about how our Humantech solutions can help you do ergonomics right®, visit www.Humantech.com.
About VelocityEHS
Trusted by more than 13,000 customers worldwide, VelocityEHS helps you reach your EHS goals faster with quick implementations, affordable solutions, and unparalleled customer support. We deliver a comprehensive cloud-based environment, health and safety (EHS) software platform. Our easy-to-use software applications are designed based on industry best-practice principles to help you solve complex business challenges in simple ways. Recognized by the EHS industry's top independent analysts, and earning leading scores in the Verdantix 2017 Green Quadrant Analysis and 2017 NAEM EHS & Sustainability Software Ratings Report, VelocityEHS is the global leader in cloud EHS software solutions.
VelocityEHS is headquartered in Chicago, Illinois, with locations in Ann Arbor, Michigan; Oakville, Ontario; London, England; and Sydney, Australia. For more information, visit www.EHS.com.