NAEM's New 2017 EHS Software Buyer's Guide Now Available from VelocityEHS
03/07/2017 Posted on March 7, 2017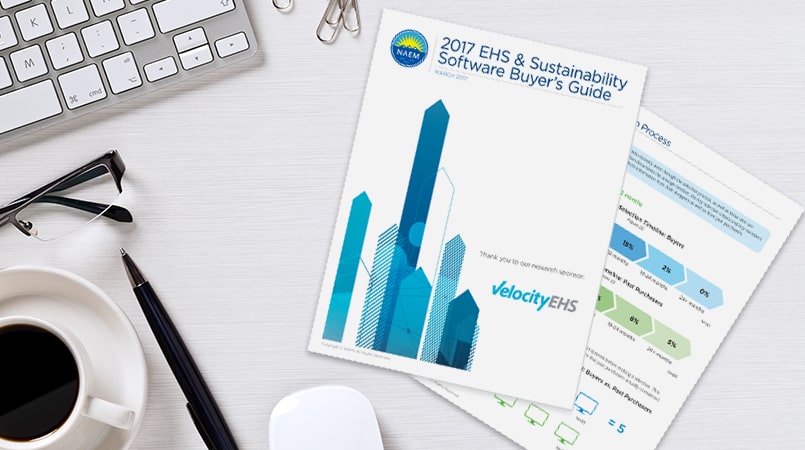 Chicago (March 7, 2016) — VelocityEHS, the leading cloud environment, health, safety (EHS) and sustainability software provider, announced today that the National Association for Environmental Management (NAEM) 2017 EHS & Sustainability Software Buyer's Guide is now available free of charge through the company's website. The newly released biannual report, sponsored by VelocityEHS, provides critical insight on the buying habits and trends of over 170 EHS professionals, making it a valuable resource for any company purchasing EHS software in the near future.
Visit the VelocityEHS website to download a complimentary copy of the NAEM report.
The repo/white-papers-and-guides/2017-ehs-and-sustainability-software-buyers-guidert states that the top business objectives for purchasing a commercial system include compliance assurance and driving accountability, and that the most sought after capabilities include corrective action tracking, incident reporting, environmental auditing and inspections, performance dashboards and compliance calendars — the same capabilities VelocityEHS received top marks for in a recent NAEM customer satisfaction survey. That survey, released in February 2017, found that customers were more likely to recommend VelocityEHS to a colleague than any other system surveyed.
"Whether you're a first-time buyer or are looking to update an existing system, this biannual buyer's guide provides helpful benchmarks to align your thinking with your peers," said Glenn Trout, president and CEO of VelocityEHS. "It also provides critical information to providers like us to ensure we're delivering solutions that meet the needs of the marketplace. And on that front, we're pleased to see the strengths of our solutions — user friendliness, affordability, cloud-accessibility, data centralization, improved visibility, comprehensive platform and configurability — line up perfectly with the demands of the marketplace."
VelocityEHS is the largest and fastest growing EHS software provider in the industry. Its award-winning, cloud-based EHS Management Software Platform and innovative mobile products work together to provide safety professionals with a real-time, global view of the operational risks that exist in their workplace. The company offers a wide range of products that help businesses reach their EHS goals faster, including Incident Management, Chemical Management, Audit & Inspection, Ergonomics, Air Emissions, Management of Change (MOC), Compliance Management, Risk Analysis, Performance Metrics, Corrective Action, Waste Compliance, Water Quality, On-Demand Training and Training Management.
For more information about why more than 12,500 customers worldwide trust VelocityEHS to improve their EHS performance, visit www.EHS.com.
About VelocityEHS
VelocityEHS is a leading provider of cloud-based environment, health and safety (EHS) software. Its comprehensive software platform and innovative mobile solutions aim to make enterprise-level EHS functionality accessible and affordable to businesses of all sizes, helping them solve complex compliance and regulatory challenges in simple ways. Today, more than 12,500 customers worldwide, from virtually every industry, trust VelocityEHS and its solutions to improve EHS performance. The company's quick implementations, affordable solutions and unparalleled customer support, make it possible for customers to reach their EHS goals faster. VelocityEHS is headquartered in Chicago, Illinois with locations in Canada, the UK and Australia. For more information, visit www.EHS.com. VelocityEHS is an Actua (Nasdaq: ACTA) company.
###
Media Contacts
VelocityEHS
Betsy Utley-Marin
312.881.2307
[email protected]
Actua Corporation
Karen Greene
610.727.6900
[email protected]