NAEM 2016 Sustainability Report Available to EHS Professionals from VelocityEHS
02/22/2016 Posted on February 22, 2016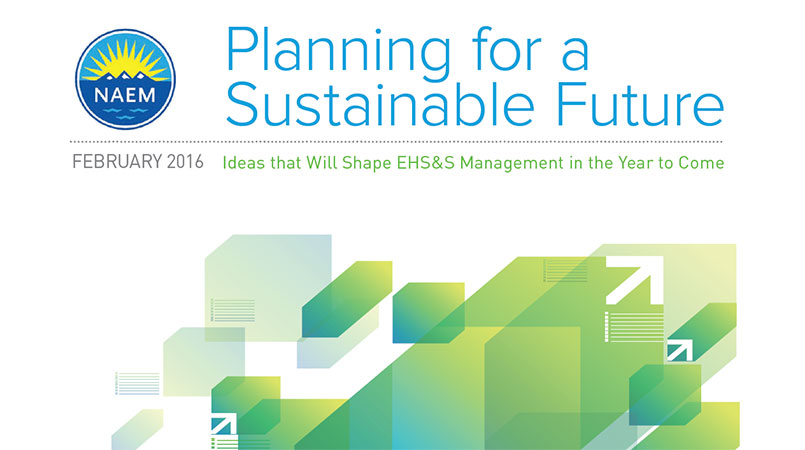 Chicago (February 22, 2016) — VelocityEHS, the leading cloud environmental, health, safety (EHS) and sustainability software provider, is offering website visitors a complimentary copy of the newly released NAEM 2016 trends report, "Planning for a Sustainable Future." Together with the industry's top leaders, the report analyzes trends in concepts of sustainability and strategies for risk-based business management, while highlighting several areas for improving longer-term operational sustainability.
The NAEM report offers a critical look at the current and evolving environmental, political and economic conditions. It provides a roadmap to a future where corporate success is assessed and measured by the impact of a company's sustainability efforts. Report highlights for improving longer-term operational sustainability include:
Companies continue to seek opportunities to reduce the impact of their operations
External reporting strategies are maturing to better balance stakeholder expectations with business needs
The climate conversation has reached the tipping point
Companies are going beyond their gates to address systems challenges
"We are pleased to sponsor this research initiative and contribute to the growing body of knowledge as we continue to engage in collaborative actions within the NAEM community," said Glenn Trout, president and CEO of VelocityEHS. "As the largest and fastest-growing EHS software provider, VelocityEHS is deeply invested in the EHS and sustainability concerns of our customers. This report – a product of the largest professional community in the industry – exemplifies the importance of collaboration to drive decision-making. Together with NAEM, we hope these report findings provide a platform for corporate leaders to act as stewards, influencing the shift from responsive EHS programming to strategic risk-based management."
Click here to download a complimentary copy of the NAEM report.
For more information on the VelocityEHS Platform and relevant cloud EHS capabilities, visit www.EHS.com.
About VelocityEHS
With the most widely used EHS platform in the market, more than 8 million users worldwide from virtually every industry trust VelocityEHS and its solutions to improve EHS performance. Its unparalleled customer support and easily accessible platform deliver relevant EHS cloud solutions that help customers reach their goals faster. The company is headquartered in Chicago, Illinois with locations in Canada, the UK and Australia. For more information, visit www.EHS.com. VelocityEHS is an Actua (Nasdaq: ACTA) company.
###
Media Contacts
VelocityEHS
Betsy Utley-Marin
312.881.2307
[email protected]
Actua Corporation
Karen Greene
610.727.6900
[email protected]