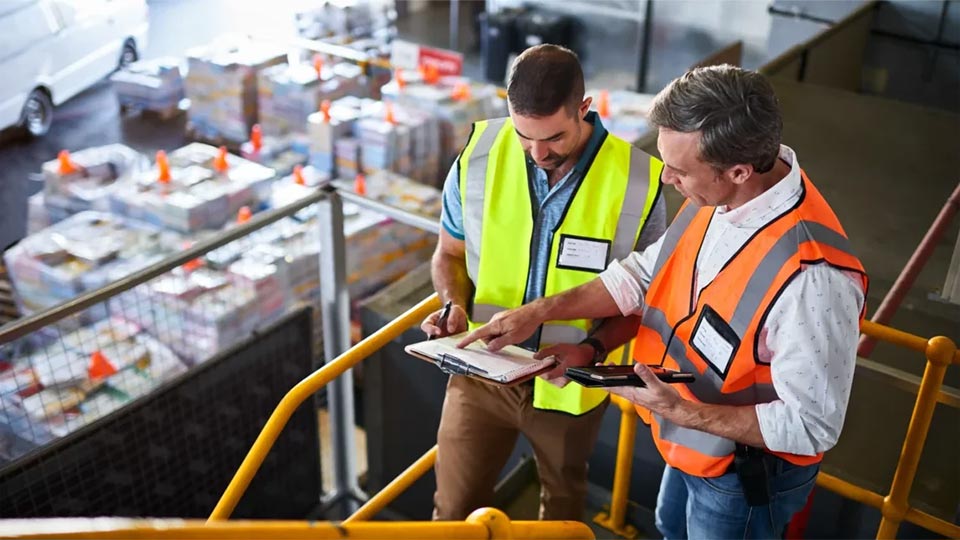 5 Key Components to HazCom
Let VelocityEHS help you comply with the 5 key components to HazCom.
OSHA HazCom Compliance – Made Simple
At a high level, the purpose of OSHA's Hazard Communication Standard (HCS or HazCom) is to ensure the classification of chemical hazards and communication of those hazards and appropriate protective measures to employees. In 2012, OSHA updated the Standard to align with the United Nations' Globally Harmonized System of Classification and Labelling of Chemicals (GHS), bringing greater consistency to how chemical hazards are classified and communicated downstream.
Despite its decades-long existence, frequent violations of the Standard have resulted in it ranking #2 on the Agency's annual top 10 list of most frequently cited standards. Getting it right with HazCom starts with knowing about the five key components to the Standard, which are:
Written Plan
SDSs
Labels
Chemical Inventory List
Training
Ask About Our HazCom Capabilities
If you're looking for a way to streamline compliance with these key components, you've come to the right place. VelocityEHS has the chemical management capabilities to help you do just that, and we're making them available as part of our convenient Safety Solution. In this package, you get everything you need to streamline your HazCom compliance tasks. Find out why more companies turn to VelocityEHS for EHS management and compliance needs than any other provider in the industry.
Complete the form on the right to learn more about how we can help you!
Request a Quote for our HazCom Solution
Written Plan
The Written Plan serves as a playbook for how HazCom is managed in a workplace. Having no Written Plan (or a deficient one) is one of the top reasons employers are cited for HazCom noncompliance.
How VelocityEHS helps: We have developed a customizable template, layered with contextual guidance throughout, making it easy to tailor to reflect your specific work environment, while also providing you with information to help you understand OSHA's HazCom requirements, and ultimately launch and easily maintain a compliant Written Plan.
SDSs
A linchpin to HazCom compliance is the safety data sheet (SDS)—a 16-section, strictly ordered document, containing important hazard information associated with chemical products, which manufacturers are required to provide with shipments to downstream users, including employers/end-users of the chemicals. Employers are required to provide their employees with immediate, right to know access to the current SDS for each hazardous chemical in their workplace.
How VelocityEHS helps: Our cloud-based, mobile SDS/Chemical Management software combines more than 20 years of software innovation and industry best practices, providing access to an award-winning, easy-to-use SDS management platform. It offers the industry's leading database of SDSs with built-in SDS auto-update tools, making companywide electronic SDS library management a cinch. You can easily ensure your employees have right to know access to up-to-date SDSs across your locations, whether they're online or offline. Plus, we can help build and maintain your SDS library, and our Emergency Response Services are available in conjunction with the platform to provide a 24-hour hotline for backup to your SDS library and live chemical exposure support.
Labels
OSHA's HazCom Standard requires containers of hazardous chemical products in the workplace to be labeled with their appropriate hazard information— whether it be the original GHS-aligned manufacturer shipped label or an employer-generated workplace label. OSHA has prescribed what specific information must appear on a GHS-aligned manufacturer shipped label but takes a more flexible approach with what must appear on a workplace label. A best-practice recommendation is to replicate the shipped label.
How VelocityEHS helps: Our SDS/Chemical Management software allows you to quickly generate GHS-aligned workplace labels in a variety of sizes, and it integrates with leading label and printer providers Brady, Graphic Products' DuraLabel and Avery.
Inventory List
It's important to know what you have and where you have it. And, as part of a compliant Written Plan, OSHA requires employers to have a chemical inventory list that includes all HazCom-covered chemicals in the workplace. You must maintain SDSs for all of these chemicals.
How VelocityEHS helps: Our SDS/Chemical Management software lets you easily generate a workplace-specific inventory list that corresponds with your SDS library, as well as generate other useful inventory compliance reports. Additionally, our team is available to streamline management of your chemical inventory information with our On-Site Chemical Inventory Audit Service and SDS Indexing Services, which take work off your plate and put it in the hands of our experts.
Training
OSHA requires employers to train employees on HazCom in general, on workplace specific chemical hazards and processes related to protecting themselves from these hazards, and on SDSs, labels and how to access the Written Plan.
How VelocityEHS helps: Our On-Demand Training capabilities include courses on key HazCom topics, which you can administer to employees online, when and where it's most convenient.