VelocityEHS Offers HazCom & Chemical Safety Support for Those Affected by Hurricanes Ian & Fiona
09/29/2022 Posted on September 29, 2022 | in Safety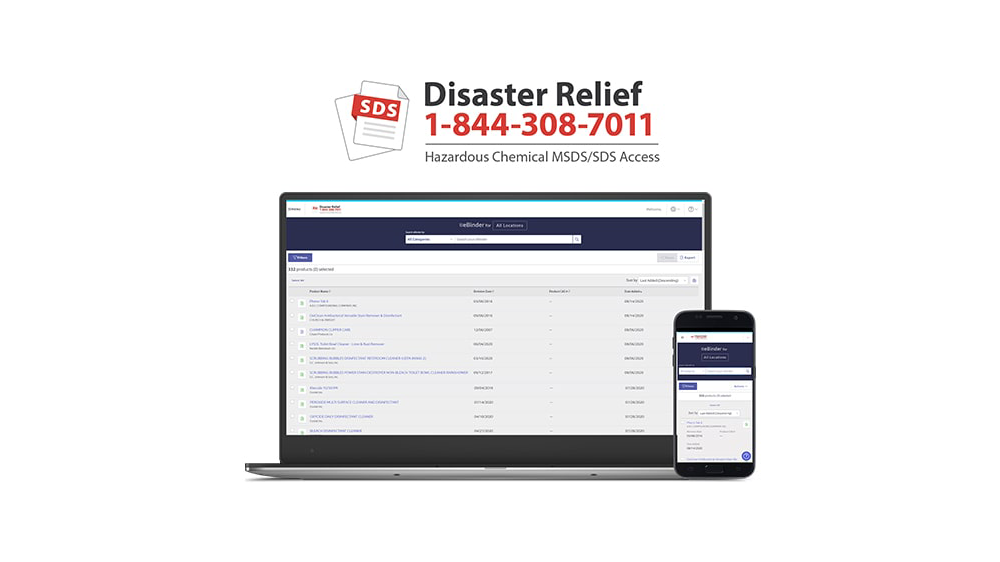 VelocityEHS is providing free access to chemical safety and hazard communication information for those impacted by recent major storms, including Hurricanes Ian & Fiona and Typhoon Noru. For a limited time, disaster relief agencies, emergency responders and businesses (customers and non-customers) operating in the affected areas can visit www.EHS.com/disaster and access millions of safety data sheets (SDSs) in the VelocityEHS database to locate critical safety information for chemical hazards that may be encountered during rescue and recovery operations. A dedicated toll-free telephone number (1-844-308-7011) has also been set up to help those who need a safety data sheet, but don't currently have internet access.
Immediate & Continued Chemical Safety Risks
First responders operating in the storms' affected areas, as well as those responsible for recovery operations could be exposed to any variety of chemical hazards created as a result of damage to buildings and other facilities where hazardous chemicals are used or stored.
Safety data sheets (SDSs) provide hazardous chemical users with accurate information about the health and environmental risks associated with those substances. While OSHA requires employers to have these SDS documents and make chemical hazard and safe handling information accessible to workers during their work shifts, a common practice is to store these SDSs in paper binders only, making them potentially inaccessible in the event of evacuations and flooding.
Without the chemical safety information included in SDSs, it's difficult, if not impossible to understand the full impact of any releases or exposures to the surrounding community, and hinders emergency responders' ability to respond to fires and chemical releases. Having access to SDSs and understanding what chemical hazards may be encountered is essential to protecting the lives of our first responders and recovery workers during the difficult time ahead.
If you require information about the chemical hazards present in your community, you can reach out to your SERCs(opens in a new tab), your State Emergency Response Commissions.
Let VelocityEHS Help
Initially launched in 2017 in response to Hurricane Harvey, the VelocityEHS Hazardous Chemical MSDS/SDS Access program has provided immediate, easy access to critical chemical safety information to hundreds of businesses and relief organizations affected by major natural disasters. Through the aid of our mobile-optimized, industry-leading database of SDSs, more first responders, businesses, facilities and organizations are able to better protect their communities from any additional hazardous health repercussions.
Our Emergency Response Services (ERS) also make it easy to ensure your employees always have the critical safety and exposure response information they need, especially during natural disasters and major accidents.
Visit www.EHS.com/disaster to learn more.