The Short Conference: "7 Ways Technology Can Streamline Your Industrial Hygiene Program" – A Summary
05/18/2021 Posted on May 18, 2021 | in Health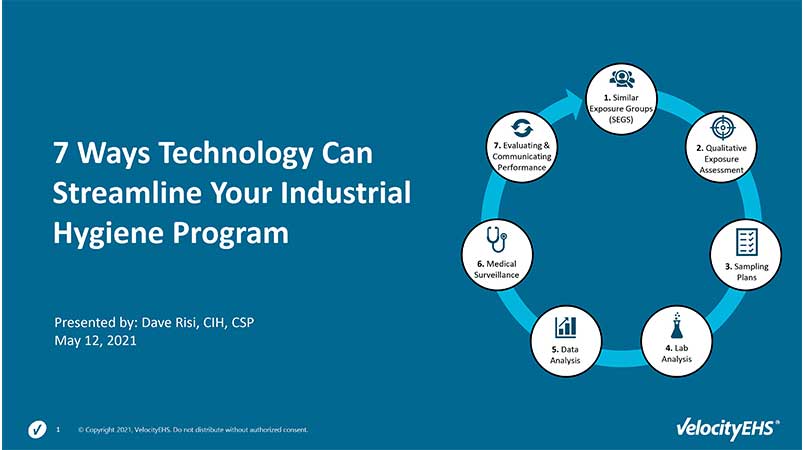 Last week, VelocityEHS proudly hosted our second annual Short Conference virtual event. The Short Conference was attended by more than 500 EHS professionals across a wide range of industries, and featured informative sessions presented by our very-own VelocityEHS experts alongside EHS leaders from companies including Unilever and W.L. Gore.
Dave Risi, CIH, CSP and Principal Solution Strategist for Industrial Hygiene at VelocityEHS delivered the Short Conference's final session, "7 Ways Technology Can Streamline Your Industrial Hygiene Program." The session offered a detailed look at the IH program management process including emerging trends in the field of IH, best practices for maintaining every aspect of your IH program, and how VelocityEHS IH Solutions help automate and simplify complex IH program tasks.
If you missed the session, no problem! "7 Ways Technology Can Streamline Your Industrial Hygiene Program" is available as an on-demand recording you can watch now!
Click Here to Watch the Recording
Want to view all of The Short Conference Sessions? Click Here!
Additional IH Resources
Our certified IH experts have developed two new complimentary resources – the IH Program Cycle Infographic and IH Program Guide which will introduce you to a proven, process-based IH program management framework built around continuous improvement principles and AIHA best-practices. Download them today!
We'll also be hosting a series of upcoming IH webinars where you'll get an in-depth look at each of the elements of a successful IH program and have all your IH questions answered. Click Here to Register Today!
VelocityEHS IH Solutions
VelocityEHS Industrial Hygiene Software gives you industry-leading IH program capabilities built on AIHA best practices, right out-of-the-box. Our time-saving suite of solutions enables you to quickly get up and running, with little to no training needed, so you can more efficiently protect worker health, maintain compliance and drive long-term program performance.
Ready to see how our IH Solutions can help your organization build a better IH program?