Industry Recognition Comes for VelocityEHS Platform and President
03/08/2021 Posted on March 8, 2021 | in EHS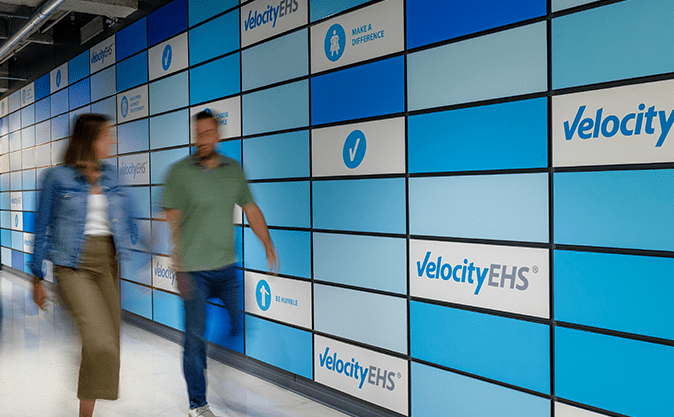 It's our mission at VelocityEHS to simplify and streamline EHS tasks and be a partner to safety professionals like you. We judge our success by your success. Even still, it is nice to be recognized in the EHS industry by our peers and independent analysts.
Recently, VelocityEHS was named A Leader in the Verdantix Green Quadrant for the third consecutive time, and our President and Chief Operations Officer, Matt Airhart, was named to the Environment+Energy Leader 100 list of the industry's top trailbreakers.
Three-Time Verdantix Green Quadrant Leader
For the third consecutive time, independent analyst firm Verdantix named VelocityEHS a Leader in its Green Quadrant: EHS Software 2021 report, citing our "robust all-around EHS software capabilities" and noting our software's simple user interface, availability in more than 20 languages and out-of-the-box industry-specific configurations.
According to Verdantix Principal Analyst Yaowen Ma, "VelocityEHS is one of a few vendors with a multi-decade track record delivering multi-tenant cloud-hosted software. Its continued investments in its solution's micro-services architecture to deliver flexible, easy-to-use technology products make it well suited for firms seeking a quick-to-deploy multi-tenant EHS software."
Top Scores in Ergonomics, Industrial Hygiene and Chemical Management
Verdantix highlights several VelocityEHS products in the 2021 Green Quadrant report, including Risk Management, Training Management and three solutions awarded the highest scores in their categories: Chemical Management, Industrial Hygiene and Ergonomics.
Ergonomics: The Verdantix report spotlights our cutting-edge sensorless motion capture technology that digitally assesses musculoskeletal disorder (MSD) risk factors in the workplace.
Industrial Hygiene: Our IH solution is noted for key differentiators such as its out-of-the-box lab integrations and global OEL database.
Chemical Management: The report recognizes our solution's ability to cross-reference against more than 100 regulated hazardous substances lists and convenient mobile access to more than 15 million safety data sheets.
This recognition reflects VelocityEHS' commitment to innovation. Whether it's these solutions or any of the others in our product suite, we are continuously updating and enhancing our software to ensure you have the tools you need to work smarter and faster.
Unmatched Expertise and Leadership
VelocityEHS is recognized as the industry gold standard not only through our software and services, but through our people as well. We know that thought leadership and forward-thinking vision is critical to our customers' success and our own.
In addition to our best-in-class solutions, the Verdantix 2021 Green Quadrant report highlights VelocityEHS as the top performer in Market Focus based on having more certified EHS professionals than the rest of our competitors combined, as well as the most engaged in industry associations and standards.
VelocityEHS was also highly regarded for our industry leadership by Environment+Energy Leader (E+E), which named our President and COO Matt Airhart an honoree on its Environment+Energy Leader 100. The E+E 100 "recognizes those environment and energy 'doers' who break trail in creating new solutions, programs, platforms, best practices and products to help their companies – or other companies – achieve greater success in commercial and industrial environment and energy management."
Airhart has been a pioneer in EHS for over 25 years and has been instrumental in leading VelocityEHS to become one of the most trusted and highest-rated brands in the industry. Under his leadership, VelocityEHS has strengthened our position as a global leader in EHS software solutions, acquiring some of the biggest names in EHS, including Humantech (office and industrial ergonomics), ChemTel (emergency response services), Spiramid (industrial hygiene), e3 (environmental compliance), and Meercat (risk analysis).
Through our world-class expertise and leadership, we are able to provide customers with the most effective EHS management solutions on the market as well as critical information needed to stay on top of key regulatory updates and industry trends.
Let Us Help You
Whether it's through one of our solutions highlighted in the 2021 Green Quadrant report such as Chemical Management, Industrial Hygiene and Ergonomics, or one of the many other solutions in our product and service suite—such as Incident Management, Corrective Action, or Audit & Inspection—VelocityEHS is here to make your job easier by giving you the tools you need to manage complex EHS tasks simply and create a culture of safety in your organization.
See our solutions in action and find out for yourself why the experts consider VelocityEHS an industry leader. Contact us today.