Protect Your Employees from OSHA's Most Cited Safety Hazard with Fall Protection Training
11/29/2018 Posted on November 29, 2018 | in Safety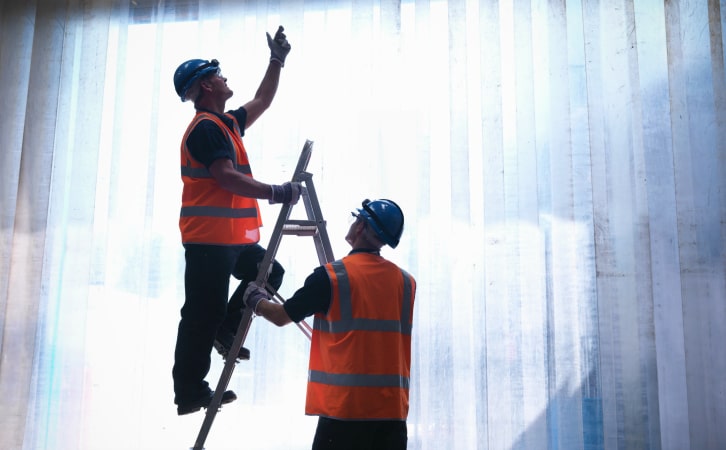 The 2018 list of OSHA's top 10 most frequently cited standards includes Fall Protection in the #1 spot for the eighth year in a row, emphasizing a critical need for employers to get their safety practices on firmer footing. VelocityEHS offers a Fall Protection safety training course as part of our On-Demand Training course library, which can help you better protect your workers from fall hazards and avoid costly noncompliance fines. Read on to learn more.
Workplace Fall Protection – Key Facts:
Federal OSHA penalties for Fall Protection violations from October 2017 through September 2018 totaled more than $30 million across industries.
OSHA issued 7,270 citations for violations of Fall Protection – General Requirements, and nearly 2,000 more for violations of Fall Protection – Training Requirements, in 2018 alone.
According to Bureau of Labor Statistics data, there were more than 650 fatalities resulting from falls on the job in 2016. In the Construction industry, nearly 40 percent of worker fatalities resulted from falls.
OSHA's fall protection requirements are addressed in standards for Construction as well as for General Industry, Shipyard Employment, Marine Terminals, and Longshoring Industry. Standards for each can be found on OSHA's Fall Protection page.
Simplify Safety and Compliance with On-Demand Training
The Fall Protection On-Demand Training course from VelocityEHS provides basic fall protection principles to employees who might be exposed to fall hazards. Upon successful completion of this course, students will be able to:
Identify fall hazards
Specify guidelines for fall protection systems
Recognize methods to minimize the risk of falls
Specify employer and employee roles and responsibilities in fall protection
Recognize safety equipment limitations
If you'd like to enroll your workers, click here to contact us or call us at 1.888.362.2007. You can also learn more about the benefits and features of our On-Demand Training solution here.