VelocityEHS Named One of Canada's Top Small and Medium Employers
04/30/2018 Posted on April 30, 2018 | in EHS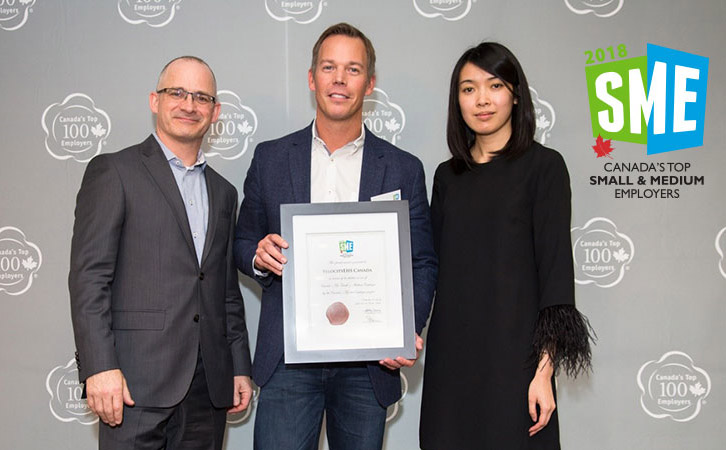 VelocityEHS Canada is thrilled to be recognized as one of Canada's Top Small and Medium Employers. The annual editorial competition is in its 5th year running and highlights the nation's best workplaces and forward-thinking human resources policies.
As one of Canada's Top Small & Medium Employers, VelocityEHS Canada was recognized for:
Work Atmosphere
Employees balance work and their personal lives with a variety of alternative work options, including flexible hours, compressed work weeks and a telecommuting option — the head office also features telecommuting workstations.
Physical Office
Having outgrown the old office, the new location doubles our available space to accommodate our continually expanding team. With sit/stand ergonomic work stations, fair trade coffee, and meeting rooms named after Canadian National parks, every detail was thoroughly planned to create a positive and healthy work environment.
Community Involvement
VelocityEHS Canada focuses its charitable efforts on initiatives for youth, hunger and the environment — employees are also encouraged to give back with a paid day off to volunteer and matching charitable donations (up to $500).
Social Events
Once a month, the VelocityEHS Canada holds a High Five breakfast, where staff who have received shout-outs spin a virtual wheel on the wall. Gift cards are given as prizes, at the platinum, gold and silver levels.
Training and Development
New employees participate in a two-week on-boarding program called AccelerateU, which features in-depth instruction by multiple teachers. After completing the training, the new hires are certified not only on their product knowledge but on their awareness of the VelocityEHS values. All employees can attend regular Lunch & Learns and access online training known as Skillsoft, which covers workplace issues such as the Accessibility for Ontarians with Disabilities Act (AODA) and harassment.
Health and Financial Benefits
Benefits package includes matching RRSP contributions and covering up to $2,000 annually in paramedical services, such as physiotherapists and chiropractors.
We're honored to have received this prestigious award and excited to share what makes VelocityEHS such a great company to work for! Check out our Careers page to see open positions.
Image Description: Matt Airhart, President of VelocityEHS Canada presented with Canada's Top Small and Medium Employers award with Richard Yerema, Managing Editor, Canada's Top 100 Employers and Kristina Leung, Senior Editor, Canada's Top 100 Employers