How Leading EHS Professionals Stay Up-to-Date
EHS professionals are continually asked to do more with fewer resources. At the same time, a complex and shifting regulatory landscape can make compliance feel like a challenging and elusive target. Keeping track of your regulatory obligations while managing all of your other critical EHS tasks can stretch already limited resources to the breaking point.
But the cost of non-compliance can be devastating to your business. Not only are state and federal OSHA penalties going up year after year, but a workplace incident can have serious implications in terms of lost productivity, workers' compensation costs, legal fees, regulatory penalties and even damage to your business' reputation.
You need access to comprehensive compliance resources that keep you on top of ever-changing state and federal workplace health and safety standards, and at the leading edge of EHS best practices. Our Safety Tool Kit gives you 24/7, on-demand access to hundreds of  handy compliance resources, including:
Compliance Analyses & Advice
Checklists, Forms & Guidance Documents
Weekly OSHA Newsletters & Regulatory Updates
Online Access to Expert Consultation
And much more!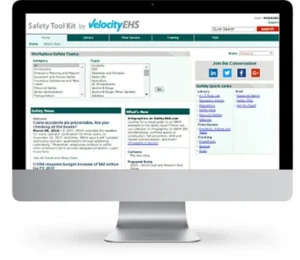 Stay up-to-date on state and federal health and safety requirements with 24/7 online access to common sense interpretations, plain-English analyses, expert advice, case studies, white papers, training tools and much more!
Benefits
Simplify Workplace Training
When it comes to workplace health and safety training, we've done the heavy lifting for you! Our Safety Tool Kit gives you a wealth of pre-built, customizable training resources including toolbox talks, audio lectures, PowerPoint® presentations, training guides, handouts, quizzes and exams, training certificates, recordkeeping tools, and an extensive library of training webinars.
Reduce Costs
Comprehensive training and compliance resources help you improve workplace health and safety performance, reduce workers' compensation claims, eliminate expensive third-party consultants, and shield your business from costly legal and regulatory penalties.
Work Smarter
Cut through the confusion of complex workplace health and safety regulations with common-sense best practices, plain-English regulatory analyses, pre-built compliance tools and more — all from one convenient Web portal that can be accessed anywhere, anytime.