VelocityEHS | MSDSonline Reminds Businesses to Remain Vigilant As OSHA HazCom Penalties Increase in 2018
03/15/2018 Posted on March 15, 2018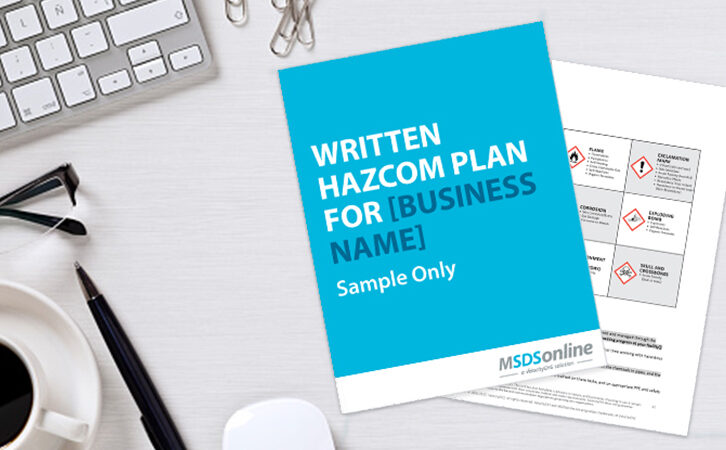 Chicago (March 15, 2018) — VelocityEHS, the global leader in cloud-based environment, health, safety (EHS) and sustainability solutions, is once again reminding EHS professionals to be aware that OSHA inspectors are actively looking to ensure companies are in compliance with the Hazard Communication Standard (HazCom) on the heels of the Agency's penalty increase. Since OSHA's adoption of GHS, HazCom has ranked number two on its annual list of most frequently cited standards, and the latest stats show that the most common HazCom violations involved employers' Written HazCom Plans (Written HazCom Programs). VelocityEHS, through its MSDSonline chemical management solution, offers a fully-customizable Written HazCom Plan Template to make it easier for employers to ensure they have a comprehensive written program that meets OSHA compliance requirements.
Download the MSDSonline Written HazCom Plan Template for no cost here.
Under the HazCom Standard, OSHA requires workplaces containing hazardous chemicals to have a written HazCom program in place. However, it can be difficult to know where to start with so much information to cover. The MSDSonline Written HazCom Plan Template simplifies the process by laying the groundwork for EHS professionals to quickly and easily create a comprehensive program that helps meet compliance requirements. Available at no cost, this template contains the basic elements of a compliant written plan, according to OSHA's Hazard Communication Standard and is designed to be easily edited to include an employer's site-specific work environment information.
"OSHA's recently released FY 2019 budget proposal included requests for more inspectors and more workplace inspections. That, coupled with the Agency's increased penalties and fines for 2018 due to inflation, should motivate all employers to take the necessary steps to ensure they are in compliance, especially given how prominent HazCom violations are," said Glenn Trout, president and CEO of VelocityEHS. "The MSDSonline Written HazCom Plan Template is just another way VelocityEHS is helping all companies – not just those that are customers – more easily fulfil their compliance obligations and keep workers safe."
Benefits of the MSDSonline Written HazCom Plan Template, include:
Saves time researching and compiling a written plan from scratch– The template outlines OSHA's required elements and general expectations for a compliant program, such as details related to safety data sheets, container labels and employee training.
Learn what's required for a compliant program– The MSDSonline Written HazCom Plan Template not only makes it easy to start the process of creating your program, but it also provides helpful guidance and education about what customizations OSHA would expect for specific work environments.
Avoid costly fines for noncompliance– The HazCom Standard continues to rank #2 on the annual list of OSHA's most frequently cited standards, and the Agency's number one HazCom citation for 2017 is for employers failing to have a plan or for having an inadequate plan. This template makes it easier to ensure EHS professionals have a comprehensive HazCom written program that meets compliance requirements.
In addition to failing to maintain an up-to-date Written Hazcom Plan, other frequently cited HazCom violations include those related to SDS obtainment, management and providing employee right-to know access. VelocityEHS, through its MSDSonline chemical management solutions, streamlines enterprisewide hazard determination, employee Right-to-Know access, labeling, safe chemical handling, and more through a variety of products and service options. The award-winning MSDSonline HQ and HQ RegXR Accounts feature built-in GHS workplace labeling capabilities, including workplace label integrations with Brady, Avery and Graphic Products DuraLabel printers, while the SDS/Chemical Management Mobile App simplifies complex chemical inventory management tasks and provides on- and off-line employee access to SDSs. Other MSDSonline GHS/HazCom solutions include on-demand training courses, SDS Authoring, Regulatory Consulting Services, and on-demand compliance education via its Enviro and Safety Tool Kits.
Visit www.MSDSonline.com to learn more about MSDSonline chemical management solutions by VelocityEHS. For more information about VelocityEHS and its full suite of award-winning EHS products and services, visit www.EHS.com.
About VelocityEHS
VelocityEHS is the leading global provider of cloud-based environment, health and safety (EHS) software. Its comprehensive software platform and innovative mobile applications, including its award-winning MSDSonline chemical inventory management solutions, aim to make enterprise-level EHS functionality accessible and affordable to businesses of all sizes, helping them solve complex compliance and regulatory challenges in simple ways. Today, more than 14,000 customers worldwide, from virtually every industry, trust VelocityEHS and its solutions to improve EHS performance. Recognized by the industry's top independent analysts, including leading scores in the Verdantix 2017 Green Quadrant Analysis and 2017 NAEM EHS & Sustainability Software Ratings Report, VelocityEHS helps customers reach their EHS goals faster with quick implementations, affordable solutions and unparalleled customer support. VelocityEHS is headquartered in Chicago, Illinois with locations in Canada, the UK and Australia. For more information, visit www.EHS.com.
###
Media Contacts
VelocityEHS
Betsy Utley-Marin
312.881.2307
[email protected]