VelocityEHS Announces Its 2023 Accelerate User Conference
03/16/2023 Posted on March 16, 2023 | in EHS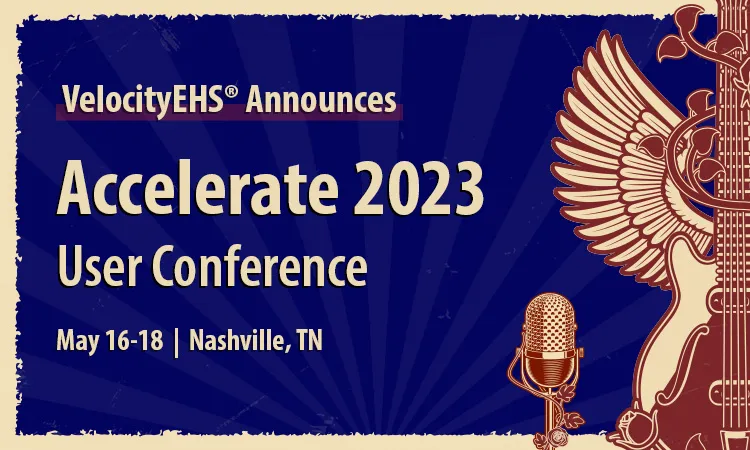 VelocityEHS Brings Together EHS & ESG Leaders from the World's Most Admired Companies at Accelerate 2023 in May
Chicago (March 16, 2023) – VelocityEHS, the global leader in enterprise EHS & ESG software solutions, today announced the return of its annual user conference, Accelerate 2023. The hybrid event—live and virtual—takes place in Nashville, Tennessee, at the Gaylord Opryland Resort & Convention Center from May 16 to 18, 2023. It brings together the largest community of EHS software users with experts from VelocityEHS and a panel of world-class partners, including the event's platinum sponsor, WSP. 
Executives and health, safety, and sustainability leaders from the most admired companies in the world will share and gain insights about moving their EHS management programs into ESG maturity during this two and a half day knowledge-sharing event. The conference theme — "Innovation and ActiveEHS®" — highlights the combination of deep EHS domain expertise with AI and machine learning that only VelocityEHS can deliver to help global enterprises achieve outstanding business results at scale.  
Accelerate 2023 features 20+ sessions, CEU workshops, executive sessions, networking events, and an inspiring keynote presentation delivered by The Rolling Stones pianist and Grammy Award-winning musician Chuck Leavell. Leavell, a renowned environmentalist, is featured in the documentary, "Chuck Leavell: The Tree Man," which explores his passion for music, forests, and family.  
"This event is all about our customers: the challenges they face, the insights they have about maturing their EHS and ESG processes, and what we can do to help them get there," said John Damgaard, CEO of VelocityEHS. "A lot has changed for EHS and ESG leaders since our last conference in 2019, with many of these individuals having played central roles in pandemic responses and the intensification of environmental, social, and governance initiatives at their firms. Everyone at VelocityEHS is excited to reunite with them in person. We're also excited to share the innovations we've been building into our Accelerate Platform based upon their input." 
Day One:
The conference begins with an evening welcome reception located in the Partner Pavilion Exposition Hall. VelocityEHS partners will be demonstrating the wide range of outstanding solutions and services available to the VelocityEHS community. Confirmed partners include:  
Platinum Sponsor
Gold Sponsors
Silver Sponsors
Attendees can also visit VelocityEHS' interactive kiosk, providing up close and personal demonstrations of the ActiveEHS technology. 
Day Two:
The action continues on the main stage where a series of powerful keynotes will be viewed by all live attendees and hundreds of virtual ones. Day two highlights include: 
Official Welcome
Matt Airhart, President, VelocityEHS

Winnie Ip, SVP & Chief Operations Officer, VelocityEHS

 
Future of EHS Presentation
Roger Bottum, Senior Vice President of Product, VelocityEHS

 
A Guided Tour of the VelocityEHS Accelerate® Platform
Blake McGowan (CPE), Solution Executive, VelocityEHS

Dave Risi (CIH, CSP), Solution Executive, VelocityEHS 

Julian Moffatt, Solution Executive, VelocityEHS

Marc Juaire (CPSA), Solution Executive, VelocityEHS

 

 
Product Roadmap Preview
Jason Weiss, Chief Technology Officer, VelocityEHS

Andrew Holmes, Associate Vice President of Product, VelocityEHS

Ken Lupo, Associate Vice President of Software Development, VelocityEHS

 
ActiveEHS (AI and Machine Learning) Demonstration
Dr. Julia Penfield, Associate Vice President of Machine Learning, VelocityEHS

 
Customer & Partner Presentations
Chuck Leavell, The Rolling Stones Pianist and Environmentalist
(Headline Keynote)
Rock 'n roll pianist, Chuck Leavell, will entertain attendees with stories from his 50-year career playing with artists like Eric Clapton, John Mayer, The Black Crowes, The Indigo Girls, Blues Traveler, Train, and many, many more. He will also inspire with insights from his work on forestry, environmental issues, and climate change. 
Day Three:
The conference concludes with a series of concurrent roundtable discussions, breakouts, and educational sessions designed for attendees to obtain continuing education units (CEU). Topics include ergonomics, ESG, Physical Demands Analysis, EHS management, contractor management, risk management, and more. 
Additionally, the VelocityEHS customer success team will be available throughout the duration of the event for one-on-one meetings. It's a chance for customers to share their needs, ask questions, or take a deep dive into their existing programs.  
View the event details page for the agenda and to register. 
About VelocityEHS
Relied on by more than 10 million users worldwide to drive operational excellence and achieve outstanding outcomes, VelocityEHS is the global leader in true SaaS enterprise EHS & ESG technology. The VelocityEHS Accelerate® Platform is the definitive gold-standard, delivering best-in-class software solutions for managing:   
ESG 

Safety 

Industrial Ergonomics 

Control Of Work 

Health 

Operational Risk 

Environmental Compliance 

 
The VelocityEHS team includes unparalleled industry expertise, with more certified experts in health, safety, industrial hygiene, ergonomics, sustainability, the environment, AI, and machine learning than any EHS software provider. Recognized by the EHS industry's top independent analysts as a Leader in the Verdantix 2023 Green Quadrant Analysis—VelocityEHS is committed to industry thought leadership and to accelerating the pace of innovation through its software solutions and vision. Its privacy and security protocols, which include SOC2 Type II attestation, are among the most stringent in the industry.  
VelocityEHS is headquartered in Chicago, Illinois, with locations in Ann Arbor, Michigan; Tampa, Florida; Oakville, Ontario; London, England; Perth, Western Australia; and Cork, Ireland. For more information, visit www.EHS.com.   
### Media Contact
Jennifer Sinkwitts 
734.277.9366
[email protected]