The Short Conference 2021
EHS Technology: The Road Ahead
May 12, 2021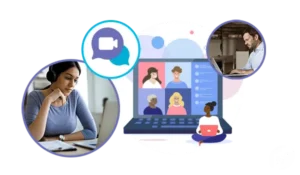 Technology can accelerate the reduction of workplace risks and hazards. It's how smart companies get to where they want to go, fast. Enhanced business performance is the end goal and research proves the causal relationship between employee well-being and overall financial performance. When employee engagement is up, so are productivity, quality, and later, stock and corporate credit rating. We work in a digital age, texting and using cloud computing to collaborate, artificial intelligence to identify risk, and data to drive decisions to improve the workplace. In short, technology brings us together, helps us solve problems, and directs us – it's the road for organizational leaders to achieve their goals.
On May 12, 2021, VelocityEHS brought together its subject matter experts and customers during educational and interactive roundtable discussions to share key insights on improving safety, compliance, ergonomics, and more. Watch the on-demand sessions by clicking the links below.
View the On-Demand Recordings Using the Links Below!
Agenda
10:00 a.m to 10:30 a.m ET
How Technology is Transforming EHS – View the On-Demand Recording
Presenter: Matt Airhart, President and COO, VelocityEHS
Join Matt Airhart for an intimate look at the road ahead for all of us who want to do EHS right.
As we settle into the 21st century, we now know for certain that technology alone can not save us. Innovation can. It is a human endeavor, and people are at the root of every important advancement. More so, technology becomes its most transformative when it mirrors a transformation that has already occurred by the person(s) engineering the change. Software cannot be embedded with expertise the maker does not have.
Technology for technology's sake is not only empty, it is harmful. It pulls our attention away from what is vital and tricks us into believing we know something we don't. But when innovation is guided by world-class practitioners, grounded in a mastery of process, and backed by proven data—the results can launch us into extraordinary places.
10:35 a.m. to 11:35 a.m. ET
Risk vs. Compliance: A Fast-Paced Panel Discussion – View the On-Demand Recording
Moderator: Rick Barker, Principal Solutions Strategist, VelocityEHS
Panelists: Alex Apostolou, Principal Solutions Strategist, VelocityEHS
Jules Hinske, North America Process Safety Manager, Unilever
Frank Skiba, Sr. Product Manager, Audi & Compliance, VelocityEHS
Managing compliance and risk can be seen as opposites, ripe for contrast. The reality is more nuanced. Let's begin with the obvious: lack of compliance has financial consequences and the potential to damage a company's reputation. Successful compliance is more than checking all the right boxes; it involves verifying that the actions are done effectively and proactively managing change. This is where the lines between risk management and compliance can blur.
It may be useful to view the distinction between compliance and risk similar to the difference between tactics and strategy. Compliance is more tactical and risk management is more strategic. The most effective approach is to align your tactics with your strategy. Risk management takes a broader view to incorporate the overall effect on the business, including the impact on regulatory compliance, finances, reputation, and stakeholders.
During this interactive session, audience members can ask a question to a panelist, who then must answer it in a specified period of time. This is a fast-paced discussion (think Presidential debates).
11:40 to 12:40 p.m. ET
W.L. Gore and Associates, Inc. Systems Approach Built to Stand the Test of Time – View the On-Demand Recording
Moderator: Jennie Dustin, Senior Manager, Ergonomics Consulting, VelocityEHS
Presenter: Michael Mauro, Divisional Ergonomics & Error Proofing Champion, W.L Gore and Associates, Inc.
Organizational leaders at W.L. Gore and Associates, Inc. recognize that continuously improving their ergonomics program in manufacturing is a key success factor for long-term sustainment. Ensuring operations ownership accompanied by a robust system and a standard process built on feedback from the customer is essential to the continuous improvement of their program. Focusing on these elements is how their approach to enhancing workplace health and safety will stand the test of time.
The company has integrated its strategy to reduce workplace injuries into its divisional management systems and, as a result, its ergonomics program has been structured into multiple phases: introduction, growth, and maturation, followed by what they call a "business ownership" phase. In the business ownership phase, accountability to risk and injury reduction primarily rests on leaders, with heavy reliance on cross-functional participation and manufacturing floor engagement.
During this session, attendees will learn how to:
Develop a systems approach
Sustain a process
Initiate accountability measures
12:45 p.m. to 1:45 ET
Data: Too Much, Too Little, or Just the Right Amount? – View the On-Demand Recording
Moderator: Christy Lotz Senior Manager, Ergonomics Consulting, VelocityEHS
Panelists: Alex Apostolou, Principal Solutions Strategist, VelocityEHS
Blake McGowan, Director of Ergonomics Research, VelocityEHS
Dave Risi, Director of Industrial Hygiene, VelocityEHS
With the use of technology, EHS professionals may have a bevy of data at their fingertips, but is it the right data to get the right information to translate into knowledge? Or, are you left information-poor? During this panel discussion, VelocityEHS subject matter experts will discuss what good and bad visualization of data looks like, and the challenges of having too little or too much.
Attendees will join a breakout session based on the discussion of interest and the maturity level of their environmental, health, and safety process to learn best practices for measuring the right "stuff," communicating risk so that it's understandable, and using it to add the most value to the organization.
Come prepared to ask questions and share ideas in this interactive discussion.
1:50 p.m. to 2:50 ET
7 Ways Technology Can Streamline Your Industrial Hygiene Program – View the On-Demand Recording
Moderator: Greg Duncan, EHS Expert, VelocityEHS
Presenter: Dave Risi, Director of Industrial Hygiene, VelocityEHS
There's a growing trend in recent years of companies downsizing or eliminating their in-house IH professionals and placing greater reliance on EHS generalists and third-party consultants to manage their IH programs.
wpb_column vc_column_container vc_col-sm-12″>
Even with a formal technical background in IH, managing an IH program can be intimidating—but it doesn't have to be. Whether you're a veteran CIH or completely new to the field, there's a simple but comprehensive approach you can apply to your IH program that will help you do industrial hygiene right using technology.
During this session, we'll explain the seven critical components of a comprehensive IH program. From SEGs, QEAs, and sampling activities to data analysis, medical surveillance, and reporting, an IH program has a lot of moving parts. But, with the right knowledge and tools, you can establish a process-based, holistic IH program framework based on continuous improvement principles and AIHA best practices.
Attendees will learn how to:
Establish and maintain IH program elements and implement strategies to reduce the time and effort required to manage worker health and compliance
Adopt an integrated approach to IH program management
Drive continuous improvement of IH program performance
Thanks for Your Attendance at The Short Conference 2021!