The Open Table Conference
A Virtual 3-Part Conference Series
Let's get full on EHS topics together!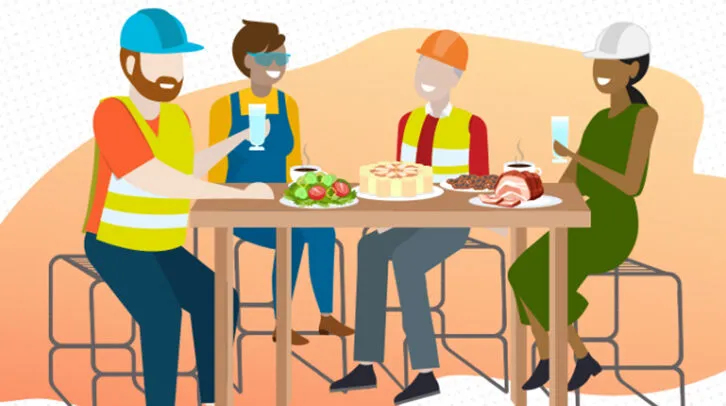 The VelocityEHS family invites you to a seat at our Open Table Conference during the first three weeks of November! During this three-part conference series, we're bringing our customers, partners, and VelocityEHS subject matter experts together to feast on EHS topics. We'll share key learnings, best practices, and innovative technologies to help each other manage EHS at this critical time. We'll also examine the tsunami of EHS issues every EHS professional should be on the lookout for in the months ahead and post-pandemic.
During each two-hour workshop, we'll deliver a 60-minute presentation (the main dish of the program), followed by a 30-minute customer-driven presentation (sweet taste of success), and rounding it out with a short product spotlight (a final relish). A short summary of each week's agenda is below. Register for one or all using the registration links.
Watch On-Demand
The Open Table Conference recordings are open to VelocityEHS customers and other EHS professionals. Register for the sessions you're interested in, and we will email you links to the recordings.
The Open Table Conference Agenda
Attend the Sessions that Make Sense for You
On-demand recordings and the session Q&As are now available. To access, register using the links below.
November 5, 2020: 11 a.m. to 1 p.m. ET
COVID-19 Regulatory Panel: Where are We Now?
Download the on-demand recording and session Q&A!
Moderator: Winnie Ip, Vice President, VelocityEHS | Humantech
SME: Phil Molé, EHS & Sustainability Expert | VelocityEHS
Panelists:
Tony Casaletta | Attorney | Douglas W. Crim Law PLC
Pam Walaski | Senior Program Director | Specialty Technical Consultants
Elaine Ye | Expert Services Manager | Enhesa
More than six months into a global pandemic, EHS professionals continue to face challenges when it comes to ensuring the health and safety of employees and the public. Employers have had to find creative ways to adjust how people, processes, and tools fit into the new regulatory landscape.
Back by popular demand, a panel of leading regulatory experts will join The Open Table Conference to share insights on what has changed and what the future will bring. Pam Walaski of STC and Elaine Ye of Enhesa return for one of the highest rated panels from the VelocityEHS' The Short Conference in May, and are joined by Tony Casaletta from Douglas W. Crim PLC. We will discuss the current global regulatory framework and identify some of the trending topics that regulators and enforcement agencies are prioritizing.
This session will:
Cover both U.S. and international jurisdictions
Help EHS professionals navigate the regulatory uncertainties
Provide up-to-date information on recent compliance and enforcement initiatives
Join us for another opportunity to "ask the expert" about how these initiatives will continue to impact EHS programs and resources.
November 12, 2020: 11 a.m. to 1 p.m. ET
Register: Getting the Most from Your Safety Management Metrics
Download the on-demand recording and session Q&A
Moderator: Blake McGowan, CPE, Director of Ergonomics Research, VelocityEHS
Presenter: Rick Barker, CPE, CSP, Senior Technical Manager, VelocityEHS
SME: Dave Risi, Director of Industrial Hygiene, VelocityEHS
Continued leadership support for your safety program requires proof that you are achieving goals that positively impact the goals of the business. One of the more effective ways to increase manager involvement and support is to select measures that managers can directly affect. When managers can clearly see changes in metrics resulting from their actions, they are more likely to take an active role in the safety process.  
This session will explain how to: 
Establish measurable goals and link them to business objectives 

 

Create broader, more meaningful metrics

 

Present results in a way that is consistent with other business objectives 

 

Select an appropriate reporting frequency

 
We'll also discuss the various types of metrics and how to use each effectively.  
November 19, 2020: 11 a.m. to 1 p.m. ET
Register: Technology: Shaping the Future of EHS 
Download the on-demand recording and session Q&A
Moderator: Roger Bottum, Vice President of Product, VelocityEHS 
SME: Kent Hatcher, CPE, Director of Ergonomics Consulting, VelocityEHS
Panelists:
Dr. SangHyun Lee | Associate Professor| University of Michigan | Founder and CTO |  Kinetica Labs
Dr. Shawn Bergman | Professor of Psychology | Appalachian State University
Staying ahead of the technology curve is a challenge that many companies face when implementing and maintaining a robust EHS program. This panel offers three unique perspectives on how technology has a significant impact on shaping the EHS industry. Leveraging machine learning can help EHS professionals translate complex EHS documents, such as permits and regulations, into easy-to-use compliance requirements. Computer vision and computer simulation are technologies that drive improvement in occupational health and safety performance. Data mining and analytics techniques can be used to identify strategic EHS trends across an organization.  
This session will look at ways that technology can help EHS professionals: 
Enhance

 health and safety 

performance

 

Uncover 

opportunities for 

cost savings and 

d

rive business value

 

Create

 efficiencies

 in EHS processes and programs

 
Our engaging and dynamic panel will also provide thoughts on what the future holds for technological advancement and EHS initiatives. 


Sign Up For On-Demand Recordings Using Session Hyperlinks Above
The Short Conference session recordings are available to VelocityEHS customers and other EHS professionals.