New Case Study Published—Corning: Overcoming Challenges to Achieve Best Safety Record Ever!
10/25/2023 Posted on October 25, 2023 | in Ergonomics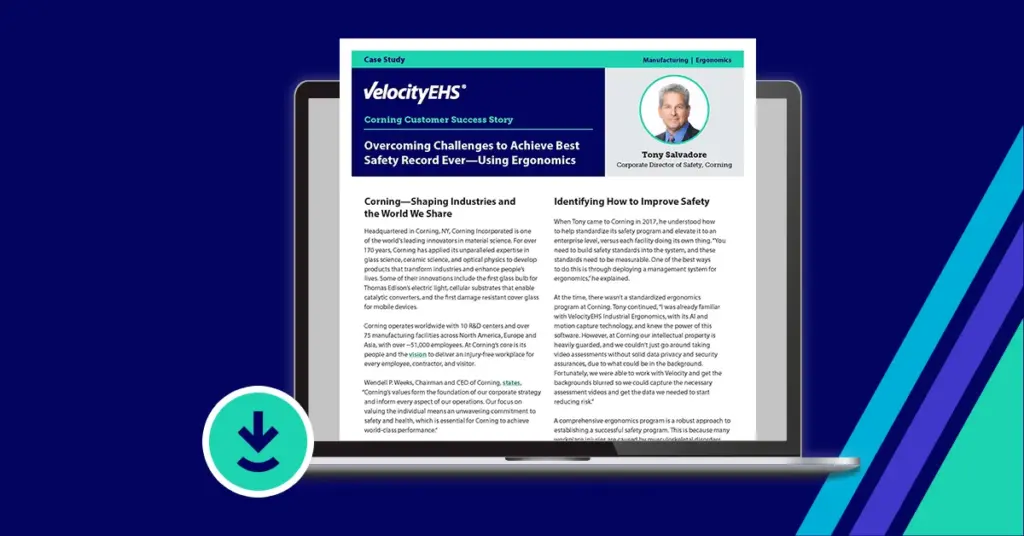 We recently published a case study sharing the story of how Corning, one of the world's leading innovators in material science, achieved its best-ever safety record in 2022. Corning took a three-step approach to safety and health, through employee respect and engagement, visual management, and a leadership-supported strategy.
In order to achieve this, Corning implemented a comprehensive ergonomics process with VelocityEHS Industrial Ergonomics, an essential component of their health and safety program. This was necessary because many workplace injuries are caused by musculoskeletal disorders (MSDs) that develop over time from repetitive activities. Ergonomics fits the job to the person and, when managed through a systematic approach, helps lessen muscle fatigue for workers, enhances product quality, increases manufacturing productivity, and reduces the number and severity of work-related MSDs.
Read the full case study to see more about Corning's methods for safety success through its improved ergonomics process.