Why You Need More Than Just an Ergonomics App for Worker Health and Safety
07/24/2023 Posted on July 24, 2023 | in Ergonomics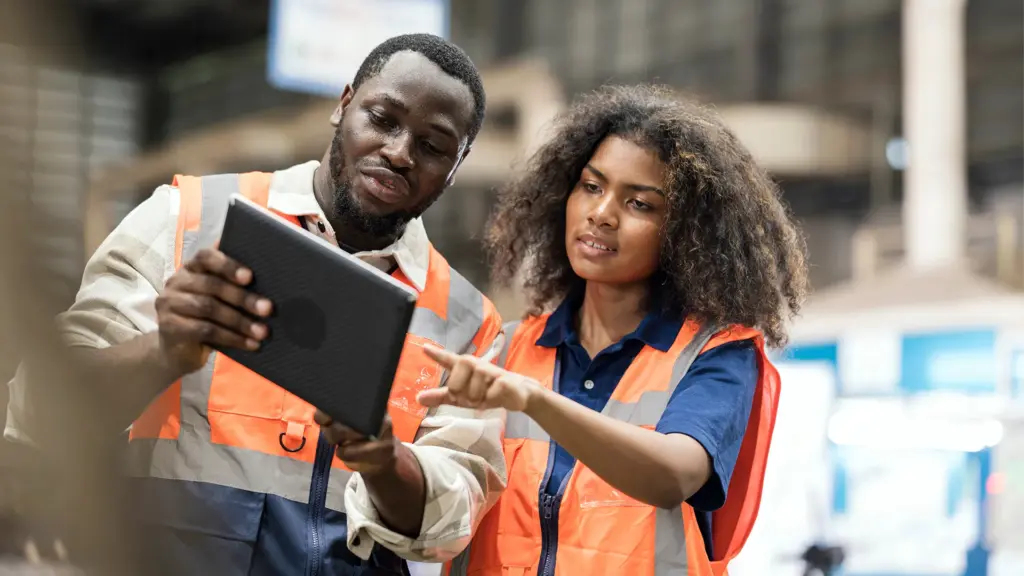 There's an app for just about everything these days—including workplace ergonomics. Ergonomics applications have become common tools for employees to take the ergonomics assessment process into their own hands and reduce musculoskeletal disorder (MSD) risk. This usually involves taking a video recording on a handheld device of an employee performing a job task, and then the app indicates where the high risk is present. Great!
But, do app users have clear information on the root cause of the risk? Do they know what changes to make to reduce the risk of a task? Are they trained to understand what risk factors are present in a job? And how about verifying risk reduction, documenting results, or calculating ROI?
With many assessment apps, you're left without further analysis, basic ergonomics training, and ergonomics expertise to guide you toward correct root causes and effective improvements. Plus, how are you supposed to know what to do next? How can you ensure that the ergonomics process continues and becomes a sustainable ergonomics program that actually improves your workplace?
To assess and address MSD risk levels and implement changes to improve employee health and productivity, organizations need a truly comprehensive ergonomics software system like VelocityEHS Industrial Ergonomics that can provide insightful data with AI-driven assessment tools, in-person and online ergonomics training, embedded expertise to guide you toward the right root causes and controls, management reports, and the support of certified professional ergonomists (CPEs).
Why You Need an Entire Ergonomics Software System
The power that ergonomics apps have is that they put ergonomics assessment tools into the hands of employees. And while that's helpful, the assessment is just one part of the whole ergonomics process. If you only had an ergonomics app to assess MSD risk, you may not know the correct next steps to take to reduce the risk level. Without the proper guidance, your organization could be wasting precious time and money on improvements that don't make a real difference.
With a truly comprehensive ergonomics software system like VelocityEHS Industrial Ergonomics, the entire ergonomics process is a simple, straightforward and streamlined series of steps that leads workers to key information and impactful improvements.
Once the assessment video is uploaded to software, it's accurately analyzed and the areas of MSD risk are pinpointed and scored, with tailored recommendations provided to identify root causes and proper controls for the specific employee and job environment. After your team has made the suggested changes to reduce the risk level of the task, the software allows you to track and monitor progress to ensure sustainability.
…with Ergonomics Training
There's a difference between making a change and sustaining it. You could always make a change to the workplace to have it done, without any explanation or support for employees, but what's the likelihood that it will stick? Without understanding a change in the workplace—the reason for it, the new ways of operating, and the benefits of it—it's not likely that employees will continue working with that change.
If you want to sustain a change, train employees so that they know what to do on their own. By understanding proper ergonomics principles, employees have the power to identify potential risks that could cause injuries, adjust their workstations on their own, optimize their body posture, and avoid repetitive strain injuries.
This knowledge empowers employees to make adjustments that promote a healthier and more comfortable work environment where they can perform their tasks safely and effectively. They'll naturally begin collaborating with each other, sharing found best practices, and ensuring the program's sustainability.
…Available Ergonomics Expert Support
When it comes to your process, no app can beat the support of an ergonomics expert when you need it. A certified professional ergonomist (CPE) possesses in-depth knowledge and program expertise, ensuring that your process is built on a solid foundation of scientific principles and best practices. They supplement the ergonomics training that employees have already received, and recommend further solutions tailored to the specific needs of the organization.
Working directly with an ergonomics consultant or a CPE also brings credibility to the program, which is crucial in gaining employee buy-in and support. Employees are more likely to trust and engage with an ergonomics program when it is developed by recognized experts. They can provide ongoing support, training, and evaluation to ensure the effectiveness and continuous improvement of the program. By working directly with ergonomists, organizations can develop a robust, sustainable ergonomics program that prioritizes employee well-being, minimizes risks, and optimizes productivity.
While not every customer who uses VelocityEHS Industrial Ergonomics chooses to work directly with a consultant or CPE, that level of expertise has been built directly into the software to empower every user with ergonomics knowledge.
…And Ergonomics Expertise Embedded in the Software 
VelocityEHS Industrial Ergonomics was developed with the expertise of our team of ergonomists, and now, the software has evolved to that knowledge being directly embedded into the ergonomics software. This means that you essentially have an expert ergonomist with you at all times.
By taking years of combined experience from our CPEs and coding that logic into our software, with insights like common root causes and corresponding improvements, users are clearly guided to more accurate and effective controls. This saves time and improves outcomes.
The entire organization benefits from the expertise, along with data accrued from decades of other successful ergonomics programs without having to contact an expert every time.
The system also makes it simple to generate easy-to-understand reports which include the essential details of MSD risks, controls and improvements, trends and other key performance indicators to help ergonomics teams easily communicate the value of your program to management.
Ergonomics Apps are OK, But You Need a Comprehensive Ergonomics Process
Apps have become a huge part of how we go through our daily lives; we use them for pretty much everything. But with something as vital as protecting employees from MSDs and ensuring their health and safety, you need much more—you need a user-friendly yet comprehensive software system that supports and helps sustain your ergonomics process long term.
Why VelocityEHS?
Our ActiveEHS-powered Industrial Ergonomics solution is the smartest way to assess and control MSD risk in the workplace. The VelocityEHS Industrial Ergonomics Solution, part of the Accelerate® Platform, combines interactive online training, AI driven assessment tools, expert-led site improvement events, reporting tools, and a powerful database –everything you need to deploy, monitor and manage the ergonomics process, from one to hundreds of locations.