New Case Study Published—HNI Corporation: Shifting from Reactive to Proactive Ergonomics Management in Less Than a Year
03/20/2023 Posted on March 20, 2023 | in Ergonomics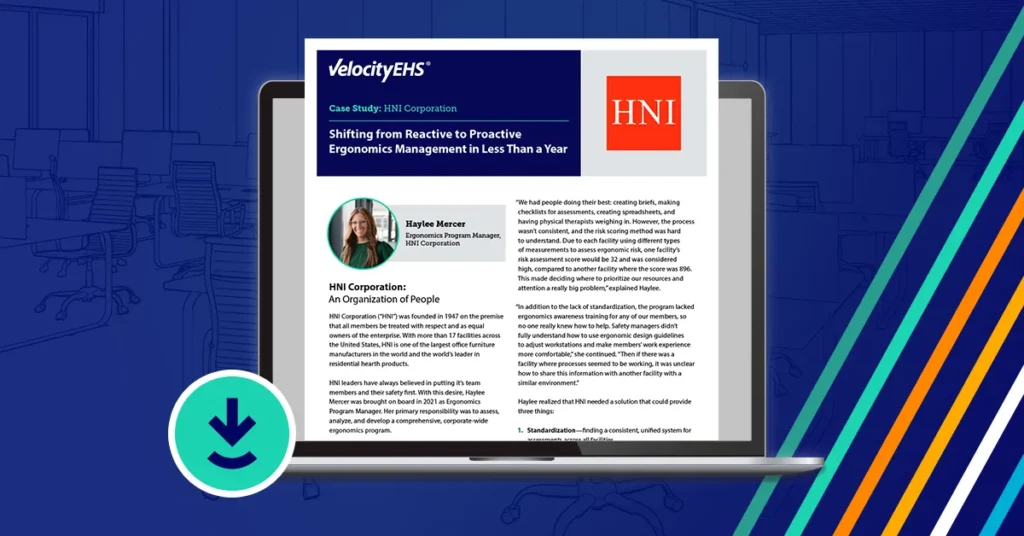 We recently published a case study sharing the story of how HNI Corporation, one of the largest office furniture manufacturers in the world and the world's leader in residential health products, succeeded in turning an ergonomics program that lacked consistency and visibility into a standardized process that engaged employees in MSD risk reduction.
HNI Corporation needed to assess, analyze, and develop a comprehensive, corporate-wide ergonomics program but was looking for a way to consistently manage its ergonomics process across multiple locations. To successfully solve their problem and implement a solution, HNI wanted a software system that gave them three things – standardization, training, and visibility/shareability – which they found in VelocityEHS Industrial Ergonomics. In less than a year of implementing an ergonomics management process, HNI's members have expressed appreciation for the efforts made to improve ergonomics and have reported feeling healthier while working.
Read the full case study to see the invaluable benefits HNI and its employees have experienced through its improved ergonomics process.