Download Our New Infographic for ESG Stakeholder Insights
03/23/2023 Posted on March 23, 2023 | in ESG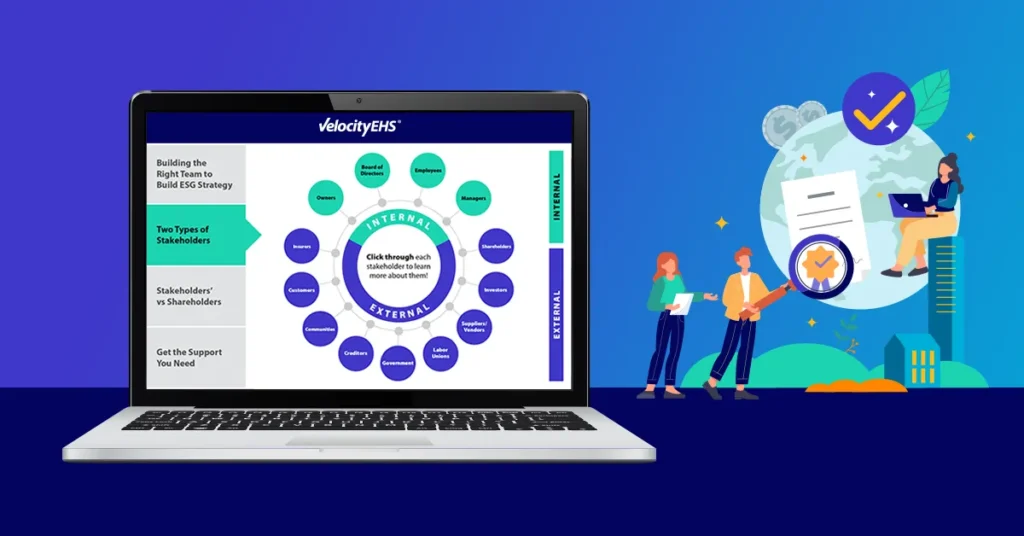 The pressure to integrate Environmental, Social, and Governance (ESG) throughout the organization continues to grow. Whether you're an EHS or sustainability professional, ESG should be on your radar if it's not already. Why is ESG important? It's important because it's a framework that considers impacts on communities and the environment alongside financial considerations in the investment decision-making process. In other words, it's a concept that includes sustainability, community involvement, ethical business practices, and a commitment to the greater good, rather than an exclusive focus on profit.
ESG isn't new. The concept has been around for decades; however, it has become increasingly popular since 2020 due to an expanding volume of research and data that shows a positive relationship between higher ESG maturity and better financial performance. For example, a 2020 Harvard study found ESG performance to correlate with Economic Value Added (EVA) Margin, which is the incremental difference in the rate of return (RoR) over a company's cost of capital. Basically, companies with a higher ESG maturity see a better return on their investments than companies with lower ESG maturity.
Why the Seemingly Sudden Increased Demand for ESG?
Simply put—stakeholders. In addition to higher ESG maturity being correlated to better financial performance, which makes investors notice, it also meets broader stakeholder demands for greater transparency in business practices, meeting the concerns of those whose interests are often more than just financial returns. The range of ESG stakeholders includes those demanding more sustainable business practices alongside investor-driven requirements.
Who Are ESG Stakeholders and Why Do They Matter?
The experts at VelocityEHS have created our latest infographic to help you understand who your different stakeholders are, their stake in your business, and how to get started on building ESG maturity based on relevant information obtained through stakeholder engagement.
This new infographic breaks down:
the two major categories of stakeholders, and the many different stakeholders connected to your business.
the differences between stakeholders and shareholders.
how active engagement with your stakeholders helps you to accurately perform materiality assessments to determine the ESG issues that matter most to your business.
The time has come to act and become more sustainable, create a healthier work environment, and focus on blending financial returns with environmental and social stewardship. Understanding who your stakeholders are and what's relevant to them, and your business, will help you build a more effective ESG program.
Looking for more information on ESG? Get the information you need at VelocityEHS ESG Central.
Ready to Take Your ESG Program to the Next Step?
Build a mature ESG program you can be proud of while showing product stewardship performance with the VelocityEHS ESG Solution. Our best-in-class, award winning, software simplifies data collection and reporting tasks to help you quickly gain clear visibility into greenhouse gas (GHG) scope 1–3 emissions, energy consumption, carbon footprint management, materiality data, workplace health and safety metrics, and alternatives to chemicals with the Green Chemistry capability.
As part of the VelocityEHS Accelerate® Platform our ESG Solution makes it possible for you to take an integrated approach to identifying and capitalizing on important ESG risks and opportunities facing your business.
Still have questions? Contact us today to learn more about our EHS & ESG solutions.