Using Ergonomics to Attain the S of ESG
08/09/2022 Posted on August 9, 2022 | in Ergonomics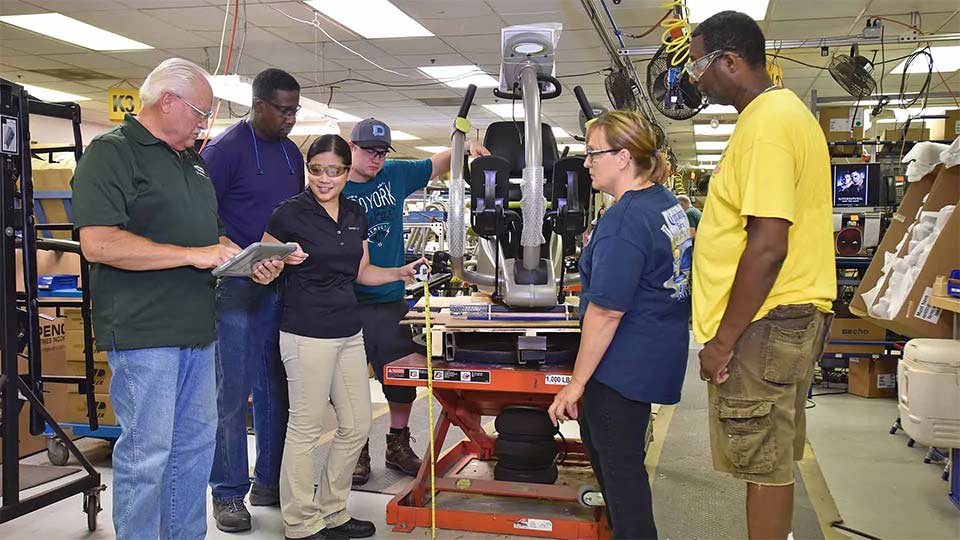 With the many ways in which the world has changed in the last few years alone, sustainable finance and Environmental, Social and Governance (ESG) investing are two of the most significant drivers of today's investment trends. Institutional and private investors—not to mention the global public at-large—are now demanding that business leaders adopt a strategic approach to corporate sustainability and integrate ESG management into their financial and operational models. This is not only to achieve greater levels of corporate sustainability, but it is a necessary component to stay ahead in this rapidly changing and intensely competitive environment.
At a basic level, most corporate sustainability efforts focus on managing a few material ESG risks and opportunities. This includes environmental directives like minimizing greenhouse gas (GHG) emissions and their impact on the environment, promoting sustainable supply chains and conserving biodiversity. Social efforts include improving diversity, equity and inclusion (DEI) to support social sustainability and justice. Governance encompasses more complex factors such as human rights, human capital management and resilience.
Each of these aspects is important for businesses to incorporate into their models and goals, but it may take a while to implement or measure environmental or governance improvements. There is, however, a way for companies to begin abiding by the social aspect of ESG quickly and effectively—by implementing an ergonomics program to reduce musculoskeletal disorder (MSD) risk. MSDs are among the most common and debilitating injuries in the workplace, affecting thousands of people each year.
Walking the ESG Walk
A company can't truly claim to be working toward ESG as a goal when their employees are struggling physically at work. Implementing ergonomics gives businesses a tangible way to prove that they're not just providing lip service to their employees, the public or investors. Mature companies with ESG initiatives already recognize that reducing MSDs is a key factor in business performance, and the recent announcement of the "MSD Pledge" by the National Safety Council pushes corporations to do just that.
The current ESG boom is similar to how the field of ergonomics gained attention and entered business conversations. In the 1940s, the manufacturing world realized the substantial positive impact that a strong ergonomics program could have on a company, specifically through increased profits and a healthier workforce. As time went on, office ergonomics became popular once computers became widely used, and then came back into focus recently when office workers were suddenly forced to work remotely.
With ESG becoming extremely important to responsible organizations and investors alike, there is a sense that ergonomics programs will be highlighted once again because they fit naturally with the S criteria.
The social aspect of ESG is a principle that involves the relationships that an organization has with its employees, both physically and philosophically. In a nutshell, it ensures that the company prioritizes optimal working conditions for their employees and isn't sacrificing any aspect of their well-being. What better way to show that an organization cares about the health and safety of their employees than with quantitative data proving good ergonomic conditions in their workplace? Or with reports showing the efforts being made toward continuously improving the work environment?
Many industries are feeling the strains of the global worker shortage and, as such, those currently job-hunting have more employment choices. When their options include physically demanding work that could push them to develop an MSD, or a physical job in an environment that has been carefully assessed and improved using solid ergonomic principles, it's no surprise when people realize that they can do easier work for the same amount of money. Leveraging ergonomics in this way has become an influential tool for recruitment and retention of workers.
Ergonomics = Engagement = ESG
Providing opportunities for employees to use their skills and abilities is a powerful strategy that organizations use to engage employees. Implementing an ergonomics training process not only builds skills and abilities, but it empowers participants to enact the proper strategy to identify, quantify, and prioritize musculoskeletal disorder risk.
Maintaining good relationships at work is also highly related to employee engagement and initiating a participatory ergonomics program is a way to encourage teamwork and relationship building. In participatory ergonomics, workers (with first-hand experience with MSD risk factors) from various departments and position levels, as well as stakeholders affected by the ergonomics intervention, are brought together in the problem-solving and decision-making process. Employees can share their experiences and give great insight into how to improve a workspace—they're the ones doing the work, after all! This kind of open, productive communication shows workers that the organization cares about them and their well-being, and that their employer is willing to put in the effort to help them stay healthy.
Applying ergonomics principles and design guidelines to employee workspaces will improve human performance, enhance product quality, and increase manufacturing productivity. As organizations mature in their efforts to incorporate ESG goals, it's clear that a world-class ergonomics process will help organizations and their workers align both physically and philosophically—the fundamental definition of the social criteria.