The Importance of Not Staying Stagnant Throughout the Day 
08/30/2022 Posted on August 30, 2022 | in Ergonomics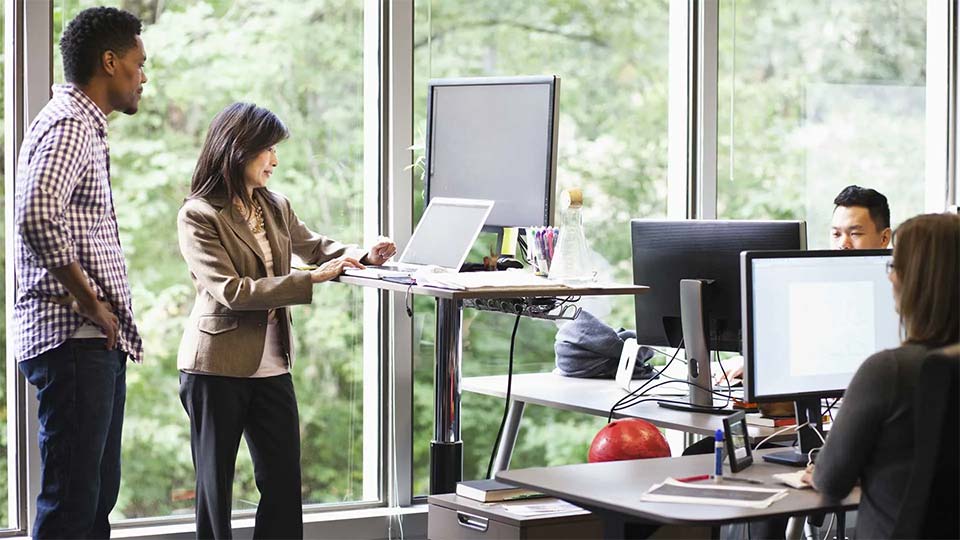 Do you find yourself feeling sleep-deprived during the day? Do you have low energy levels and feel fatigued? Maintaining a healthy lifestyle to keep your energy levels up may feel difficult when working from home; however, there are easy steps to take to achieve a healthy lifestyle even when sitting at a desk. While these tips may seem simple, they are incredibly important factors that can improve your lifestyle and home office ergonomics.
Setting a Routine
Working from home is now the norm, and so is scheduling meetings in your calendar. So why not schedule breaks for a walk or a workout? Set time aside each day to get your body moving; these can include 5-10 minutes every hour to get up and stretch, or a walk during your lunch break. Not only will you be reminded to set a time for movement, but it can help get yourself into a routine. Setting a reminder on your cell phone or computer can keep you on track.
Moving & Stretching
Becoming active throughout the workday lowers your risk of cardiovascular disease, diabetes, and obesity. Physical activity is also good for your mental health, decreasing depression and anxiety.
One step to achieving your healthy lifestyle goal could be to use the extra time in the morning you once used for commuting to the office to instead complete a workout or a morning yoga session. There are several benefits to moving first thing in the morning, including increasing blood circulation which maintains a healthy heart and increases energy levels.
If you work from home or find yourself sitting for long periods of time, making an effort to take a break and go outside for at least a 30-minute walk can benefit your health more than you might think. Another tip to staying active is to get up and stretch every hour, walk up and down the stairs, or walk a few laps around the house.
Maintaining Proper Posture
One piece of furniture that became incredibly popular in the work-from-home boom—the standing desk—has great ergonomics benefits for home offices. Standing desks allow you to adjust your posture from sitting to standing throughout the day. Proper posture is important to maintain while working to avoid a forward neck posture, which loads your spine with unnecessary weight. This weight can cause headaches, neck pain, and back pain.
To ensure that your posture stays neutral throughout the day, adjust your monitor so that it's slightly below eye level. Your keyboard and mouse should be at the same level, and your elbow should remain at about 90 degrees. Your wrist should remain neutral, so it's helpful to purchase an ergonomically friendly mouse to maintain that neutral posture. This allows your hand and wrist to float over the keyboard and mouse, moving the arms rather than wrist. Your feet should be flat on the ground to support your back and hips. Having space for a proper workstation setup will assist in maintaining proper postures and space for daily stretches to increase productivity and healthy living.
Working from home has increased drastically over the past few years and finding the balance between work and physical activity can be difficult. But using these daily tips will help you create a healthy lifestyle that works for you during your work week, so that you can have a healthy life.