VelocityEHS: The Exclusive Sponsor of National Safety Month
05/27/2021 Posted on May 27, 2021 | in Safety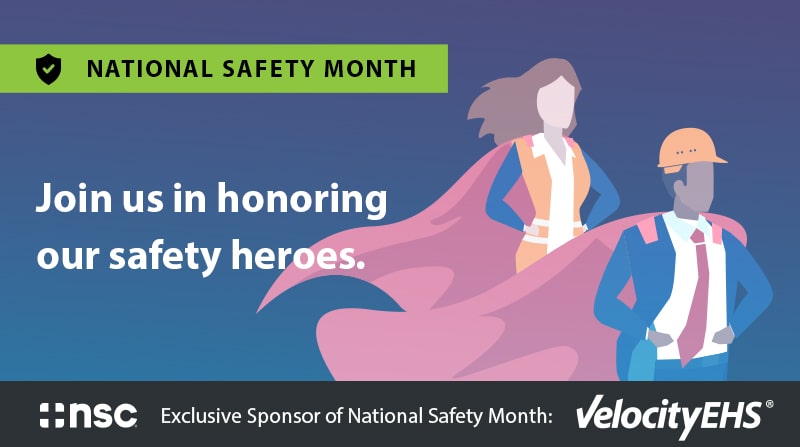 This June marks the 25th anniversary of the National Safety Council's National Safety Month, an annual observance created to inspire people to keep each other safe. A variety of materials will be provided to NSC members and nonmembers at nsc.org/nsm. To celebrate this momentous year as the exclusive sponsor, we'll be sharing complementary content on our website too. The weekly topics are:
Week 1 – Prevent Incidents Before They Start
Identifying risks and taking proactive safety measures to reduce hazard exposure on important topics from ergonomics to chemical management is crucial to creating a safe workplace.
Week 2 – Address Ongoing COVID-19 Safety Concerns
As the pandemic continues, employers play an important role in the expanding of operations, building trust around vaccines, mental health, and so much more.
Week 3 – It's Vital to Feel Safe on the Job
Being able to be one's self at work without fear of retaliation is necessary for an inclusive culture. Leading organizations' focus goes beyond just physical safety.
Week 4 – Advance Your Safety Journey
Safety is all about continuous improvement. Whether organizationally or individually, NSC and VelocityEHS can help provide guidance as companies move forward in safety maturity and continuously improve along the way.
Bonus Event: Honor Your Safety Hero
In addition to providing resources (webinars, e-books, whitepapers, and more) to educate people about how to maintain a safe work environment, the National Safety Council is also hosting an "Honor Your Hero" fundraiser. Participants are encouraged to recognize a safety professional – or anyone who inspires you to be safe – with a donation to NSC and VelocityEHS will match it up to $25,000. All donations made will contribute to their daily efforts to save lives from workplace injuries and fatalities.
VelocityEHS team members will also be social sharing who their safety heroes are through the month, and we invite you to do the same. Simply,
Share the VelocityEHS LinkedIn, Twitter or Facebook posts about this topic.
Write a message to accompany the shared VelocityEHS post, and

tag your hero,
describe why they deserve the recognition,
tag @VelocityEHS and use the hashtag #NSMSafetyHero so we can acknowledge their great work!
Safety professionals work hard everyday (sometimes around the clock) to keep us safe. Let's give them a big shout out!