NAEM EHSTech 21: "Goodyear Tire & Rubber Company Reduces Injuries with Formal Ergonomics Program" – A Summary
05/28/2021 Posted on May 28, 2021 | in Ergonomics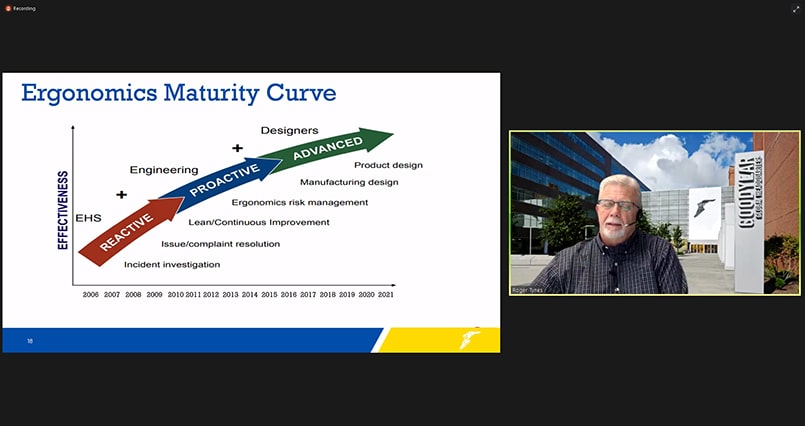 The recent "Goodyear Tire & Rubber Company Reduces Injuries with Formal Ergonomics Program​: A User Case Study" session for the National Association for EH&S Management (NAEM) EHSTECH21 Conference gave an in-depth look into the company's workplace ergonomics program.
Presented by Roger Tynes, Ergonomic Consultant & Program Specialist for Goodyear Tire & Rubber Co., and moderated by Christy Lotz, CPE and Senior Global Account Executive at VelocityEHS, the session broke down the driving elements of Goodyear's ergonomics program adoption and impact – its people and its partnership with Industrial Ergonomics by VelocityEHS.
Goodyear involved its people in every aspect of its ergonomics program.
In the early 2000s, Goodyear had 50+ locations around the world and a high rate of employees developing musculoskeletal disorders (MSDs). The company needed to find a way to cohesively manage and improve its workplace ergonomics.
But, how were they going to accomplish this? No one can be everywhere at once to record each plant's MSD risk data, train every employee on ergonomics, assess the MSD risk levels of each job, and determine ergonomics improvements. Goodyear needed a way to streamline the development of its ergonomics program. It successfully did that by implementing one user-friendly software system that every location could access easily, and by giving each plant the ownership to develop plans that worked best for them.
From the software solution that was implemented…
Goodyear knew that any solution the company tried to implement wouldn't stick without the support of their employees. So in 2005, the company chose to partner with an advanced, but user-friendly software system to manage its MSD risk data Industrial Ergonomics by VelocityEHS.
The VelocityEHS system benefits Goodyear employees in a number of ways:
Online ergonomics training – Available in 23 languages so employees all over the world can easily access, understand and complete training on the principles of ergonomics.
24/7 accessibility – The entire system is accessible anytime, anywhere in the world through a mobile device.
Advanced, user-friendly software – The VelocityEHS system uses the latest A.I. risk assessment technology to assess tasks and clearly illustrate areas of MSD risk on the body. Members of each plant's ergonomics team can record employees performing tasks in real-time on the floor, with just their smartphone, and get an accurate assessment result within minutes. Although it has such advanced capabilities, the system's user interface is simple and straightforward, so that employees can learn it quickly and use it confidently.
Certified support – The VelocityEHS solution comes with a team of certified professional ergonomists (CPEs) who visit and train small teams at each location to become a dedicated ergonomics team. The CPEs remain available for in-person and virtual workshops to support these teams in the continuous improvement of their ergonomics programs.
To the design and development of the ergonomics program…
Goodyear also knew that to gain employee buy-in for the program, it needed direct input from the people working the high-risk jobs, and to make it easy for them to adopt the program.
To create beneficial improvements and engage employees, each plant's ergonomics team:
Held the power of reducing MSD risk in their own hands – With every plant operating under different circumstances, Goodyear's ergonomics teams had the power to design their own programs that fit their plant. Each team assessed high-risk jobs, tracked the data with the VelocityEHS system, and used that data to collaborate with the plant's employees and create improvements.
Knew who their experts were – Each plant's ergonomics team knew that they needed to work directly with the employees performing the high-risk jobs to design a successful program. The teams learned what mattered most to employees in job improvements, and then made those improvements easy to implement. Tynes said in the NAEM session that "the people on the floor are the experts. They know what works and what doesn't work, and they'll be the first to tell you if it doesn't!"
Evolved their training process to fit the desires of their people – With plant employees working around the clock, trainers couldn't ask people to come in during their off hours for in-person ergonomics training. Plus, employees didn't want to spend long hours in a room for training sessions; they wanted to be on the plant floor. So the ergonomics teams brought the training to the people and worked around their schedules, making it easy for them to learn and adopt the ergonomics system.
Continues to connect and improve – Tynes meets with all Goodyear plants each month (on their timeframe) via virtual meetings to discuss the ergonomics programs, and to share best practices and improvements. Lotz added in the NAEM session that it's often the employees who have the best solutions for improving their high-risk jobs: "They have the solutions; We just have to listen to them."
To its continued improvement.
The company's workplace ergonomics program has continued evolving to improve the health of plant employees at work. Since 2007, the company has:
Followed the ergonomics maturity curve – Like many companies, Goodyear began its ergonomics program from a reactive position, investing in it after a high number of MSDs had been reported. After the company implemented its program, its approach became proactive to reduce the risk of MSDs, which ultimately reduced the number of MSDs in the company. Now, after over a decade of evolving their ergonomics process, the company is in an advanced phase with its program, continuing to reduce the risk of employee injury and creating new goals.
Massively reduced their MSD risk – As a whole, Goodyear has seen an 82.6% reduction in workplace MSDs since implementing their ergonomics program, with VelocityEHS Industrial Ergonomics.
Pushed their goals – Goodyear has no intentions to stop improving its ergonomics programs, even after it reaches its next goal — to have 0 high-risk jobs in the company by 2028.
As Goodyear Tire & Rubber moves forward with its goal for 2028, Tynes said that gaining support from employees for continuing the program comes easily. "Make improvements in his or her job and you'll have a friend for life."