3 Overlooked Features to Level Up Your Home Office
03/03/2021 Posted on March 3, 2021 | in Ergonomics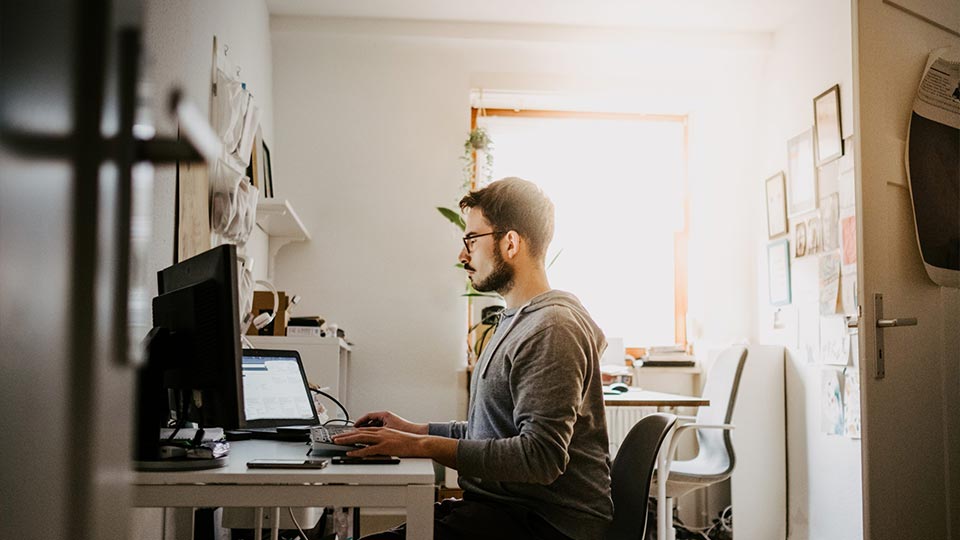 Before everyone quickly transitioned to working from home, I already had a height-adjustable desk and external mouse in my house.
But that was about it – I only worked from home every now and then.
At first, the items I felt I needed most to improve my workstation were a better chair, an external monitor, and a monitor arm. The chair was easy – I was able to swing by the office and grab the one from my desk. However, with everyone instantaneously setting up home offices last March, a monitor and arm were hot-ticket items. I lucked out in finding them and had the beginnings of an improved at-home workstation.
But as the months went on, and on, I found three additional ways to drastically improve my workstation at home.
Lighting
My office is now a mild grey, but when I moved into my house, the room was a guest room for the previous owners' grandchildren. It was painted a bright tangerine orange, which is perfect if you're a kid on a getaway. It is not so great when you're an adult on business calls and the room's reflections shower you in an orange hue.
The first part of my solution was to swap out the warm 3000 Kelvin lights for some that were around the 6000 Kelvin mark. The cooler lighting helped counteract some of the warmth coming from the walls. As soon as the opportunity came up, I painted my office gray. Combined with the cool lighting, I look a lot more lifelike on camera now.
Video conferencing hardware
Speaking of looking lifelike on camera – I'm in an average of 4-5 calls a day and have my webcam on for all of them. My laptop's camera is down by the hinge, which gives a great view right up my nose. I invested a small amount of money in a 1080p external webcam that could be placed on top of my external monitor, so that conversations are now much more eye-to-eye when I'm on video. I also purchased an external microphone (I'm not a fan of "drive-thru" style headsets); having a clearer voice helps my video calls seem less distant.
Cable Management
The last thing my desk desperately needed was some cable management.
Currently, I have cables for my:
Laptop charger
Eternal microphone
External webcam
Phone charger
Headphone charger
Video game controller charger (Not work-related, but a convenient location)
With all those wires running across my desk, it was messy where I worked and unruly at the back of my desk. To clean this up, I purchased some table-top cable clips, as well as a box to hold my power bar and the bulk of the cables, which I mounted on the underside of my desk. The result is a clean and organized desktop that allows me to focus less on clutter and more on the work I'm performing.
It's been a long 12 months working (and doing literally everything else) from home. Your workstation still may not be perfect yet, but making small improvements like these can make substantial changes in your space, work, and attitude as we continue working from home for the time being.
For more ideas to level up your home office without leveling down your bank account, take a look at: