2021 Applied Ergonomics Conference Session Summary: Communicating the Value of Ergonomics to Business Stakeholders
03/26/2021 Posted on March 26, 2021 | in Ergonomics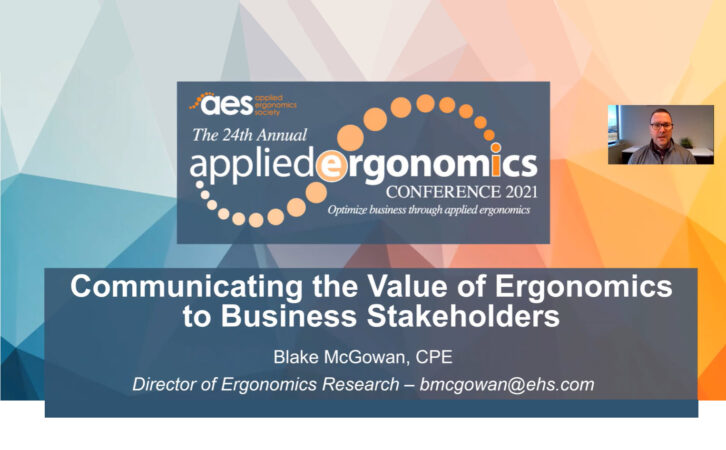 Before you can start an ergonomics program, you need buy-in from the leaders of each major division in your organization, the "stakeholders." In order to gain their buy-in, they need to know why they should care about ergonomics, and how it will impact the business in ways that mean the most to them.
Luckily, one of our dynamic sessions of the virtual 2021 Applied Ergonomics Conference gave insight into this issue! Blake McGowan, CPE and VelocityEHS Director of Ergonomics Research, presented "Communicating the Value of Ergonomics to Business Stakeholders," discussing the many benefits of having an ergonomics program in an organization, and how to share them with stakeholders to gain the most traction.
Think about what's most important to each stakeholder.
Although everyone benefits from an ergonomics process when it's done right, each stakeholder group values different benefits.
Health & Safety and Human Resources teams want to know the qualitative benefits of how ergonomics will improve life and work the employees; Operations and C-suite teams want to know the quantitative benefits of how ergonomics will improve the financial performance of the organization.
Translate the value of ergonomics into measurements that each stakeholder understands.
Health & Safety teams want to know the improvements made to employee well-being, and the reduction in injury rates and associated costs.

One corporate initiative found that on a macro level, every improvement put in place reduces risk by 7%, which equals to 5 injuries over 100 person-years of work.1

Human Resources teams want to know the reduction in voluntary turnover and absenteeism, as well as the increase of employee engagement in the ergonomics process.

One site initiative also saw a 75% reduction in long-term sickness absences and a 23% reduction in casual absenteeism.2

Operations teams want to know the increase in productivity, and in quality of work and work processes.

Participatory ergonomic intervention shows a 1% increase in first-time quality production and a 5% increase in productivity efficiency.2

C-Suite teams want to know the improvements that an ergonomics program will bring to human capital management, worker sustainability, and the organization's stock and credit ratings.

A study found that for every $1 that an organization invests in ergonomics, it receives $5 back.2
When the value of an ergonomics program is communicated to each group of business stakeholders in ways and measurements they can understand, it should be an easy and fast conversation to gain their buy-in.
Sources:
Cantley LF, Taiwo OA, Galusha D, Barbour R, Slade MD, Tessier-Sherman B, Cullen MR. (2013). Effect of Systematic Ergonomic Hazard Identification and Control Implementation on Musculoskeletal Disorder and Injury Risk. Scand J Work Environ Health. 2014 Jan;40(1):-57-65.
Tompa E, Dolinschi R, Natale J. (2013). Economic Evaluation of a Participatory Ergonomics Intervention in a Textile Plant. Appl Ergon. 2013 May;44(3):480-7.