Implementing an Ergonomics Process: Year-by-Year
02/17/2021 Posted on February 17, 2021 | in Ergonomics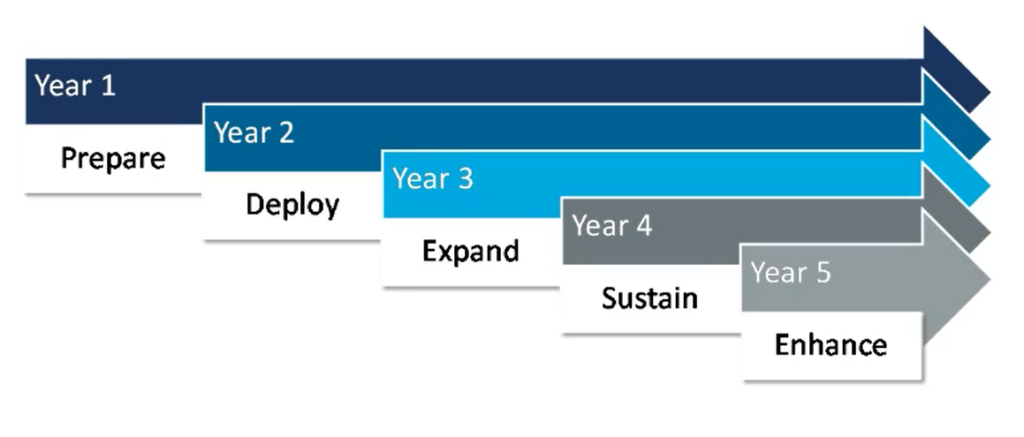 "You haven't done anything until you've changed the workplace around the employees."
Jeff Sanford, CPE, Director of Ergonomics, delivered this fundamental principle in the Planning and Deploying a Large-Scale Ergonomics Process: Year-by-Year webcast, explaining how to create and successfully deploy a large-scale ergonomics program over the course of 5 years.
This was the second webcast of the two-part digital session series by the National Ergonomics Conference & Ergo Expo, which was broadcast live on February 10, 2021, following the Essential Elements for an Effective Ergonomics Program webcast. This presentation was one of few topics selected from the 2020 conference agenda to be broadcast this year.
Along with a summary of what to accomplish each year (shared below), Sanford introduced the metrics that are most important to measure in an ergonomics process:
Training
MSD risk factors
Direct causes
Employee engagement
Risk reduction
Return on investment
Year #1 – Prepare
Identify current gaps to develop a policy/plan for improvement. Select supporting software to document the ergonomics process. Identify roles and responsibilities for everyone involved to develop an ergonomics team. Implement training for all teams in the organization so that everyone understands and can support the process. Follow the job improvement process to understand the baseline and what the direct causes are.
Year #2 – Deploy
Establish how often the ergonomics team will complete job assessments. Engage operators, include them in the process to formulate improvements. Categorize, prioritize, or plan improvements according to the priority matrix (72% of improvements planned are in the A quadrant; high-impact, low-cost solutions). Identify the metrics that are important to your organization and when they'll be measured.
Year #3 – Expand
Eliminate hazards through implemented improvements. Expand the ergonomics team to include those responsible for making change outside of the team to get things done faster. Get qualitative feedback from employees to understand what's working well and what's not (also another opportunity to engage employees). Mine the data and find problem trends, the areas or tasks in the facility causing the most problems.
Year #4 – Sustain
Integrate ergonomics into other processes. Expand ergonomics training to include everyone involved, tailored to fit each role. Perform audits with the initial ergonomics policy to evaluate improvement progress and measure against any specific goals of the ergonomics process.
Year #5 – Enhance
Challenge yourself to think of how you can improve further. Network by asking others about their improvements and learn from them. Benchmark to understand how you compare to others in your industry.
The details in this session will help organizations move from a reactive to a proactive position in their ergonomics process and show how they can qualitatively measure the ultimate return on investment – reduction in risk for musculoskeletal disorders and other injuries.
More resources:
If you missed the webcast and want to learn more about the steps to deploy an ergonomics process that has a long-lasting positive impact, check it out today.
Or take a look at our eBook of Deploying a Large-Scale Ergonomics Process: Year by Year.
Watch another Ergo Expo on-demand session, "Quantifying the Financial Impact of Ergonomics Interventions," presented by VelocityEHS Director of Ergonomics, Blake McGowan.
Learn more Best Practices and how to avoid possible blunders in the ergonomics process in the Four Mistakes to Avoid When Implementing Ergonomics blog post.