Working from Home: The Case for Ergonomics
12/02/2020 Posted on December 2, 2020 | in Ergonomics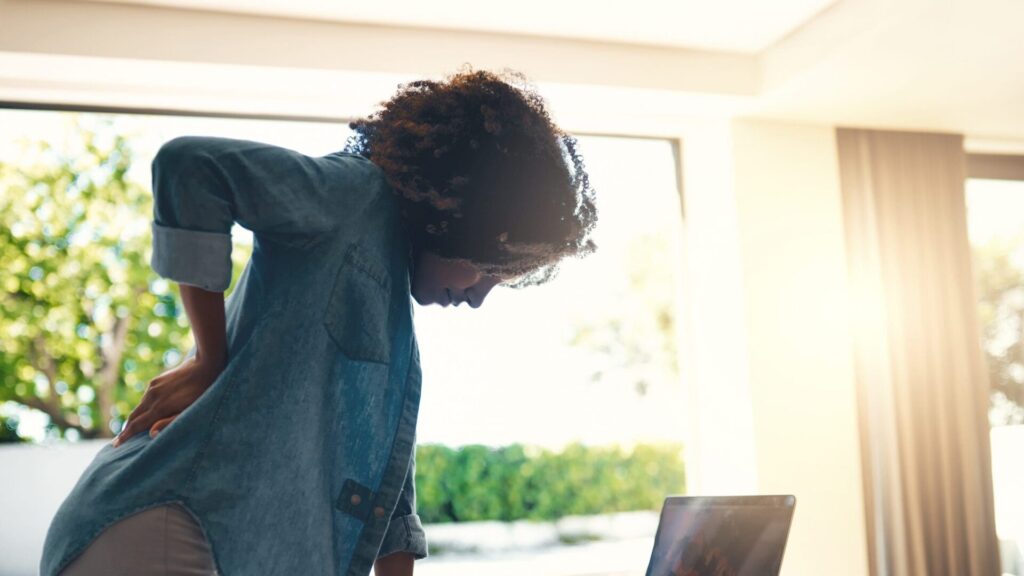 Workplace injuries happen, and although they're not entirely avoidable, their occurrence can be greatly reduced. Safety professionals use different types of workplace controls to minimize the risk of short- and long-term injuries. Now that 42 percent of the workforce has been working remotely (due to COVID-19), 74 percent of companies are planning to make the shift to remote work permanent. By doing this, workers save on operating costs, and employers save on overhead. But what happens when an employee working from home gets injured? Companies may overlook implementing workplace safety protocols in remote environments until it's too late and claims start stacking up. Normally, if an injury occurs in the workplace, liability falls to the employer and Workers' Compensation covers the case.
If an injury occurs at home, who picks up the tab?
Over half of work-from-home injuries occur from an improper home-office setup. Since equipment can be pricey, many employers were not willing or able to make an initial investment to prevent the onset of musculoskeletal disorders (MSDs). However, they soon may be dealing with an onset of new work-from-home injury cases. At VelocityEHS, we've worked with thousands of individuals new to remote work. To help these workers, we've published a variety of content addressing best practices and tips for working from home safely and efficiently. At the start of the pandemic, most of the consultations we delivered were preventive in nature, and the companies that did provide their employees with home-office equipment are seeing fewer MSD cases and have happier and more productive team members. At this stage, however, we're seeing more cases involving pain, medical complications, or full-on Workers' Compensation cases for those less fortunate.
In the state of New York, strict compensability standards were established in 2019 by the Workers' Compensation Board, which recognizes employers to be liable for workplace injuries only if they occur during working hours and while workers are engaged in work-related activities. This is relatively loose language and leaves gaps when examining variables like the range of working hours, active engagement in work-related activities outside working hours, and paid breaks when working from home.
Work-from-home injury case study
In a recent case, a work-from-home employee began to experience the signs of a developing MSD. The employer hadn't provided home-office equipment, and after several months, the employee paid for her own equipment. When the equipment arrived, she carried heavy boxes up several flights of stairs while on a lunch break, which resulted in a back injury. The employer denied all liability under the 2019 compensability standards, stating that the injury did not occur during working hours and was not due to a work-related activity. The Workers' Compensation Board supported this. On Oct. 22, 2020, the 3rd Judicial Department of the Supreme Court Appellate Division overturned the decision, reversing the stricter compensability standards from 2019.
What does this mean? Companies with remote workers may be held responsible for injuries that occur to employees working from home. Since the reversal, at least in the state of New York, more Workers' Compensations claims are likely to be approved. To prevent this, companies must examine ergonomics as a workplace safety measure.
A recent Institute for Employment Studies (IES) survey found a significant increase in aches and pains of the neck (58%), shoulder (56%), and back (55%) of home-based employees. These aches and pains lead to MSDs. The case for ergonomics is clear: company leaders need to establish a budget for ergonomics training, analysis, and at-home equipment for their remote workforce and consult with ergonomics experts to develop programs specific to their needs. This proactive approach will reduce the incidence of new musculoskeletal disorders and improve the health and safety of the organization overall.
References:
https://review42.com/remote-work-statistics/
https://amp.claimsjournal.com/news/east/2020/11/02/300253.htm
https://www.employment-studies.co.uk/
Read more from this author: Office Ergonomics Software & Remote Consultations Provide Relief.