In Case You Missed It: Week Three of the Open Table Conference
11/24/2020 Posted on November 24, 2020 | in Ergonomics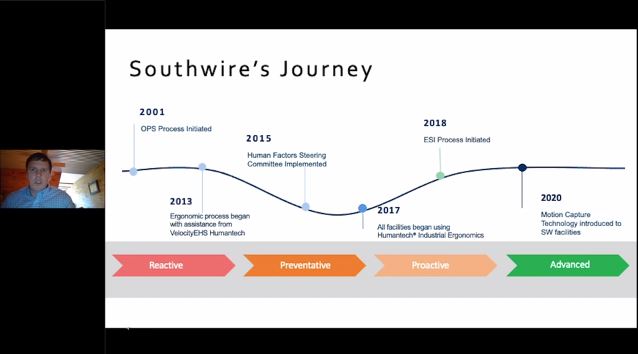 VelocityEHS recently hosted its third gathering of the three-part Open Table Conference series. During the first three Thursdays of November, we brought our customers, partners, and VelocityEHS subject matter experts together to discuss trending EHS topics, best practices, and innovative technologies.
In case you missed it, here's a summary of our Thursday, November 19th event entitled "Technology: Shaping the Future of EHS."
Use of Analytics in HSE to Improve Worker Safety
Dr. Shawn Bergman is the Kulynych/Cline Distinguished Professor of Psychology, the founder and co-director of the HR Science Research Team, and the co-founder for the Center for Analytics Research and Education at Appalachian State University. Dr. Bergman's work reflects his dedication to apply science, psychology, data, and technology to solve organizational problems, help individuals make positive changes, and improve peoples' lives. Here's the three key takeaways from the session:
Analytics techniques can be applied to predict safety events in the workplace. As a reminder, analytics is defined as the "scientific process of transforming data into insights for making better decisions." If data does not help you make a decision, it has limited value.
Analytics intends to use retrospective data (lagging indicators) or safety outcomes (both descriptive and diagnostic) to predict and prevent future safety events. The hope is to provide the key insights that allow for better decisions and actions.
There are several necessary elements for the implementation of a successful data analytics process. Research shows that 40 to 50 percent of all data analytics initiatives fail because of people. People are needed to communicate the insights gleaned from analytics. People are needed to act on those insight. Change Management (the people side of change) is critical for success. If people don't communicate or act on the analytics insights gleaned, you are not going to maximize the capabilities of the analytics process.
Artificial Intelligence (AI) Assisted Ergonomics
Dr. SangHyun Lee is a Professor and John L. Tishman Faculty Scholar at the University of Michigan and leads the Dynamic Project Management Lab. He is also the Founder and CTO of Kinetica Labs, Inc. which provides AI-based motion capture for musculoskeletal (MSD) risk assessment. The three key takeaways are:
Artificial Intelligence (AI) is defined as machines that can learn, reason, and act for themselves. Computer Vision (CV) enables computers to gain understanding from images and videos.
AI and CV can be used to assist in the ergonomics job improvement process by allowing technology to take care of most of the data preparation and risk assessment process and allow ergonomics professionals or team members to focus on how to fix the job or task. AI and CV can reduce data preparation time, improve risk assessment repeatability, and reduce the time needed for risk assessment training.
Smart-phone based, CV technology is currently available to automate the collection of the posture-related risk assessment inputs for tools such as the REBA, Liberty Mutual Tables, and the NIOSH Lifting Equation. Research is under development to automate the collection of force- related risk assessment inputs for tools such as 3D SSPP.
Building, Sustaining, and Growing an Ergonomics Culture
Ryan Goad, CPE, is a Safety Manager for Southwire LLC with 15 years of experience working in the safety & health Field. Ryan has been involved with Southwire's Human Factors & Ergonomics Process for the past 10 years and is part of Southwire's Ergonomic Steering Team where he assists in leading the development of Southwire's Ergonomic Process through a multi-disciplinary approach. His five key messages include:
Commitment to Excellence: Leadership needs to be committed to the ergonomics process. They need to provide clear communication and understandable metrics to inspire everyone to be involved, committed, and accountable for ergonomics.
Creating Pride in the Process: A participatory process (all employees are involved) builds an ergonomics culture where employees participate, share best practices, and experience the positive outcomes of their efforts.
We're Making it Easier: Leveraging technology (sensorless, computer-vision technology) reduces the time spent acquiring knowledge and conducting MSD risk assessments. Employees have more time to complete more thorough root cause analysis and implement more meaningful solutions to reduce MSD risk, increase productivity, and enhance product quality.
Lessons Learned: Communicate the good and bad lessons learned to improve the efficiency and effectiveness of your ergonomics process. If you focus on the process, the outcomes will follow.
What Got You Here, Won't Get You There: To move the needle on the effectiveness and efficiency of your ergonomics process, continue to look for new processes, approaches, tools, technology, etc. As your ergonomics process matures, introduce more advanced approaches such as a macro-ergonomics (i.e., design ergonomics) initiatives.