A Bright Future for 3D SSPP™ – 3D Static Strength Prediction Program
11/04/2020 Posted on November 4, 2020 | in Ergonomics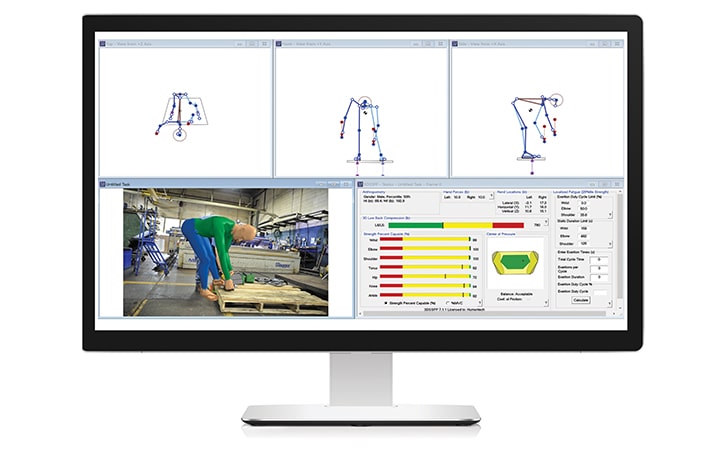 VelocityEHS recently announced exclusive rights to sell and support 3D Static Strength Prediction Program™ (3D SSPP™), an ergonomics job analysis and design tool originally developed by the University of Michigan Center for Ergonomics. With this innovative and research-proven ergonomics technology, VelocityEHS' ergonomics solution continues to lead the industry by delivering a comprehensive suite of assessment tools that improve the lives of the working population.
Read on to learn more about the history and research behind 3D SSPP, its impact and use in industry, and what we're most excited about for the future of this technology.
What is 3D SSPP?
Initially developed in the late 1990s by the University of Michigan Center for Ergonomics, 3D SSPP helps users analyze static strength capabilities of employees in relation to the biomechanics and physical demands of the work environment. It incorporates inputs such as posture data, force parameters, and male/female anthropometry to provide an approximate 3D job simulation.
The results of the 3D simulation include multiple analyses of biomechanical features such as:
Low back compression forces
Percent capable by joint strength and population limits
Prediction of potential loss of balance and slipping
Localized fatigue
Hand locations
Over 50 Years of History and World-Class Research
The origins of 3D SSPP began with Don Chaffin, the Richard G Snyder Distinguished University Professor Emeritus of Industrial Operations and Engineering and founder of the Center for Ergonomics at the University of Michigan. As part of his PhD thesis at the University of Michigan in 1967, Chaffin developed a 2D mechanical model of the human body. From there, many staff and faculty contributed over the years to create the robust program we use today. In the 1970s, steps for analyzing a manual task were added. In the 1980s, posture inputs and lifting data became key components that were displayed with a stick-figure model. It was at this point that Chaffin and his PhD students also began work on the next generation model that would take into account twisting and movement, followed by a full graphic interface update in the 1990s with the 3D rotational droid that is so well-known today. Typical population strength data was included to set limits for the model before it became a licensed product from the University of Michigan Center for Ergonomics in 1997.
3D SSPP is based on over 50 years of ergonomics research by the Center for Ergonomics, which has maintained a high level of scholarship; faculty have published well over 1,000 reports, journal articles, and books, and have been recipients of many distinguished honors and awards for their work from a large variety of scientific and professional organizations throughout the world.
"Users have trusted this software for many years because they can see the ongoing ergonomics research that's being done and how we've transferred that research directly into the software," Chaffin said. "And I think [VelocityEHS] has that dual knowledge base as well, that ergonomics and software knowledge that will help 3D SSPP continue to succeed."
Biomechanical Modeling and Validity
Beyond the deep history and research underlying its origins, 3D SSPP features robust biomechanical modeling. First, consider that the skeleton produces rotational forces at the joints called moments. Muscles react strongly to these moments, which means that the major forces applied to our joints are internal, not external. For example, this is how we can understand why the low back experiences so much stress when lifting; as the farthest joint from the load, or the object being lifted, high muscle force couples with high compressive force. Through modeling, we can represent the real world in an analytical way.
The four key biomechanical models that form the basis for the algorithm in 3D SSPP are:
Muscle strength
Low back spinal disc compression
Foot slip
Body balance
These models show the ways muscles react with different inputs, which can then be compared to what a certain population is capable of doing. The depth of research and modeling behind 3D SSPP has proven it is a highly valid tool.
Lasting Impact on Industry
Professionals across many fields make use of the program's quantitative analysis tools, including industrial and manufacturing engineers, physical and occupational therapists, ergonomists, loss-control specialists, health and safety professionals, industrial hygienists, labor representatives, and researchers.
Some of the benefits and applications of 3D SSPP include:
Data-driven approach to proactive workplace job design
Anthropometric modeling for reach capacity and hand locations
Percent capable population groups and joint strength limits, including low back compression forces and localized fatigue
Quantitative risk management for improvement justification and reduction in musculoskeletal disorders (MSDs)
Prediction of potential loss of balance and slipping
Compliance with NIOSH guidelines and the OSHA General Duty Clause
Use in academia for teaching and research
3D SSPP has enabled thousands of professionals to better understand strength requirements for manual tasks in order to make changes that improve employee safety, productivity, and quality of life.
What's Next? Continuing Ergonomics Innovation at VelocityEHS
The inclusion of 3D SSPP in VelocityEHS' suite of Ergonomics solutions means that there is dedicated, expert support for use of the program now as well as opportunity for the expansion of intelligent assessments in the future. As with our training courses, sensorless motion-capture technology, and risk management system, the focus is on making innovative technology simple for the end user to drive action where it counts—improvement. The future state of this technology will bring the best science and expertise in ergonomics to your smartphone to enable better, faster assessments and a deeper focus on getting the right improvements in place at the right time. In doing so, companies will lower the risk of injuries, improve workplace performance, and increase the well-being of the working population.