NAEM EHS & Sustainability Management Forum: Session Summary – Managing Risks
10/27/2020 Posted on October 27, 2020 | in EHS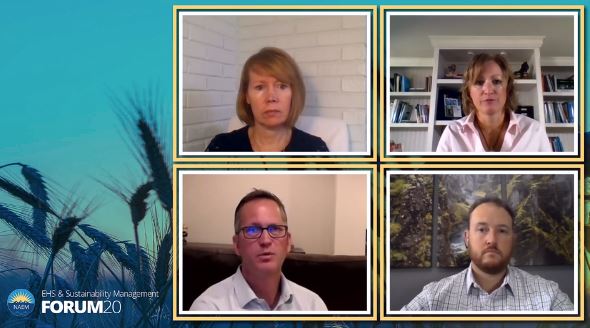 If you didn't get a chance to attend the NAEM EHS & Sustainability Forum last week, don't worry! We'll share what we learned from the experts and business leaders who participated in the stacked agenda. One of our favorite sessions was "Managing EHS&S Risks in the New Reality."
Moderated by Beth Myers-Graham, Senior Vice President, AECOM, the focus of the discussion was risk strategy as it relates to regulatory compliance, occupational hazards, natural disasters and force majeure, employee health and wellness, and environmental impact. The three panelists represented three unique industries, bringing different challenges, solutions, and perspectives to the conversation. They included Jim Cline, Global Leader Environment, Health, Safety, Sustainability & Physical Security, Cooper Tire & Rubber Company; Natalie Pryde, QHSE Director, CBRE Group Inc.; and Brad Waldron, Head of EHS & Insurance, Carvana Co.
Collaboration, adaptability, and efficiency were the key words of the day. But here are some more details:
Risk Analysis Process Planning
Natalie: While developing strategic planning initiatives, it is an opportunity to lean into networks across the organization. For the pandemic, the process also involved considering COVID as an integrated risk factor, which involved re-evaluating many of the existing risk factors at facilities.
Jim: Agree on the collaborative process, one that includes EHS and security planning, as well as financial, HR, reliability, and maintenance representatives. The biggest challenge has been not having the planning sessions in person, which removes the team-building and social aspect of the planning and limits opportunities for knowledge sharing.
Brad: A continual planning process helps to maintain a strong compliance posture, which involves ongoing communication and reviews with leadership. The pandemic created an opportunity to focus on where to drive innovation throughout the organization.
Resourcing and Funding Challenges
Natalie: Funding has remained stable, but CBRE has done some reorganizing to better leverage global operations and connect with departments across the company. This has created opportunities to become more adept at risk evaluation considering COVID, wildfires, and a difficult hurricane season. Ultimately, the challenges have been "How are risks prioritized?" and "How can the workforce become more adaptable?"
Jim: Cooper Tire and Rubber's annual approved budget is based on the previous 12-month actuals, but leadership took the initiative to use the 2019 numbers as the basis for the 2021 budget, acknowledging that the current situation is not "normal."
Brad: Carvana did not pull the plug on items that were considered strategic initiatives, but we had to find a way to do more with less because COVID created new, additional strategic initiatives. The focus has been to streamline the workforce.
Ensuring Regulatory Compliance and Tracking Metrics
Natalie: Metrics have allowed more people to become aware of what CBRE is doing and how they fit into the organization. In addition, wellness is becoming a more relevant topic. It is not currently being tracked as a metric, but there is enhanced awareness, which could lead to a more structured reporting approach in the future.
Jim: EHS has been leading the way with COVID-related initiatives. Developing the metrics has helped to solve the lack of transparency issues that those initiatives have faced. Office-based employees have actually had a harder time adapting to COVID-related compliance requirements than employees in the manufacturing environment. The manufacturing side of things has always been prescriptive.
Brad: The pandemic created an opportunity to improve how metrics are tracked, calculated, and disseminated. On the regulatory side, training delivery has been a focus, with pledges from employees that help support enforcement initiatives.
Read another session summary from the 2020 NAEM EHS & Sustainability Forum: "Maintaining Leadership Presence When You're Not Present."