OSHA's Safe + Sound Week – Join Us!
08/10/2020 Posted on August 10, 2020 | in Safety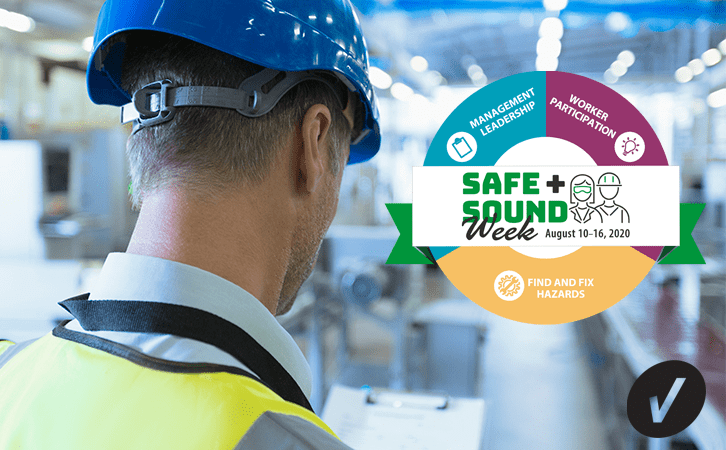 VelocityEHS is participating in OSHA's Safe + Sound Week, scheduled August 10 to 16, 2020, with many ancillary activities to help raise awareness around safety and health in the workplace. Nearly 1,440 businesses are also teaming up in this nationwide event to promote their commitment. The site also provides resources and best practices to keep America's workers safe.
New Product Release
Leading up to this event, we're pleased to announce our new Safety Management Solution. This solution enables small and mid-sized manufacturers to simplify safety and manage key tasks during critical events, such as COVID-19. CEO of VelocityEHS, John Damgaard, said, "This safety management system has all the tools necessary for you to have better visibility into your EHS program performance. This will help you make the right decisions to reduce hazards, risks and prevent incidents". The data-driven approach enables better decision making, worker engagement, and streamlined compliance.
Live Webinar
Don't miss our complimentary 30-minute webinar, "Ergonomics Truths and Myths: What You Need to Know", on August 11th at 1:00 P.M. CT. Blake McGowan, Director of Ergonomics Research, and Ryan Cowart, Senior Ergonomics Consultant, will share the latest scientific research on important topics, such as industrial exoskeletons, proper lifting techniques, job rotation programs, and more. Register to attend.
COVID-19
Safety Posters
Complimentary COVID-19 safety posters are available for download today. The colorful illustrations describe how to prevent the spread of COVID-19. Hang them in high-activity areas, like a meeting room or a café. They will remind employees of company policies and safety and health best practices. Regardless if your organization has continued its operations throughout the pandemic, or if it's beginning the return-to-work process, these posters will drive your goals home.
Please Wear a Face Mask

Stop the Spread of Germs

Wash Your Hands

Symptoms of Coronavirus

Please Keep Your Distance

Stop: Room Closed

Please No Handshakes
We've Got More
!
We aren't ending our events on the 16th! Join us for more live webinars:
August 25, 2020 – 10:00 A.M. CT
Attend the complimentary session, "Emergency Planning: Best Practices for Safety and Community Engagement." Phil Molé, EHS & Sustainability Expert, will cover the importance of preparedness, regulatory requirements, best practices, communicating with stakeholders, emergency planning within a safety management system, and modern technology. Register to attend.
August 27, 2020 – 10:00 A.M. CT
"Chemical Management Tips for COVID-19 and Beyond," presented by Phil Molé, EHS and Sustainability Expert, is a must-see. Increased use of disinfectants due to COVID-19 creates new chemical management challenges. Learn about which chemicals are now covered in the HazCom Standard due to COVID-19, incompatible chemical mixtures, leveraging Section 7 of SDSs to improve safe chemical storage, and how EHS software tools can help. Register to attend.
Safety professionals around the United States are working tirelessly to identify and prevent workplace hazards before they begin. With the COVID-19 pandemic, it is crucial to have safety programs in place. VelocityEHS wants to help you achieve your health and safety goals. Learn how VelocityEHS can help you through the pandemic and beyond by referencing "VelocityEHS Solutions for Today's EHS Challenges", or by visiting ehs.com/covid-info.